Looking for Spanish vegan tapas recipes to try at home? We have all the best vegan dishes, perfect as appetizers, side dishes, or a snack of their own.
Spanish cuisine is rich in flavor, and one of the best parts about it is how you can customize everything to your liking. And yes – that means you can turn almost any dish into a vegan specialty!
If you are vegan and you love Spanish cuisine, you will be thrilled to find out that many classic dishes in Spain cater to your preference.
Tapas are among the favorite Spanish traditions and they are all about small plates that you can order to eat or to share. It's a really great way to try a selection of different dishes all at once without waste and without overindulgence.
What's great is that Spanish tapas don't always feature meat and fish but instead, vegetables. What's even more amazing is that, with the use of many well-loved Spanish ingredients such as chickpeas, lentils, and paprika, your recipes are sure to be jam-packed with flavors.
We've got some of the best vegan tapas recipes you can find so that you can make a whole feast of food, or opt for just a few recipes to keep things simple. Either way, these are all incredibly tasty and will kindle an excitement for Spanish cuisine.
Let's get cooking! Go on a vegan food trip with our ultimate list of vegan Spanish tapas recipes!
Read also: Spanish Vegetarian Recipes
Spanish Vegan Tapas Recipes
1. Patatas Bravas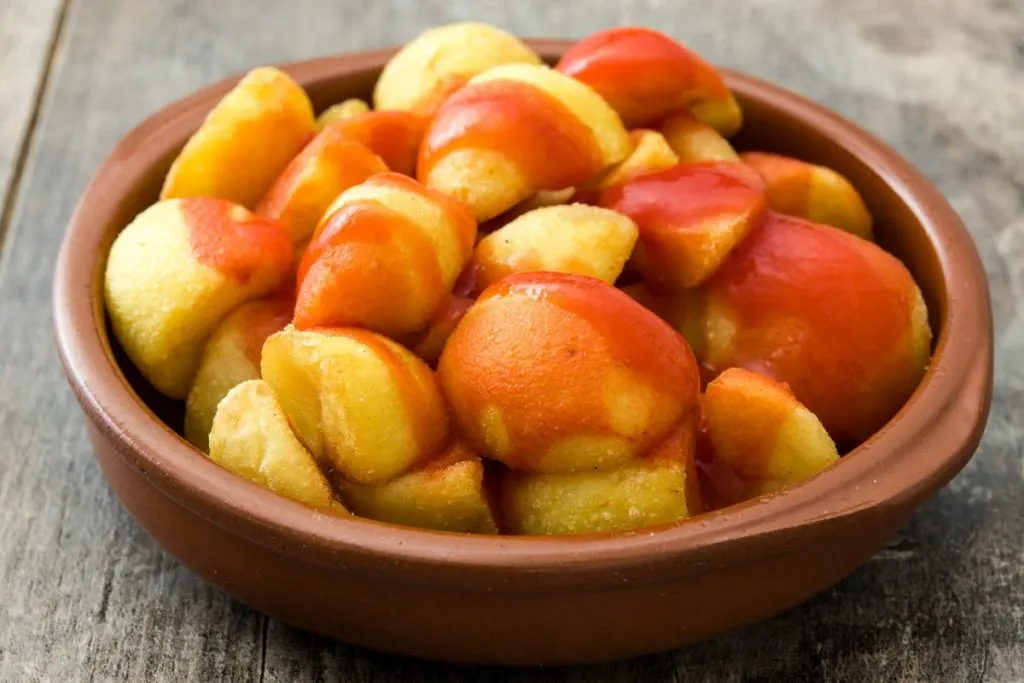 If you are in the mood for something simple to make, Patatas Bravas is a must-try. You can never go wrong with this Spanish fried potatoes recipe. Patatas bravas are only one of the many vegan Spanish tapas recipes that you can recreate at home.
Potatoes sautéed in olive oil with three different kinds of spicy peppers and spicy tomato sauce, and topped with a culinary kiss of paprika and vinegar, are more than just an appetizer; they're a real pleasure to savor during your visit to Spain!
Don't let the simplicity of this dish fool you. "Brava" in English translates to brave, and you definitely should be kind of brave to eat Patatas Bravas because the red sauce is incredibly spicy. The level of spiciness can be adjusted, though, depending on your preference.
The combination of the fried potatoes and the spicy sauce blend together seamlessly to form a perfect combination, especially when paired with a Spanish cold beer!
Check out our Patatas Bravas Recipe.
2. Berenjenas al Miel (Spanish Crispy Fried Eggplant with Honey)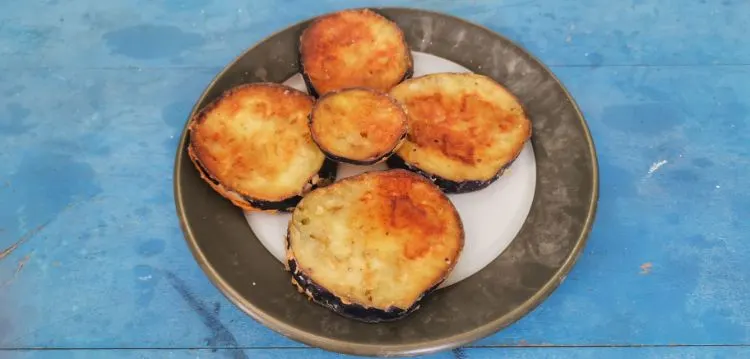 I am pretty sure you've eaten fried eggplants before, but how about fried eggplants with honey? This is exactly what the Spanish delicacy called Berenjenas con Miel is.
This vegan Spanish tapa is widely celebrated, especially in Andalusia. You have the saltiness of the savory eggplant complementing the sweetness of honey.
If you are thinking of simple vegan tapas recipes to whip up for a small gathering, Berenjenas con Miel is a true crowd-pleaser. As you are preparing, be sure to soak the eggplant in milk for at least an hour so you can get rid of the bitterness in the vegetable.
Despite its simplicity, this dish is extremely tasty! It's ideal to serve this tapa with a cold beer or wine.
Check out our Berenjenas al Miel Recipe
3. Garbanzos con Espinacas (Spinach and Chickpeas)
Ever heard of this one before? It's simple, it's delicious, and it's healthy – Garbanzos con Espinacas should be on your list of go-to vegan Spanish tapas recipes to make.
With its rich flavor, Garbanzos con Espinacas is a vegan Spanish dish that has all the elements of a robustly seasoned tapas dish.
Spinach and chickpeas are a combination that is common in the Middle East. You will also find the same tandem in many Spanish dishes. Garbanzos con Espinacas, in particular, hails from Andalusia.
Spinach and chickpeas are a wonderful combination of vegetables that goes great with any main dish.
If available, it is better to use fresh spinach and chickpeas for this recipe. While canned ones are also okay, fresh ones are packed with a flavorful punch you cannot replicate.
Read here our Garbanzos con Espinacas Recipe
4. Spanish Padron Peppers Recipe (Pimientos de Padron)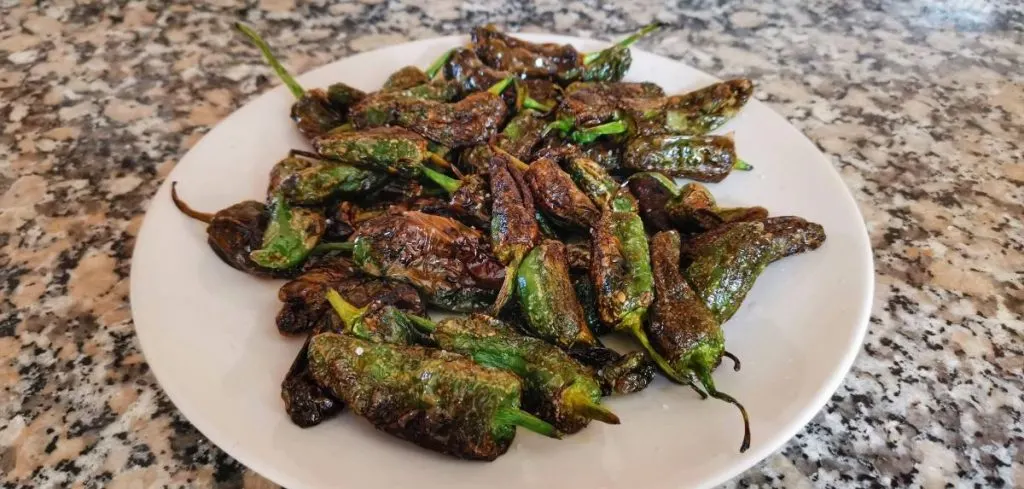 Spanish Padron Peppers are one of the vegan Spanish tapas recipes that spicy lovers will truly enjoy.
What are Padron peppers?
Padron peppers, pimientos de Padrón in Spanish, are chili peppers originating from Padrón, Spain. They are only about two inches long and are mostly mild – although it is widely known that in many Padron peppers, one or two are super spicy!
With a glass of wine, Padron peppers make a great accompaniment to your meal. They are similar to edamame in the Spanish tradition.
The recipe is also one of the few naturally vegan Spanish tapas recipes available.
It is very simple to make pimientos de Padrón. The peppers are fried, blistered, and then served with a sprinkle of salt. This no-frill tapa can be cooked in a matter of five minutes.
Check out our Spanish Padron Peppers Recipe
5. Tortilla Española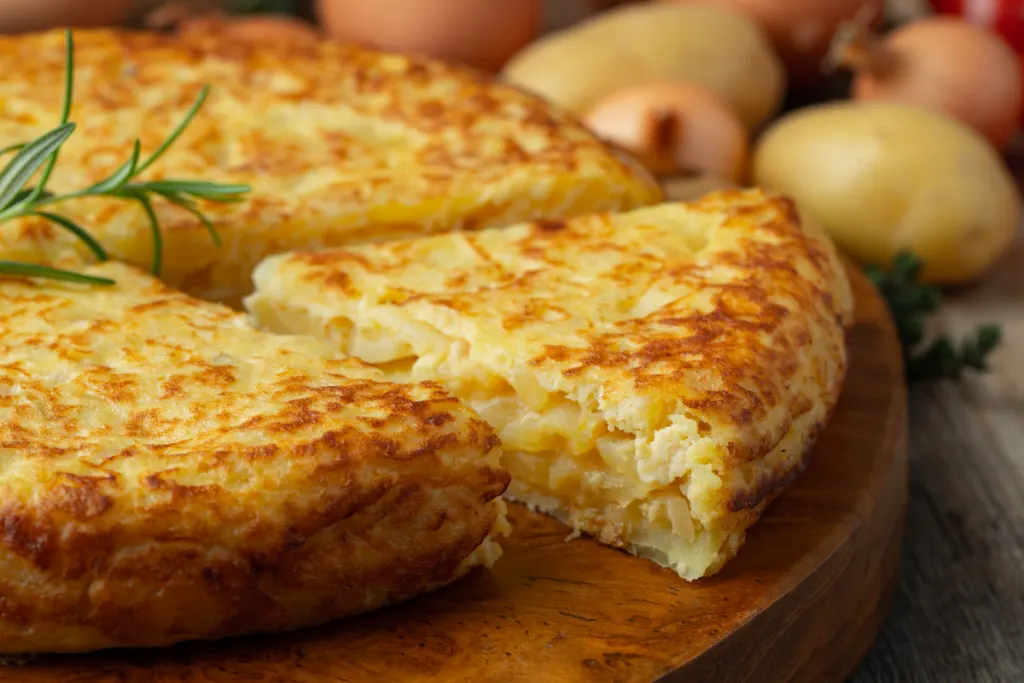 Tortilla Española or Spanish Omelette in English is a classic tapa that is served all over Spain. What makes it different from other omelets is that it is mostly served at room temperature rather than hot.
The perfect tortilla española is light and airy while being moist and flavorful.
While this dish is not really vegan because of the eggs, there are many egg substitutes out there that you can use. One of them is chickpea flour with cold water.
Afterward, the sky's the limit in the ingredients you will put on your Spanish omelet. You'll be using cheap pantry staple ingredients to prepare it. Some of the classic ones include potatoes (of course,) bell peppers, and onions.
But the best part is you can put anything on it that you like!
Tortilla Española is a classic Spanish dish that's great as a light meal or served together with other Spanish tapas. Try different combinations, throw in your favorite veggies and enjoy!
Click here for our Tortilla Española Recipe
6. Spanish Gazpacho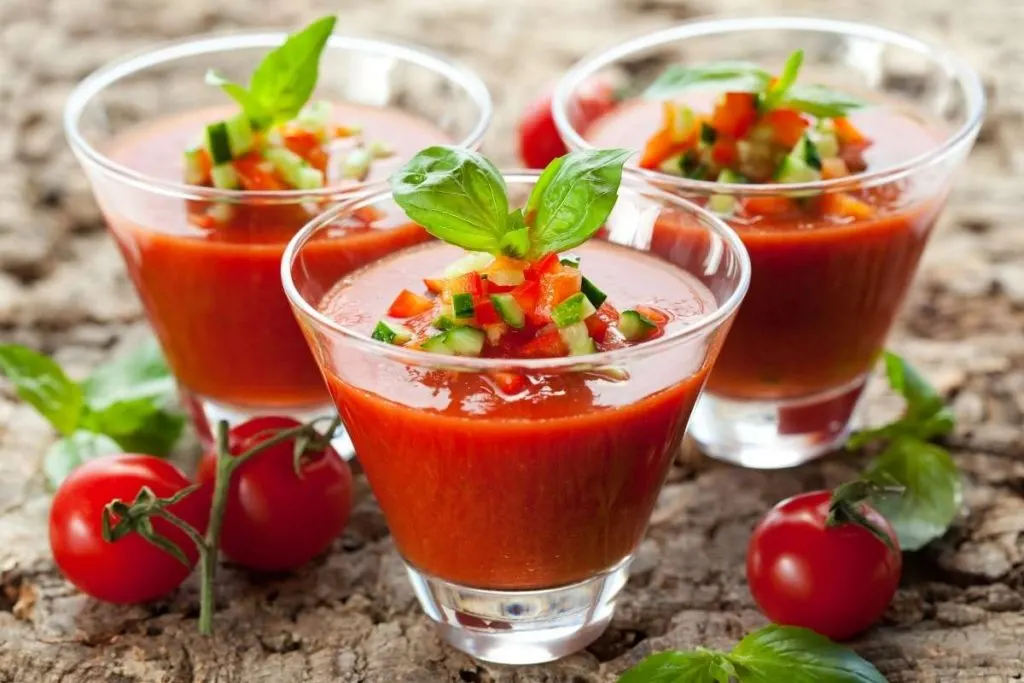 Gazpacho is a Spanish cold soup that originated in Andalusia, the southwest region of Spain.
It is quite easy to make an authentic Spanish Gazpacho. This cold soup is one of those vegan Spanish tapas recipes that do not even need cooking!
Almost every region, city, and town has their own slightly different recipe that uses their local ingredients and demonstrates their own creativity. It takes nothing more than blending tomatoes with spices, vegetables, and herbs!
Tossed into the puree, sautéed bread slices add body and help to blend the ingredients by adding another layer of crunch.
As you blend your ingredients altogether, you can adjust the soup's consistency to your liking. Serve it in a bowl or a cup. This dish makes a good summer treat.
Can you serve Gazpacho hot?
Of course, you can! A secret shared by fellow Gazpacho lovers is that it tastes even better the next day.
Check out our delicious Spanish Gazpacho Recipe
7. Champiñones al Ajillo (Spanish Garlic Mushrooms)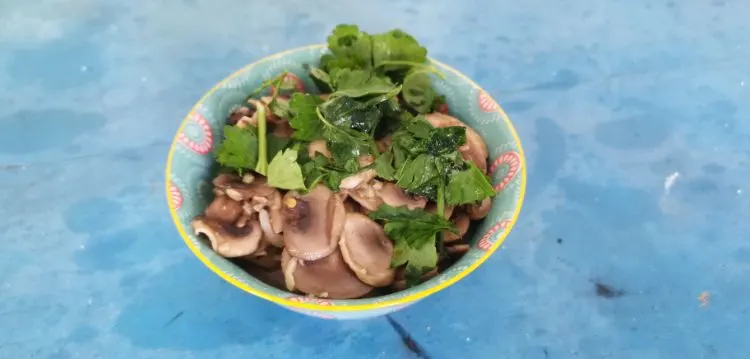 If you have only less than 30 minutes to prepare something special for yourself or a group of visitors, make this simple Champiñones al Ajillo tapas. This Spanish Garlic Mushrooms recipe is among our favorite vegan Spanish tapas recipes to make because it is both an easy and filling dish.
Basically, it's mushrooms sautéed with garlic, olive oil, lemon juice, and chilies.
The key ingredient of this vegan dish is, of course, mushrooms. It is best if you use fresh champiñones to get the maximum flavor. Cremini mushrooms are perfect to use for this tapa.
The dish is made by frying sliced mushrooms in olive oil until golden, then adding garlic and spicy chili. After that, you add lemon juice and parsley.
Be generous with the garlic, too! Garlic is packed with proven health benefits when eaten regularly.
An interesting fact about this dish is that, not only is it very popular in Spain, it is also very popular in the Philippines!
It's an easy and rewarding Spanish vegan recipe perfect for those looking to eat delicious food while also maintaining a healthy diet.
Click here for our Champiñones al Ajillo Recipe
8. Lentil Salad
Spanish lentil salad brings many of the well-loved flavors of Spain into one plate. You have the classic combination of cumin, garlic, and paprika playing along with other herbs and spices.
Lentils, the main ingredient of this salad, can be found in many Spanish dishes. Spanish Pardina lentils are the most common. They cook really quickly and are rich in protein.
Another star ingredient of this salad is paprika. Smoked Spanish paprika, called pimentón, is derived from peppers smoked and dried over oak fires.
9. Spanish Hummus
So, you've tried hummus a hundred times – but have you tried Spanish hummus?
Chickpeas are used in many vegan Spanish tapas recipes, but nothing quite highlights this ingredient more than a flavorful Spanish hummus. Add in smoked Spanish paprika to the mix, and you have yourself a true classic made even better by Spanish flavors.
What goes well with Spanish hummus? You can serve it with warm pita bread, plain crackers, or as a dip to raw vegetables.
10. Spanish Ajoblanco
Spanish Ajoblanco, or in English Spanish Chilled White Gazpacho, is a cold white thick soup. It is another summer soup enjoyed by people in Spain, along with the classic gazpacho.
Spanish Ajoblanco ranks among the best vegan Spanish tapas recipes because not only is it easy to make, but it is also a healthy appetizer or snack to consume.
The difference between the ajoblanco and the classic gazpacho is the star ingredient which is almonds. Instead of tomatoes, the dish calls for blanched almonds.
11. Vegan Empanadas
This vegan empanada recipe is easy to make and even easier to eat. It is made with homemade empanada dough, which is delicious.
Flaky golden pastry oozing with delicious flavors is the result of sautéed mushrooms, onions, peppers, and lots of other yummy ingredients.
This recipe makes one of the best vegan tapas for freezing, too. The dough can be made in advance and stored in the freezer. Then all you have to do when you want to serve them is defrost, fill, seal and bake!
Vegan Empanadas are a perfect menu addition – and they're the perfect party finger food! These empanadas are super easy to make, and once you've got the homemade dough down it's basically impossible to stop making them.
12. Vegan Ensaladilla Rusa or Russian Salad
Ensaladilla Rusa, also called Russian salad, is an incredibly popular tapas dish in Spain. However, the Spanish version is not vegan at all. It contains boiled eggs, mayonnaise, peas, potatoes, carrots, and a lot of calories.
Luckily, there is a way to adapt this dish in order to make it vegan! Making a vegan version of this dish will make it healthier and cholesterol-free!
All you need to do is combine boiled potatoes, carrots, a cup of peas, a cup of corn kernels, some Piquillo peppers, and replace the regular mayo with Vegan mayonnaise.
13. Vegan Chorizo
Spanish food wouldn't be Spanish without chorizo, right? Add a taste of Spain to any meal with the spicy, smoky flavor of this vegan sausage!
The Spanish sausages add flavor to any supper dish, and they're the perfect tapas.
This spicy vegan Chorizo is seasoned with smoked paprika and garlic, and is great for topping pizzas and adding heat to all your favorite Spanish dishes!
You'll love it on frittatas, or alongside olives, piquillo peppers, and grilled veggies!
14. Vegan Flan
An article on vegan tapas would not be complete without desserts. And what better dessert to include than flan? I know – flan mostly consists of egg yolks. But not this time!
For vegans looking to satisfy their sweet tooth, there is a vegan alternative!
With coconut sugar and no baking involved, this vegan, eggless flan takes just 15 minutes to prepare.
Caramelize your sugar and pour into ramekins. Ensure that the caramel is spread evenly before it sets. Then combine the custard and pour into the ramekins. Let them chill at least an hour before serving.
This is the perfect classic Spanish dessert, and honestly, no one will notice that it's vegan!
Are you on Pinterest? Pin this!