Are you in the mood for some delicious vegetarian food at home? Here are Spanish Vegetarian Recipes and vegetarian tapas, which are both easy and delicious.
Whether it is your daily lifestyle or you are simply looking for healthy eats, you are sure to like these Spanish vegetarian recipes.
Thanks to these vegetarian tapas and Spanish vegetarian dishes, I have these new favorites that I can easily create whenever I crave something good!
Read also: Spanish Vegan Tapas
Spanish Vegetarian Recipes
1. Tortilla de Patatas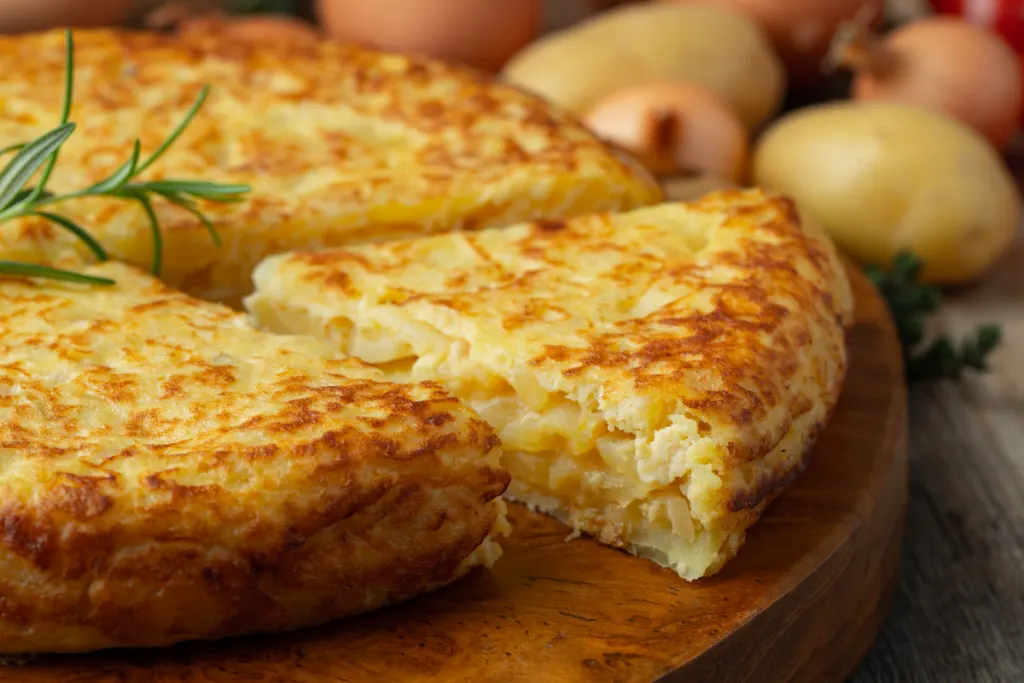 Tortilla de Patatas has many names: Spanish omelet, potato omelet, tortilla de papas, pincho de tortilla and tortilla española.
It is one of the best Spanish breakfast foods to have when in Spain or if you would like to try some Spanish vegetarian recipes at home.
Tortilla de Patatas is one of the popular vegetarian dishes being cooked in Spain.
First of all, the traditional dish calls for only three ingredients: egg, potato, and salt. This makes it really easy to prepare.
Secondly, Tortilla de Patatas is widely consumed in Spain as their "second breakfast." People consume it with either a café con Leche or a small draft beer.
Lastly, the dish can be easily cooked based on your preference. Some like their egg dish slightly on the soft side, while others prefer the thoroughly cooked version.
Also, if you wish to add in other ingredients like onion, you are free to do so.
You can enjoy Tortilla de Patatas not only as a breakfast dish. It can also be served as a mid-meal snack, along with other tapas or as a main dish in itself.
This vegetarian Spanish food tastes delicious whether it is served warm, cold, or at room temperature!
Read the detailed recipe: Authentic Spanish Tortilla Recipe (Tortilla Espanola)
2. Setas a la Plancha (Grilled Wild Mushrooms)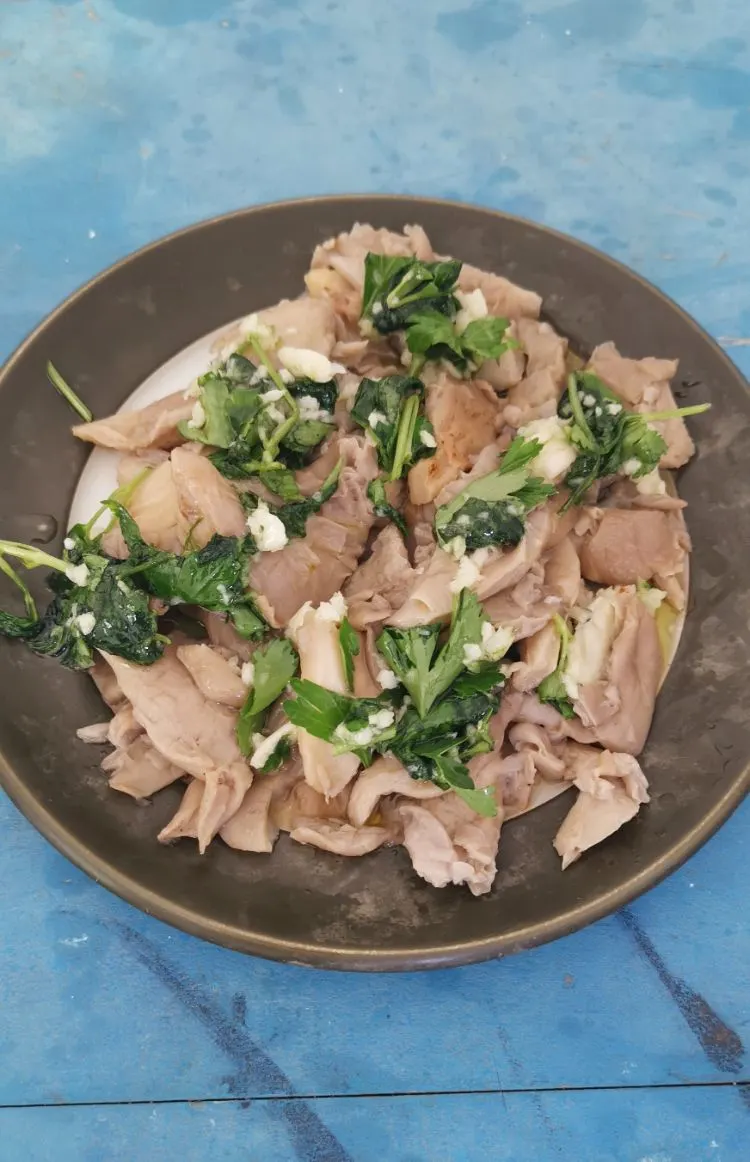 The vegetarian Spanish food Setas a la Plancha, when translated in English, means grilled wild mushrooms.
Mushrooms are plentiful in Spain. The country is the second most-forested area in all of the European Union; therefore, its trees are thriving grounds for wild mushrooms.
The Autumn season is when a lot of these setas or mushrooms are in abundance. You will find restaurants cooking specialties revolving around it and food markets selling plenty of it daily.
The regions of Castile-León, Catalonia, Andalusia, and Galicia gather the most quantity of wild mushrooms in Spain.
It is quite easy to create Setas a la Plancha in the comfort of your home. It is one of the vegetarian Spanish starters that call for minimal ingredients.
Get hold of wild mushrooms, use spices and herbs of your choice, and you're basically good to go.
If you don't have a griddle at home, can you still make a delicious Setas a la Plancha?
The answer is yes!
Cook the dish in a flat pan that is large enough to spread the mushrooms apart. If you don't have a large pan, you can also prepare them in batches.
Read the whole SETAS A LA PLANCHA RECIPE
3. Espinacas con Garbanzos
One of my favorite Spanish vegetarian recipes that I recently cooked is Espinacas con Garbanzos.
In English, this dish translates to Spinach and Chickpeas. It is an Andalusian Tapas dish that is common in the said region and the rest of the country.
Espinacas con Garbanzos originated in the Middle East. In time, it got incorporated into Mediterranean cuisine.
Spain easily embraced this dish because it already uses garbanzos or chickpeas in many of its traditional dishes.
If you are in the mood for Spanish vegetable dishes that are perfect for a light meal, Espinacas con Garbanzos will surely delight your taste buds. It can also be served as tapas or as a side dish to your main meal.
Don't be fooled by the looks of this vegetarian meal.
It may look so simple, but once you take a spoonful or two, you get many bold flavors coming from the ingredients you used, including cumin, cayenne pepper, and garlic.
Read the whole ESPINACAS CON GARBANZOS RECIPE
Spanish Vegetarian Tapas Recipes
1. Gazpacho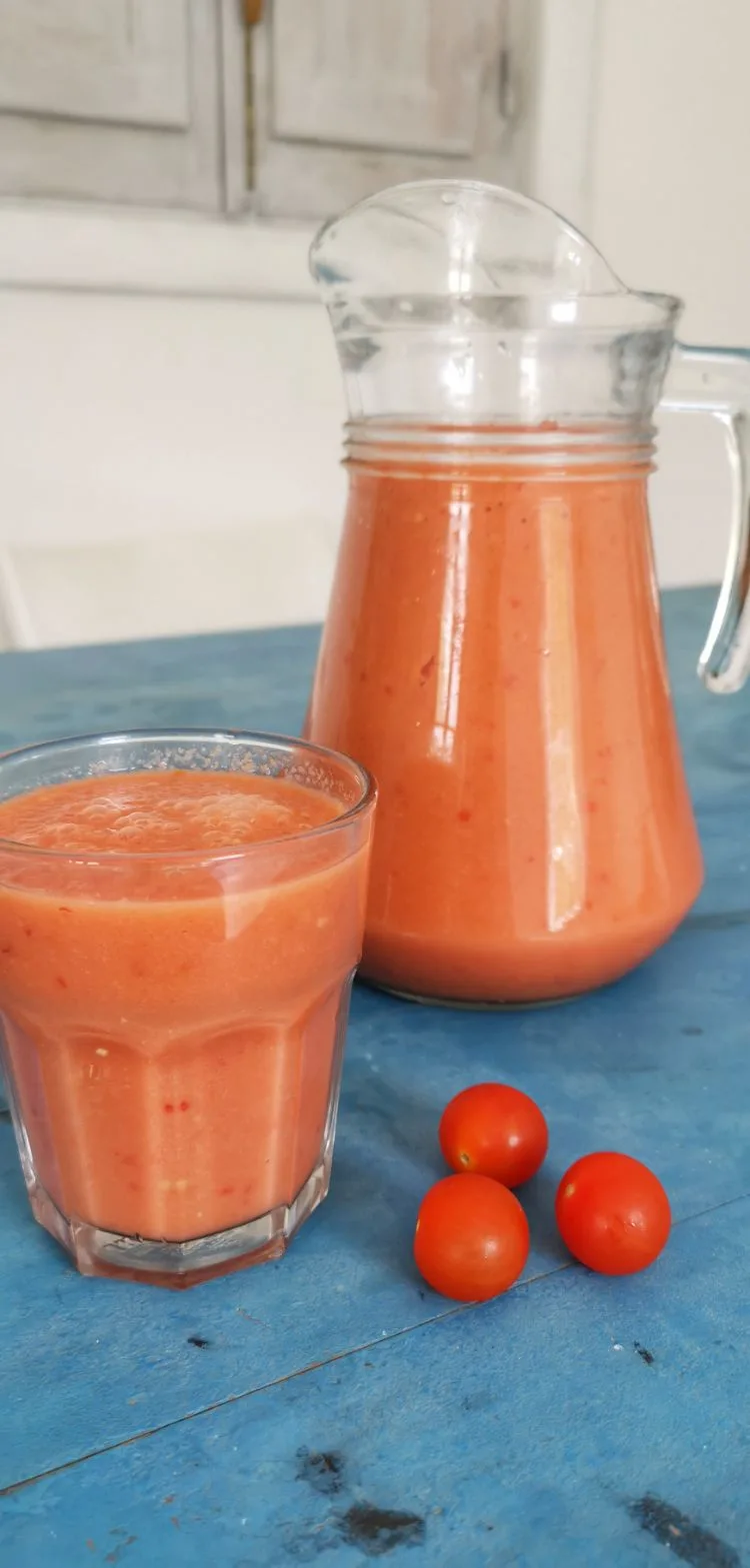 Many (if not all) vegetarian restaurants in Spain will surely have authentic Spanish Gazpacho on their menus in the summertime. Nothing beats a bowl of this tomato soup, especially when it is made fresh.
Gazpacho is well-loved in Spain – so much that many regions have their own take on this classic tapas recipe.
In Cordoba, it is regarded as salmorejo; in Granada it is ajoblanco and in Antequera it is porra antequerana.
The key to making an authentic gazpacho is using fresh raw ingredients.
Compared to other soups that we know, this soup does not need to be heated up and cooked on a stove. Once you blend all the chopped ingredients, this vegetarian tapas recipe is ready to be consumed.
You can blend it until it reaches its desired consistency; some like it grainy while others like it super smooth.
Gazpacho can come out really simple-looking, so it helps to have a few toppings. You can serve your soup with croutons, cream, or fresh herbs on top.
Read the whole GAZPACHO RECIPE
2. Patatas Bravas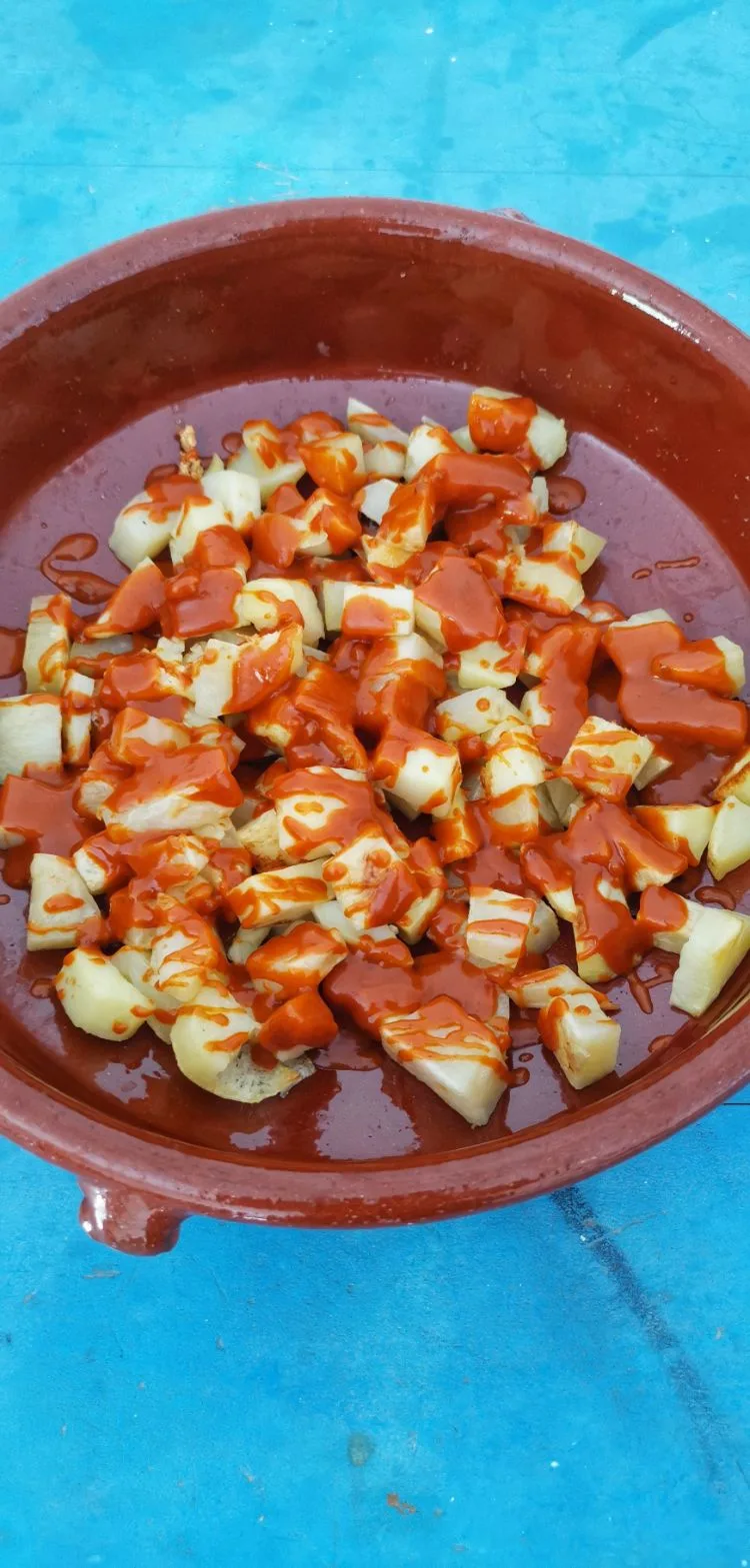 Another Spanish vegetarian tapas recipe that cannot be missed on this list is Patatas Bravas.
In English, it translates to Spicy Potatoes. Basically, it is fried potatoes cooked in a spicy tomato sauce.
Patatas Bravas is one of the trendy vegetarian tapas widely enjoyed in Spain. Any tapas bar in the country will surely have it on the menu.
Is it easy to recreate this dish at home?
The answer is yes!
There are two important components in this vegetarian dish. One is the potatoes. Cut them into bite-sized wedges and deep fry them using extra virgin olive oil.
The other component is the sauce. It isn't Patatas Bravas without the spice! Make sure that you taste a bit of kick in every bite.
Read the detailed recipe: PATATAS BRAVAS RECIPE
3. Salmorejo
There are many Spanish vegetarian recipes out there, but nothing has quite amazed me with its simplicity other than a nice serving of Salmorejo.
This Cordoba specialty is, in simple words, tomato soup. Think Gazpacho – but not quite.
What is the difference between Salmorejo and Gazpacho, then?
Salmorejo, compared to Gazpacho, is thicker inconsistency. It actually needs fewer ingredients, wherein its basic components are just fresh tomatoes, olive oil, and garlic clove.
Salmorejo is one of the veggie options which can easily be your go-to when you feel like consuming something quick and healthy.
If you can score some fresh ripe tomatoes from the market and you have a bottle of extra virgin olive oil in your pantry, make sure to think of Salmorejo!
A traditional Salmorejo has toppings that include diced cured ham (such as Serrano or Prosciutto) and sliced hard-boiled egg, but you can omit them.
4. Pan con tomate
Another one of the popular Spanish vegetarian recipes is Pan con Tomate.
It is as humble as it sounds, with only toasted bread and tomato to complete the dish. As plain as it may seem, this Spanish finger food is delightful to the taste and healthy of the body.
Pan con Tomate is part of every tapas bar's vegetarian tapas menu. During summer, tomatoes are extra special, making this dish a true must-try.
It adds freshness to your party plate and contributes vibrancy to your main dish.
When making Pan con Tomate, make sure to be generous with the number of tomatoes you put on top of your bread. Let it absorb as much juice as possible and add some final touches of olive oil, salt, and pepper.
What is the secret to a good Pan con Tomate?
For sure, it is the quality of the tomatoes!
Check out my PAN CON TOMATE RECIPE
5. Berenjenas al miel (Fried aubergine and honey)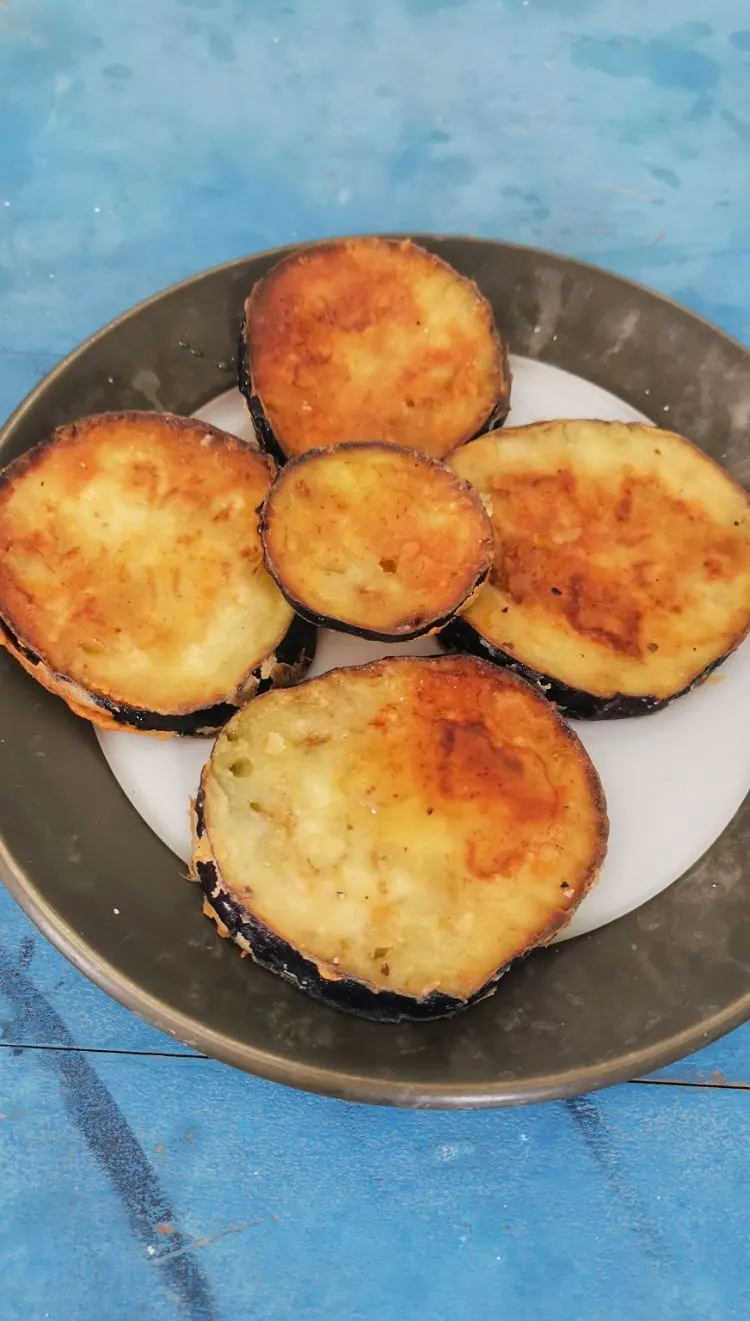 Are you in the mood for some more Spanish vegetarian recipes?
Why not make some Berenjenas al Miel?
I have recently tried this Fried Aubergine and Honey recipe, and it truly did not disappoint. It was, by far, one of the most delicious vegetarian Spanish food I have ever made!
You might be thinking: honey with eggplant? How could it taste good?
This combination is actually a classic one that comes from Andalusia. It is also well-celebrated in Granada, Cordoba, Malaga, and Jaén.
Many vegetarian tapas in Spain are easy to recreate, some of them even needing just two or three ingredients.
Berenjenas al Miel, for example, only requires at least four main ingredients: eggplants, milk, flour, and honey.
What is the secret to a good Berenjenas al miel?
Make sure to soak your cut eggplants in milk for at least one hour. This way, you take out the bitterness that usually comes with eating eggplants.
Read full recipe: BERENJENAS AL MIEL
6. Champiñones al Ajillo (Spanish Garlic Mushrooms)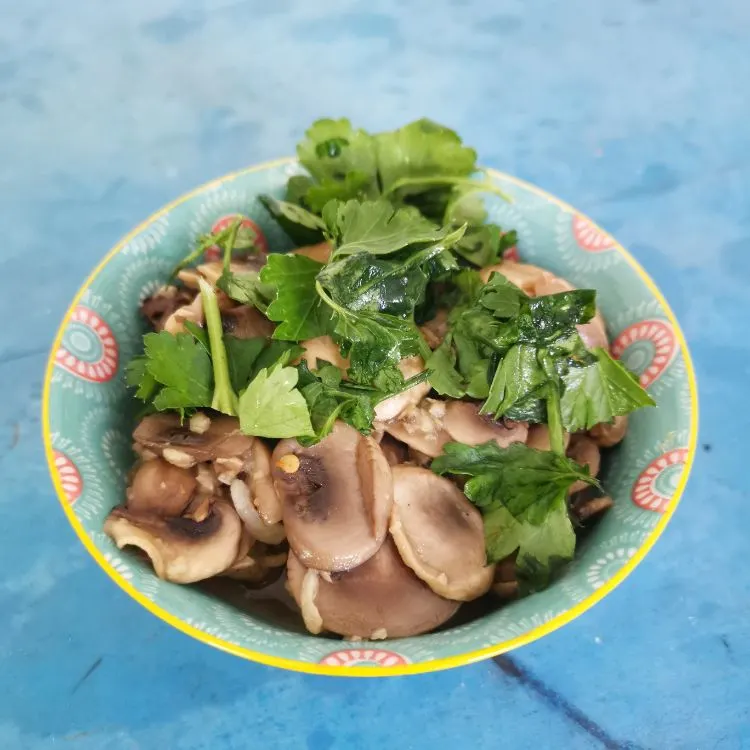 Champiñones al Ajillo (Spanish Garlic Mushrooms) is another simple and yet delicious Spanish Vegetarian Tapas.
Spain has a whole collection of dishes served al ajillo, and champiñones al ajillo is one of them.
I like to prepare this tapas with white wine and excellent extra virgin olive oil.
Read full recipe: SPANISH GARLIC MUSHROOMS
7. Zanahorias Asadas con Comino y Pimentón (Roasted Carrots with Cumin and Paprika)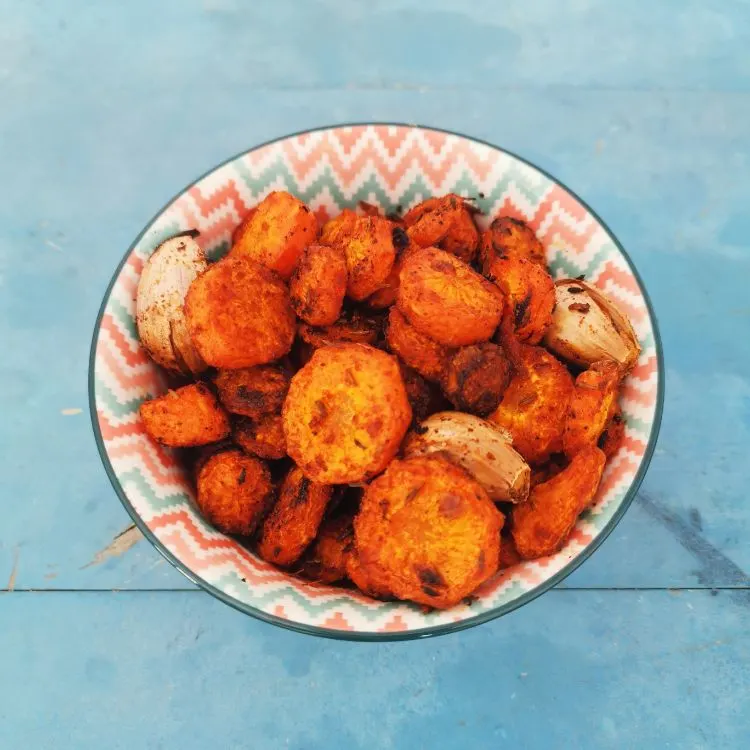 Zanahorias Asadas con Comino y Pimentón (English: Roasted Carrots with Cumin and Paprika) is another easy-to-prepare Spanish vegetarian tapas dish.
For this recipe, you will need, of course, carrots, garlic, cumin, extra virgin olive oil, smoked Spanish paprika as well as salt and pepper.
Read full recipe: ROASTED CARROTS WITH CUMIN AND PAPRIKA
8. Papas Arrugadas con Mojos (Canary Wrinkled Potatoes with Dips)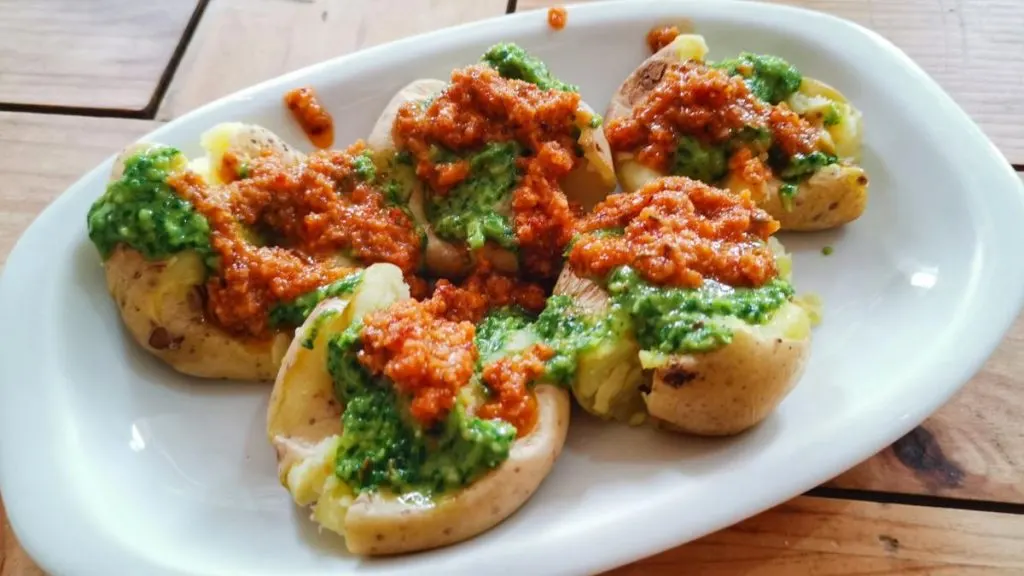 Papas Arrugadas con Mojos (English: Canary Wrinkled Potatoes with Dips) is a typical and traditional recipe from the Canary Islands. All tapas bars on the islands serve papas arrugadas as either tapas or as a side dish to meat or fish dishes.
The potatoes are served with two different kinds of dips. One dip, mojo Verde, is prepared with coriander, green chili, and garlic. The other dip, mojo picon, is made with paprika and red chili.
Check out our Papas Arrugadas con Mojos Recipe
Are you on Pinterest? Pin this!