Searching for Traditional Spanish Desserts? We've enumerated the best of the best sweets in Spain! Make sure to check out our own Spanish Dessert Recipes at the end – and start cooking!
Who doesn't love desserts?
I'm quite sure everyone enjoys desserts.
Have you tried any of the many traditional Spanish desserts yet?
If you have a sweet tooth, you will definitely fall in love with Spanish dessert recipes.
These sweets are delicious – but most importantly, easy to prepare at home.
Traditional Spanish Desserts
1. Crema Catalana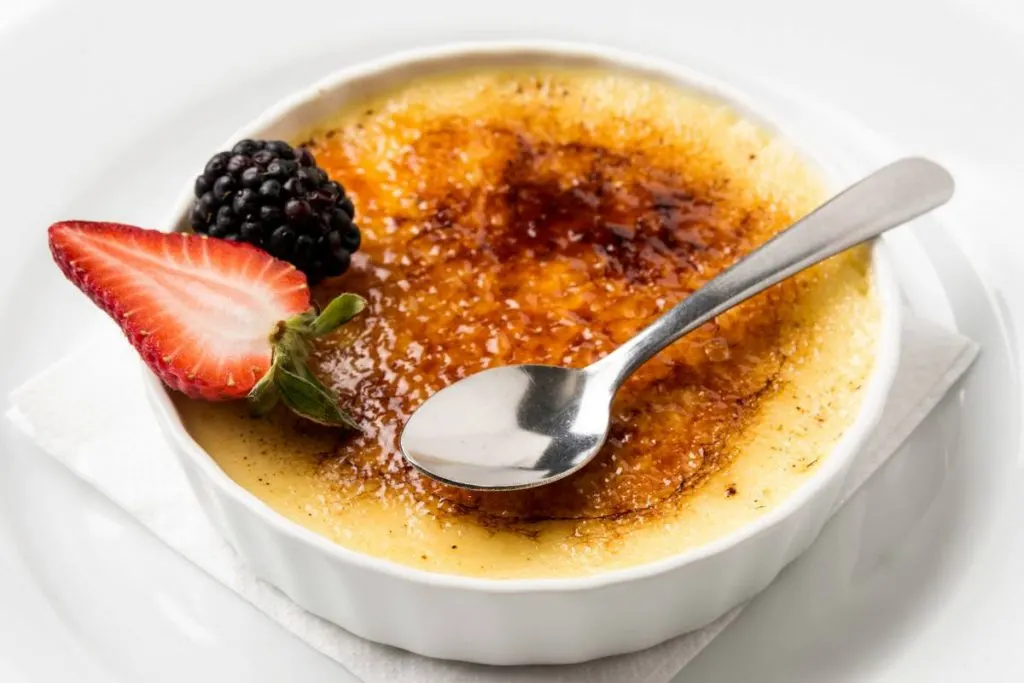 Crema Catalana is among the Spanish desserts that never fail to catch my attention when it's on the menu.
Another name for Crema Catalana is Crema Cremada. Most people regard it as Spain's Creme brûlée. Whichever came first, nobody truly knows!
In contrast with Creme brûlée, Crema Catalana is actually made with milk and not cream. It is also on the thicker side because of the incorporation of cornstarch.
In other words: Crema Catalana is way easier to make than its French counterpart.
2. Torrijas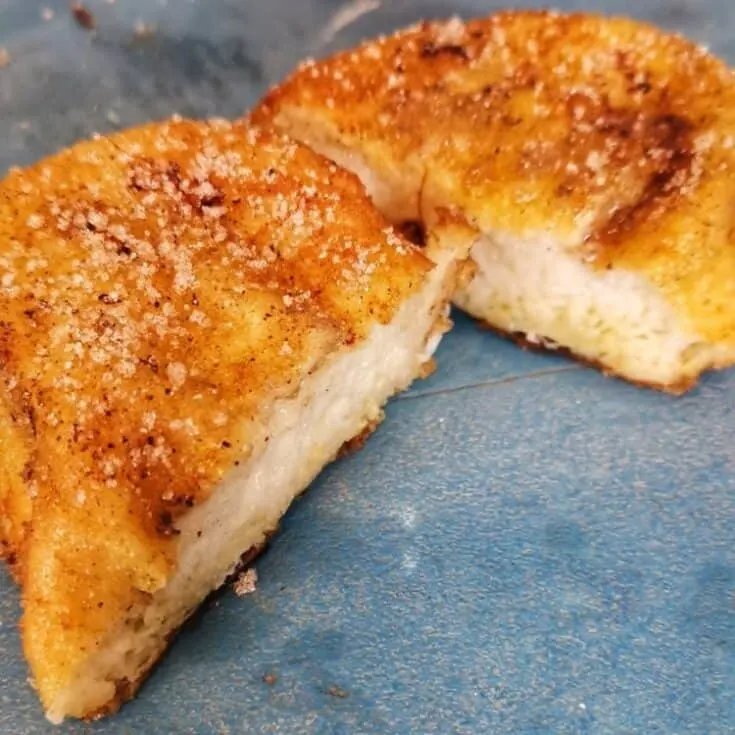 Torrijas is one of the first Spanish dessert recipes I have made in my kitchen. It is truly delicious and easy to make!
Spanish torrijas are so versatile that you can have them as a breakfast or as a dessert.
In English, Torrijas are Spanish-style toasts. It is likened to the French Toast, but they are actually dissimilar.
The bread is first soaked in flavored milk and then dipped in egg. Afterward, it is deep-fried in olive oil.
A drizzle of homemade fruit syrup upon serving makes this dish totally irresistible!
3. Tarta de Queso (Cheese Cake)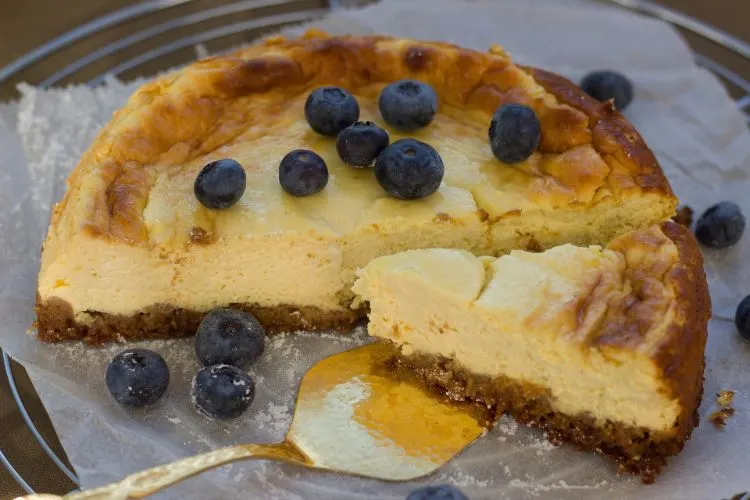 Tarta de Queso or Cheese Cake is quite a new addition to the list of sweets in Spain. Also known as Basque Cheesecake, this delectable dessert was made by Chef Santiago Rivera in 1990.
The word "cheesecake" may sound intimidating to a home cook, but this type of cheesecake is actually easy to make.
In fact, the traditional recipe of Tarta de Queso only calls for five easy-to-find ingredients: flour, sugar, eggs, cream cheese, and heavy cream.
What separates Tarta de Queso from the many cheesecakes of the world? It is its burnt top that intrigues a lot of foodies!
Read also: Spanish Burnt Basque Cheesecake Recipe
4. Churros with Chocolate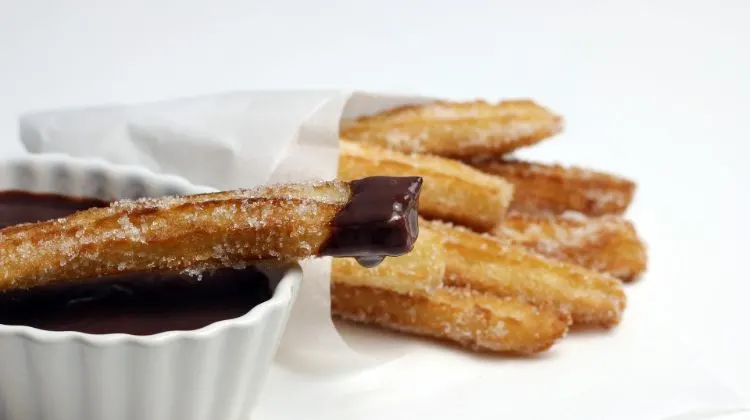 How do Churros with Chocolate for breakfast sound like to you?
What is a churro, and why is it regarded as one of the popular Spanish desserts that everyone should try?
Churros are pastries piped with a star-shaped tip, freshly fried, and then dusted with cinnamon and sugar.
Having churros for breakfast?
Make sure to pair it with authentic Spanish hot chocolate for a full experience.
Dip the churro in hot chocolate, drink the hot chocolate alongside it, or do both – no one's judging!
5. Flan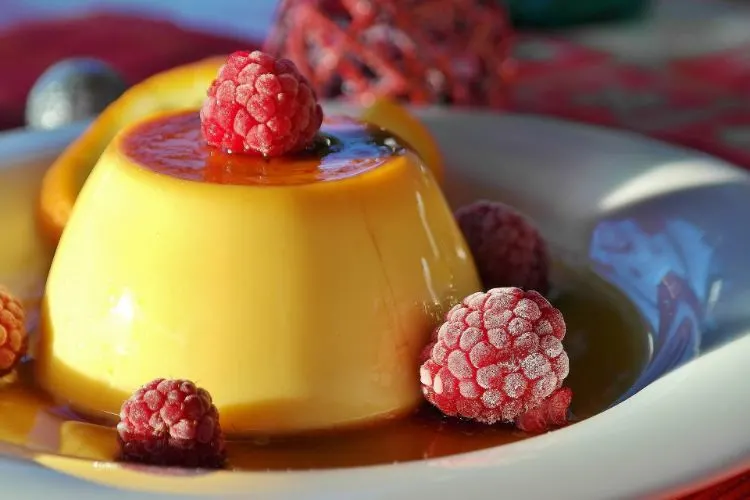 Spanish Flan is among the Hispanic desserts that have found their way to many parts of the world. Because of that, you will surely encounter different versions of this traditional Spanish dessert.
What is a flan?
Flan is a creamy custard dessert that is so simple yet so enjoyable to eat. The most basic type of flan is the caramel flan or crème caramel.
Spanish flan calls for four basic ingredients: eggs, condensed milk, whole milk, and sugar.
To achieve the creaminess of the flan, the custard is cooked in what the Spaniards call baño-maría, which translates to a water bath in English.
6. Arroz con Leche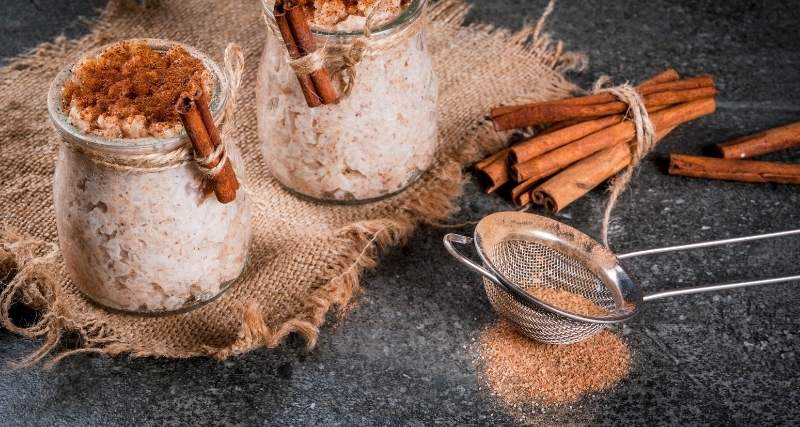 Of the many Spanish dessert recipes that I have tried recently, Arroz con Leche is the one that wowed me by its simplicity.
In English, Arroz con Leche is regarded as rice pudding. Its direct translation is rice with milk, which is generally what this Spanish dessert is all about.
When making the traditional Arroz con Leche, you only need rice, milk, sugar, and lemon zest. Additional ingredients like spices are entirely up to you.
What fascinates me about Arroz con Leche is that you can eat it hot or cold. I can eat it directly after cooking, or I can bring it with me out for a picnic – and it still tastes as good!
7. Tarta de Santiago
Tarta de Santiago is one of the traditional Spanish desserts that has been part of Spanish cuisine for quite a long time.
To be exact, the first recorded recipe of Tarta de Santiago dates back to 1577.
Tarta de Santiago originated from Galicia in the Northwest of the Iberian Peninsula. Its main ingredients consist of almonds, orange zest, and lemon zest.
Many describe Tarta de Santiago as a Spanish almond cake. What makes this dessert extra special is the fact that it is gluten-free.
Traditionally, when you make a Tarta de Santiago, you finish it by decorating the top with the St. James Cross. A stencil of the cross is essential if you would like to nail this Spanish dessert recipe to the last detail.
8. Leche Frita
Leche Frita is among the easiest Spanish dessert recipes. It is common for restaurants, coffee nooks, and other small shops in Spain to have Leche Frita on their menus.
Leche Frita, when directly translated in English, means fried milk. This may not seem to make sense at first, but it won't be long before you would like to try it yourself once you see the recipe.
How do you fry milk?
The simple answer is you make a pudding out of it, which later on will be cut and breaded and then fried.
9. Miguelitos
A Miguelito is basically a pastry cream filling tucked in baked puff pastries. The texture is flaky, and the look is made sophisticated by the dusting of powdered sugar.
You can experiment with the flavor of the pastry cream, which you will put inside the puff pastry. Some common varieties other than the original flavor include milk chocolate and dark chocolate.
We have the Albacete Province in Spain to thank for this delicious Spanish dessert. Its name is honor of the first person who had the privilege to taste Miguelitos for the first time after Chef Manuel Blanco invented it.
10. Turrón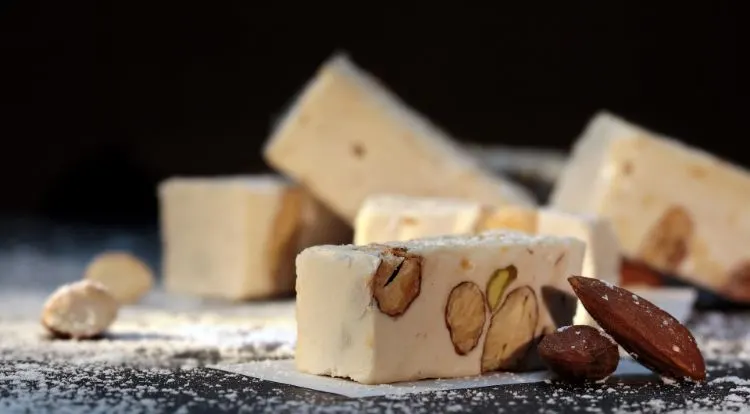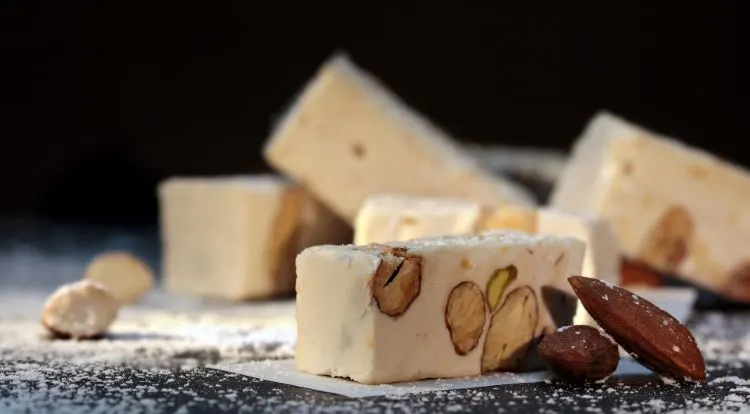 The delicious Spanish Turrón is one of the traditional Spanish desserts that are most popular when it is Christmastime.
Turrón is usually associated with nougat. It is made by mixing toasted nuts with honey, eggs, and sugar. Its consistency depends on how you like to eat your turrón – hard or soft.
Hard turrón is called turrón de Alicante. It is brittle in texture. Soft turrón, on the other hand, is called turrón de Jijona. It is chewy when eaten.
Even though this Spanish dessert is famous as a Christmas treat, you can still enjoy turrón at any time of the year!
11. Tarta de Tres Leches
Tarta de Tres Leches is not only pleasing to look at, but it is also delicious to eat! It is one of the most decadent sweets in Spain, in my opinion.
Tarta de Tres Leches is not your usual cake. In English, the name directly translates to "three kinds of milk cake."
It is a fitting name indeed because this type of cake is soaked in three kinds of milk: condensed milk, evaporated milk, and heavy cream.
Over the years, many Tarta de Tres Leches varieties have been baked, yet nothing beats the traditional clean flavor of soaked sponge cake with cream topping.
12. Quesillo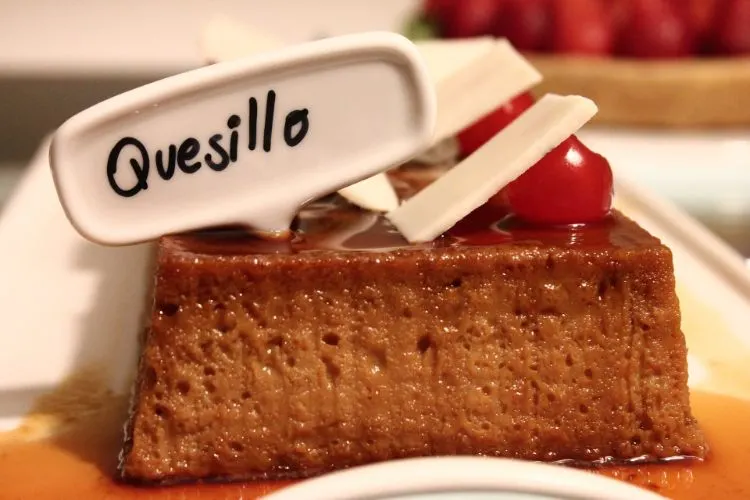 The Quesillo is among the well-loved Spanish dessert recipes out there. It is called such because when the finished product is unmolded, the look is quite similar to queso or cheese.
Is quesillo similar to a flan?
A quick look at both recipes will tell you that there are many similarities when making a quesillo and a flan. They even both get cooked using the baño-maría method.
However, one thing that differentiates a quesillo from a flan is its use of whole eggs. This makes this Spanish dessert far from similar to a flan in look and taste.
13. Pestiños
Pestiños is one of the easiest Spanish desserts and recipes you can make at home.
When Easter comes to Seville, it is also the perfect time to make pestiños. This traditional Andalusian dessert smells so heavenly – all thanks to the aromatic ingredients that make it up.
To make pestiños, the dough is flavored with sesame, orange blossom, and anise liqueur. Once deep-fried in olive oil, the pestiños are either drenched in honey or topped with sugar.
14. Mantecados
You've probably tasted Mantecados before without knowing their name. Mantecados are traditional Spanish shortbread cookies that are sometimes also called crumble cakes.
Like the delicious Spanish Turrón, Mantecados is part of the Spanish desserts list served during the Christmas season.
However, as with the other Spanish dessert recipes, you don't need to wait for December to try this out.
What about the name?
Mantecados comes from the Spanish root word Manteca which means fat or lard. When making mantecados in Spain, they use Manteca de cerdo or pork fat.
15. Polvorones
Many of the traditional Spanish desserts are cookies, and one of them is polvoron. Polvorones are Spanish almond cookies that are widely served at Christmastime.
The name Polvorones stems from the Spanish root word Polvo which translates to dust or powder. It is such a fitting name because once you take a bite of polvorones, it crumbles into powder in your mouth.
Just like mantecados, the Spaniards use Manteca de cerdo or pork fat when making polvorones. However, you can freely substitute it with vegetable shortening, butter, or margarine.
16. Natillas de Leche
There is nothing more comforting than a serving of a classic Natillas de Leche. This ranks highly among the Spanish food desserts I can eat on any given day.
When translated to English, natillas means custard. Spanish custard is thick and creamy with subtle yellow color.
The main ingredients of Natillas de Leche are quite simple: milk, eggs, sugar, and flour.
When making the classic flavor, vanilla is added to the recipe. Other recipes call for cinnamon and lemon.
17. Pantxineta
Pantxineta is another dessert on the list of Spanish pastries hailing from Basque. Pantxineta means "custard slice."
One look at the dish (and the name) might make you feel a bit intimidated to try making some at home, but this is actually among the Spanish dessert recipes which are easy to recreate.
To make a Pantxineta, a thick layer of custard cream is placed in between two puff pastry sheets. It is then coated with a beaten egg and baked.
Pantxineta is best served hot and fresh out of the oven!
18. Frixuelos de Asturias
Frixuelos de Asturias are Spanish-style crepes that are commonly served in the northern regions of Spain. They are likened to Galician pancakes.
There are many ways on how to make and serve Frixuelos de Asturias.
Some stack them together and finish them off with just a squeeze of lemon and a dash of sugar. Others fill them with pastry cream and fresh ingredients.
Modern frixuelos will have Nutella or Dulce de Leche on them – and it's fine!
You can also make a savory version of Frixuelos de Asturias. Add in cheese or small portions of meat to your Spanish-style crepes.
19. Leche Merengada
Leche Merengada is one of the traditional Spanish desserts that every child who grew up in Spain probably had.
Leche Merengada is somehow similar to a milkshake but with more complex flavors. Some actually call it the Spanish milkshake.
A classic recipe of Leche Merengada calls for only a few ingredients: whole milk, sugar, cinnamon, lemon zest, and egg whites.
This classic cooler can be found in most ice cream stores in Spain, but it is actually quite easy to recreate at home.
20. Tarta de Manzana Casera
Tarta de Manzana Casera in English is Homemade Traditional Spanish Apple Tart.
Nothing sounds more classic than an apple pie – and of course, Spain has its own version.
This Spanish pastry dessert may not be as easy as the other Spanish dessert recipes we enumerated, but it is definitely worth trying.
It is up to you to choose which base you will use for your Tarta de Manzana – shortcrust pastry, puff pastry… the list can go on. Just make sure to slice your apples thinly to create an even layer.
Spanish Dessert Recipes