Torrijas have long been part of Spanish cuisine, with the traditional way of cooking it being passed on from one generation to the next.
While traditionally eaten on specific religious celebrations, these sweet delights have found their way into breakfast tables and regular menus.
Torrijas can easily be your new favorite comfort food. Get to know more about this delectable dish.
What does torrijas mean?
Torrijas are Spanish-style toasts. They are also regarded as rebanadas de Carnaval (Carnival slices), tostadas (toasts) or tortillas de leche (milk tortillas.)
Others just incautiously call them Spanish French toasts or describe them as fried bread pudding.
What are torrijas made of?
Traditionally, torrijas are made of a slice of stale bread soaked in milk flavored with vanilla, cinnamon, and the likes.
It is then re-soaked in a bowl of beaten eggs before being fried in olive oil.
Torrijas are served with a generous sprinkle of cinnamon sugar.
Where did torrijas originate?
Torrijas originated in Spain. It has been a staple Easter dish eaten by religious people fasting on meat during the Holy Week in observance of Lenten traditions.
It is quite filling because of the bread and energizing because of its sweetness, thus giving people a pleasant boost.
A deeper digging through the archives will reveal that torrijas have been around Spain's gastronomic entity since the 15th century.
It has been known to be prepared for pregnant mothers who were about to give birth.
People believed that the nutritional contents of torrijas gave much-needed strength to the mothers.
On a more general note, torrijas were popular in Andalucian convents because it was an efficient way for them to use their old slices of bread.
An old Roman dessert called aliter Dulcia is very similar to the torrijas of today.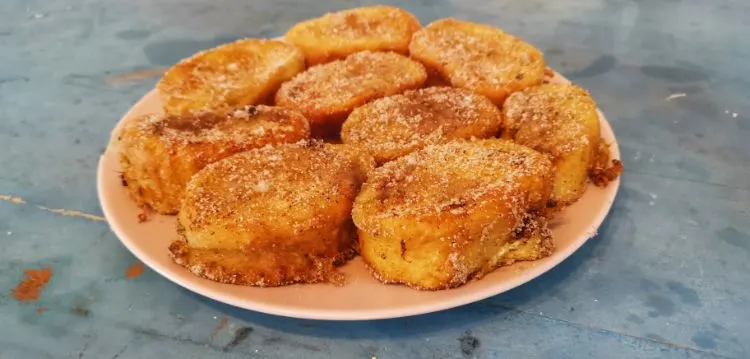 Torrijas vs French Toast
While torrijas and French toast share about the same ingredients, there is a major difference in the way it is cooked.
Torrijas are fried in olive oil, given the abundance of the said cooking material in Spain. French toast, on the other hand, is fried in butter.
Furthermore, torrijas are soaked in flavored milk and then dipped in beaten egg. In making French toast, egg and milk are commonly combined.
The finished products, though, look strikingly similar to each other.
Tips for great torrijas
The staler the bread the better, even though more and more people right now are using fresh bread. A stale bread will absorb more liquid.
If there is no stale bread in your kitchen and you still would like to make torrijas, you can toast your bread quickly so that it turns dry.
Should you wish to reheat your torrijas, avoid placing it in a microwave. Instead, place it on a pan over low heat or put it in an oven toaster on low heat as well.
Take it up a notch and replace milk with either red or white wine!
Make your own fruit syrup to drizzle over the top of the torrijas just before serving.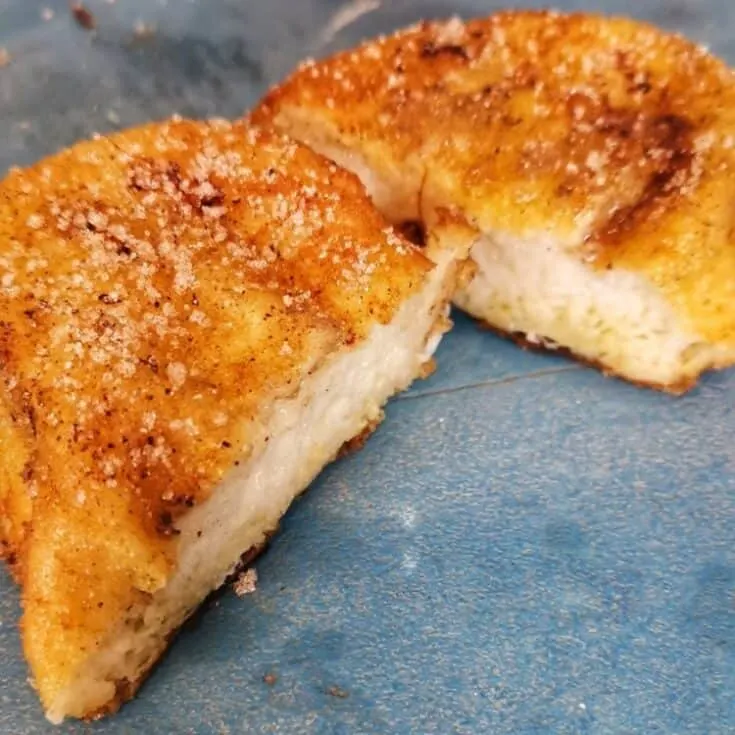 Torrijas have long been part of the Spanish cuisine. Know how to make this decadent delight with our easy-to-follow Spanish Torrijas recipe.
Total Time
5 hours
5 minutes
Ingredients
1-liter milk
Bread from the previous day
3 to 4 eggs
Extra Virgin Olive Oil
Lemon and orange peel
Sugar
Cinnamon (powder)
1 cinnamon stick
Instructions
1. Cut the bread in slices
Cut the bread in slices of around one inch or 2.5 centimeters.
I recommended using bread from the previous day or even bread that is two or three days old. If the bread is hard, it can soak up more milk.
2. Cut off a few small pieces of fresh lemon and orange peel.
3. Let the bread soak in milk
Mix the milk with the cinnamon stick and the orange & lemon peel.
Afterward soak the slices of bread in the milk and let it rest for around four hours.
The longer you soak the bread in the milk the juicier the Torrijas will get.
4. Dip the bread in the egg
After four hours, take the pieces of bread out of the milk and let them drain for a few minutes.
Meanwhile, beat the eggs in a shallow bowl.
In the next step dip the bread slices with both sides one by one in the egg.
5. Deep fry the soaked bread slices
Heat up around 1 inch of olive oil in a pan and carefully transfer the soaked bread slices into the oil.
I recommend using a spatula and a fork as the bread will be very soft and can break easily.
Fry the slices for around two to three minutes on each side until they are brown.
6. Put the bread on a paper towel
Once the bread is done take it out and put it for a few minutes on a paper towel.
7. Dunk the bread in a sugar & cinnamon mixture
Mix sugar and cinnamon on a deep plate and dunk the bread slices into it.
8. Enjoy your home-made Spanish Torrijas!
Nutrition Information:
Yield:

4
Serving Size:

1
Amount Per Serving:
Calories:

267
Total Fat:

13g
Saturated Fat:

5g
Trans Fat:

0g
Unsaturated Fat:

7g
Cholesterol:

207mg
Sodium:

242mg
Carbohydrates:

21g
Fiber:

1g
Sugar:

2g
Protein:

16g
The nutritional information provided is approximate and can vary depending on several factors, so is not guaranteed to be accurate.