Fresh, delicious, and colorful salads are a must-try in Spain. These ten Spanish salad recipes will delight your senses, help you cool down, and delight your senses this summer.
Spanish salads are very versatile, and their combinations can be different from all over the country. In addition, many of them come in a few variants, differing slightly in the dressing used or the ingredients included.
A variety of toppings and ingredients contribute to a fun culinary experience that can be enjoyed during any meal.
Get ready to try some new tastes and textures: crunchy nuts combined with soft cheese; juicy tomatoes bathing in olive oil and sprinkled with salt; tender green beans tossed with fresh herbs.
Your taste buds will thank you!
1. Ensaladilla Rusa (Spanish Potato Salad)
According to the local cuisine, the European potato salad, or ensaladadilla rusa, is incredibly popular worldwide, but it is made differently in each country.
Although it is popular in Spain, the authentic recipe originates from Russia. Russia has a tradition to hold parties around the holidays, especially on New Year's Eve.
Among the most popular versions in Spain is the one I am sharing with you today. It contains potatoes, carrots, peas, tuna, and mayonnaise.
Some recipes call for roasted peppers, capers, shrimp, and pickles.
It tastes even better with a homemade mayonnaise, if not, a jar of mayo will work just fine.
2. Spanish Bean and Red Pepper Salad
Do you need something light, delicious, and easy to make? Then this Spanish bean and pepper salad is what you're looking for!
You can prepare the Spanish bean salad in minutes, which is one of the greatest things about it. Simply assemble the ingredients and you're done.
Spring onions are the only fresh ingredient in this recipe, but you could substitute a little diced red or white onion if you don't have them. Every other ingredient is straight out of a can, jar, or bottle.
However, that does not mean it isn't delicious. It is actually packed with flavor!
All you need to do is toss together your cannelini beans, skinned oily red peppers, capers and spring onions into a salad bowl and drizzle them with some sherry vinegar.
The veggie mixture combined with the vinegar dressing create a taste that you will keep you coming back for more!
Whether served as a side dish or as a main dish, this vegan bean and pepper salad is delicious! To mop up the vinegary dressing, you may want to serve it with freshly baked crusty bread, as well.
3. Pipirrana
Pipirrana is a typical Andalusian salad dish. Since each province makes it differently and has different ingredients, it has numerous variations.
Tuna and olives are sometimes added to elevate the flavors of this refreshing summer salad, often dressed with olive oil, and vinegar, and served with slices of bread soaked in it.
Other places peal and soak the tomatoes in olive oil and then mash them into a soup, and still other areas add eggs and lettuce to the salad.
However, the traditional version is based on 4 ingredients: tomatoes, peppers, onions and cucumber. Everything else that is added is purely personal preference.
The recipe makes excellent use of fresh, seasonal ingredients that everyone has on hand in the summer!
This salad can be a base for adding seafood such as octopus or tuna or as an accompaniment to fish, or just eaten as is, as it has a great flavor all on its own!
4. Ensalada Murciana
Ensalada Murciana is another typical Spanish salad made traditionally on the banks of the Segura river (Murcia). Though it can be eaten at any time of year, it's considered a winter salad that has a special personality!
Each family recipe is different, some replace the tuna with cod, others change the proportions of the ingredients, and some do more or less mashing to the tomatoes. Regardless of how you prepare your dish, you need to use good quality tomatoes, butter, and bread!
The recipe for Murcian Salad is very easy to prepare. The potatoes should be boiled in their peel and then peeled and cut into small pieces. The tomatoes should be finely chopped, along with the peppers. Add diced boiled eggs and sliced onions to the mixture and stir well.
After that, add tuna to the mixture you just prepared, add olives, season with salt, and drizzle with olive oil!
Whether you serve it as a starter with fragrant fresh bread, or simply as part of your meal, your salad will be a great hit!
Enjoy!
5. Ensalada Malagueña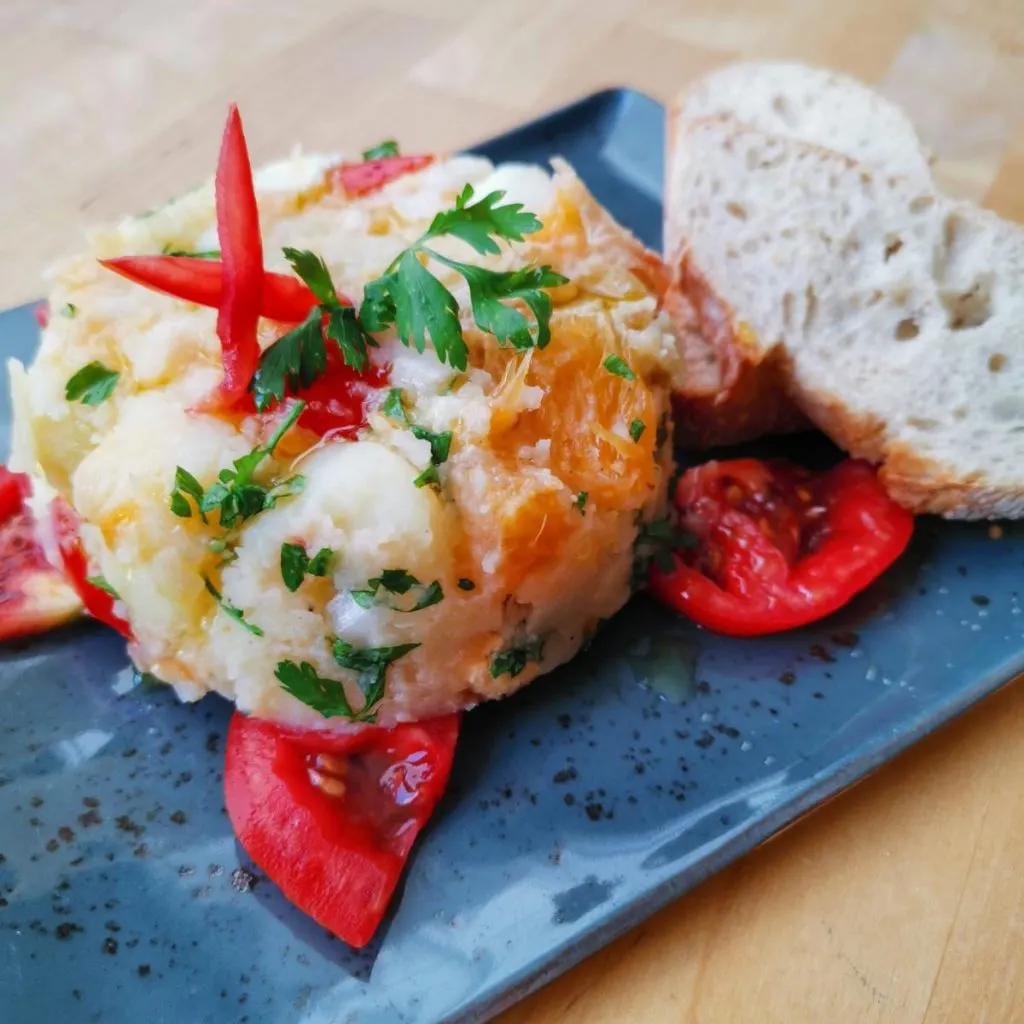 The Russian salad usually comes to mind when people in Spain talk about potato salad.
The potato salad in Malaga (Ensalada Malagueña), however, is somewhat different. Potatoes are also used, but olives, salted cod, and oranges come into play. You probably haven't heard that one!
Although the combination of fish, oranges, and potatoes might seem unusual, the result is delicious and a perfect meal for the warmer days!
Moreover, it is very easy to make, can be prepared ahead of time, and is the perfect starter!
You can serve it with fried fish for a delicious Malaga lunch!
6. Trempó
The Spanish summer salad and trempo may look similar at first, but they are very different. There are only five ingredients you need – tomatoes, green peppers, onions, olive oil, and salt.
Olive oil is drizzled over the chopped vegetables seasoned only with salt. It is believed that the name of this salad is derived from the word trempar, meaning to dress.
The result is that it tastes less like a well-seasoned salsa/bruschetta hybrid and, ironically, more like a raw summer salad.
It doesn't matter which you choose; both are delicious.
7. Remojón
Remojón is a traditional Spanish salad that originates from Granada. You'll find oranges, salt cod, red peppers, scallions, garlic, olive oil, olives, and wine or sherry vinegar in this dish.
Though the salad is traditionally made with salt cod, nowadays it is more expensive, so tuna and anchovies are sometimes substituted.
The salad is prepared by grilling and shredding the salt cod flakes, adding orange slices, chopped scallions, and crushed garlic.
Oil and olives are added to the salad as a finishing touch. It can be served after a few hours with lettuce leaves acting as scoops.
8. Spanish Pasta Salad
A delicious, quick, and easy starter or light bite, this Spanish pasta salad comes together in less than 20 minutes!
It is the perfect go-to summer side dish since it is fresh, flavorful, and filling. Whether it's grilled chicken, BBQ food, or an antipasti platter, this salad will enhance any dish. You have to try it!
Its made with pasta smothered in dried tomato pesto and garnished with baby plum tomatoes, chopped peppers, manchego cheese and paprika. Combine all these colorful ingredients together, then top with basil leaves to add that extra touch!
This dish is mouthwatering, packed with Spanish flavors and very easy to prepare!
9. Esgarrat
Valencia is known for its traditional dish Esgarrat. Salt, garlic, olive oil, red peppers, and cod go into making this dish.
Using a grill, roasted peppers and cod are prepared for this appetizer. The skin is then peeled off the peppers and ripped into irregular strips by hand.
In addition to the cod, the peppers are topped with ripped-up codpieces. Garlic, salt, and olive oil are used to season this meal.
The dish's name refers to the way the ingredients are prepared, meaning that they must be ripped or torn apart.
10. Ensalada Mixta (Spanish Mixed Green Salad)
Ensalada Mixta is one of the most famous Spanish salads. It's easy to make and pretty healthy, although it's a bit heavy on the cream.
So, If you're a fan of lettuce-based salads, this one is for you. This salad is made from five types of lettuce, plus radicchio, tomatoes, egg, tuna, baby corn, artichoke hearts, and more. It's great if you want to try something new!
Making it isn't difficult and takes about 30 minutes. You'll just need to boil the eggs, drain the tuna cans, and cut all those numerous ingredients.
In the end, however, you'll be rewarded with a filling salad packed with delicious ingredients, so it's well worth the effort.
Summary of the 10 Must-Try Spanish Salads
Spanish cuisine is more than the famous meat and fish dishes you think of in Spain.
Because of the variety of crops and growing areas in Spain and the Iberian Peninsula, there are so many Spanish salad recipes! So why not try to make some?
A perfect accompaniment to any Spanish meal, these flavors and fresh dishes are simply amazing.
Find out everything you need to know about salads from Spain; types, typical dressings, and much more.