Do you love Spanish food? Well, this list of Spanish appetizers is here to help you satisfy your cravings!
Spanish appetizers are more than just little nibbles. They can start meals with a bang, and that's the idea behind them! They are small dishes served before the main course, but really, anything that's meant to be eaten with your fingers can be considered an appetizer.
Spanish appetizers are unique because of their simplicity. There's not a lot to them – just a few delicious ingredients or spices mixed. And, of course, having a bottle of excellent wine around makes the whole experience that much better!
With that being said, there are quite a few fantastic appetizers, and most of them are easy to whip up at home, too, so that anyone can enjoy some yummy Spanish food no matter where they live!
8 Must-Try Spanish Appetizers
1. Traditional Spanish Pisto
My first choice is a classic Spanish dish called Pisto. Served as a warm appetizer, Pisto is a simple, rustic Spanish vegetable stew packed with colorful, rich flavors.
It is a popular tapa served in many bars and restaurants, especially in the summer. It includes tomatoes, green and red peppers, onions, zucchini, eggplant, and garlic.
Each vegetable in this recipe is cooked separately before adding them back together in the end. The key is using fresh vegetables and a flavorful extra virgin olive oil and enough time to simmer everything to completely melt the flavors together.
Pisto is traditionally served as a spread, but it is also great as an appetizer crudité with good crunchy country bread or matchstick potatoes.
This recipe involves fundamental ingredients, but feel free to add your favorite vegetable to the mix and experiment with new flavors!
2. Patatas Bravas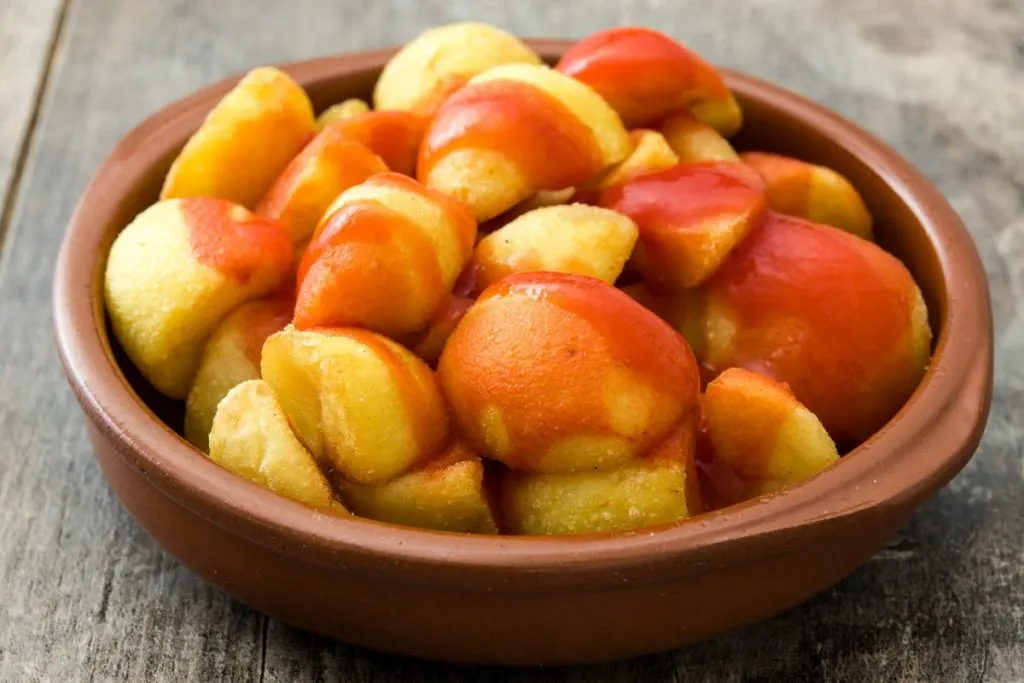 These little olive-oil-slicked potatoes with their smooth, spicy sauce are a perfect teaser for that big meal ahead. Patatas Bravas are found all over Spain, but they are known as patatas alioli in Catalonia and Andalusia.
Fried and overflowing with flavor, the Patata Brava is one of those fantastic Spanish bites that come along and remind you how great simple food can be. Try this dish once, and we don't think you'll be able to stop!
If you like heat, the Bravas sauce is extremely hot and spicy. The recipe calls for many ingredients, but the dish is pretty easy and quick to prepare.
Potatoes, fried in a fragrant bath of olive oil, three different kinds of hot pepper, and spicy tomato sauce with just a culinary kiss of paprika and pinch of vinegar are more than just an appetizer; they're an experience that you must have while you're in Spain!
Serve them with a cold beer, tortilla Espanola, and chilled Spanish white wine.
This simple and classic dish is a great way to kick off any Spanish meal!
3. Gazpacho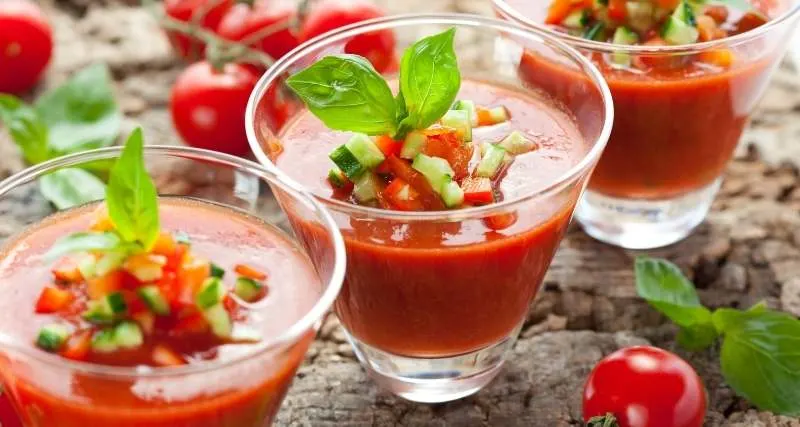 The traditional Spanish cold soup, Gazpacho, originated in Andalusia, a region of southwest Spain. Often served as an appetizer, it is perfect for beating the summertime heat.
Made with fresh and juicy tomatoes, bread, and aromatic vegetables, this soup is a veritable cornucopia of the season's finest ingredients.
It's super easy to make and always a crowd-pleaser!
Every region, every city, every town here seems to have a slightly different recipe featuring their local ingredients and touches of creativity. When tomatoes are in season, all you need to do is purée them with a few spices, vegetables, and herbs — and off you go.
It is even simpler if you use store-bought tomato juice or passata as your base instead of making your tomato juice by cooking down whole peeled tomatoes in a large pot.
Sautéed bread slices are tossed into the puree to add body while also helping to blend in all the ingredients via an extra layer of crunch.
It is usually garnished with fresh cucumbers, green peppers, white onions, and salt-cured red peppers!
4. Gambas a la Plancha
Preparing a simple, delicious Spanish dish doesn't get much more authentic than this. Gambas a la Plancha, or grilled shrimp, is a classic Spanish tapa recipe.
You may have eaten your fair share of shrimp cocktails in your lifetime, but these Spanish-inspired grilled shrimp will have you taking them to the next level!
These are incredibly simple to make! This dish can be prepared in about 20 minutes with only a few ingredients!
Clean the shrimp, pat dry with paper towels, and apply a good amount of salt (the more salt you use, the tastier the shrimp).
After the shrimp are quickly salted, they are then grilled or placed on an open brazier with citrus juice if you'd like them less cooked. Lemon juice tastes great with them and also gives them a nice glaze as it cooks against the heat.
If you don't feel like cooking them on a grill or open brazier, or don't have one, bake them in the oven instead. It's all great either way!
Dipped in olive oil and lemon juice, these mouth-watering whole shrimp are sure to be a crowd favorite. If you're looking for something quick, easy, and delicious, try this recipe!
5. Croquetas de Jamón Serrano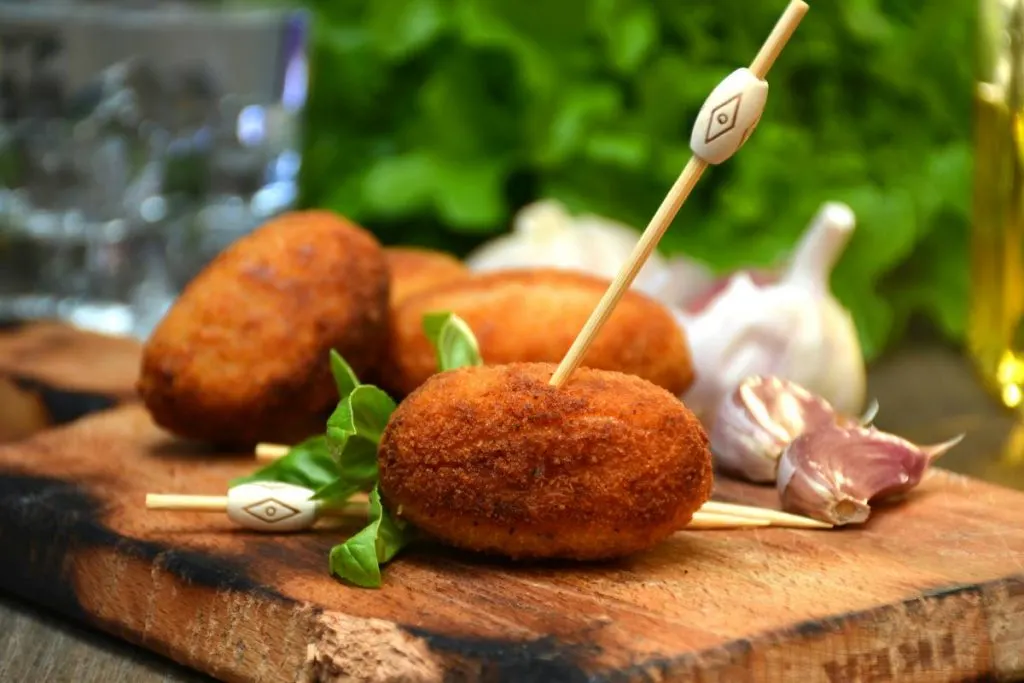 There can be no doubt that Croquetas de Jamón Serrano has earned a place on this list!
Spain has your fix if you love crispy balls of cheesy deep-fried ham. My favorite part about croquetas is how easy they are to make!
These puff pastry goodies are one bite of Spanish delight, created by dipping a mixture of cheese, Serrano ham, and flour into an egg bath and then deep-frying the result.
The result is a crispy on the outside, creamy on the inside ball of cheese, ham, and dough that's sure to impress any guests you serve them to!
These croquettes are not only easy to make, but they are also a great way to start a meal!
Those who try them may wonder whether they are eating ham-flavored mashed potatoes or some delicious melted cheese and ham concoction.
Tiny bites, but with a powerful flavor!
6. Tortilla de Patatas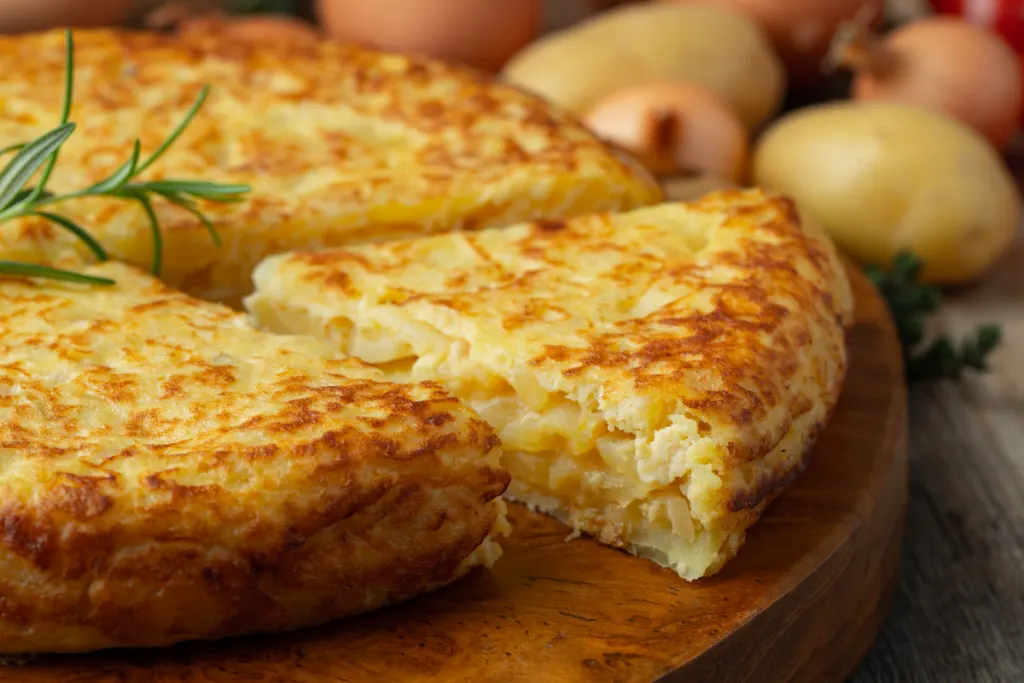 A staple of the Spanish diet, Tortilla de Patatas is a delicious, comforting dish that's easy to make and can be enjoyed in various ways.
You may find slight variations in the recipe depending on where you are in Spain, but most have the same essential ingredients.
It's a recipe that comes together quickly and requires delicious, basic Spanish staples you can keep on hand. The tortilla is made with crushed potatoes, eggs, onion, olive oil, and salt.
It makes an excellent tapa to accompany drinks in the evening. And it's even tasty as a snack at any time! Tortilla de Patatas is a terrific way to bring Spain to your table.
7. Spanish Green Beans with Garlic and Paprika
Are you looking for a healthy and delicious appetizer that is also light and fresh? These Spanish Green Beans with Garlic and Paprika are what you're looking for!
If you thought that green beans were bland, just wait until you try this Spanish recipe. Green beans are probably the most underrated veggie in this world. They are inexpensive, readily available, and one of the most nutritious foods out there!
This dish has such a robust flavor that will leave you saying ¨wow¨ every time you take a bite. Oven-roasted and smoky, they are packed with flavor and only need a few ingredients.
All you need is lovely buttery, garlicky olive oil, and smoked paprika that gives these gorgeous green beans life!
Great flavors, incredible simplicity, great vegetable, and done in 20 minutes. Sounds too good to be true, right?
8. Albondigas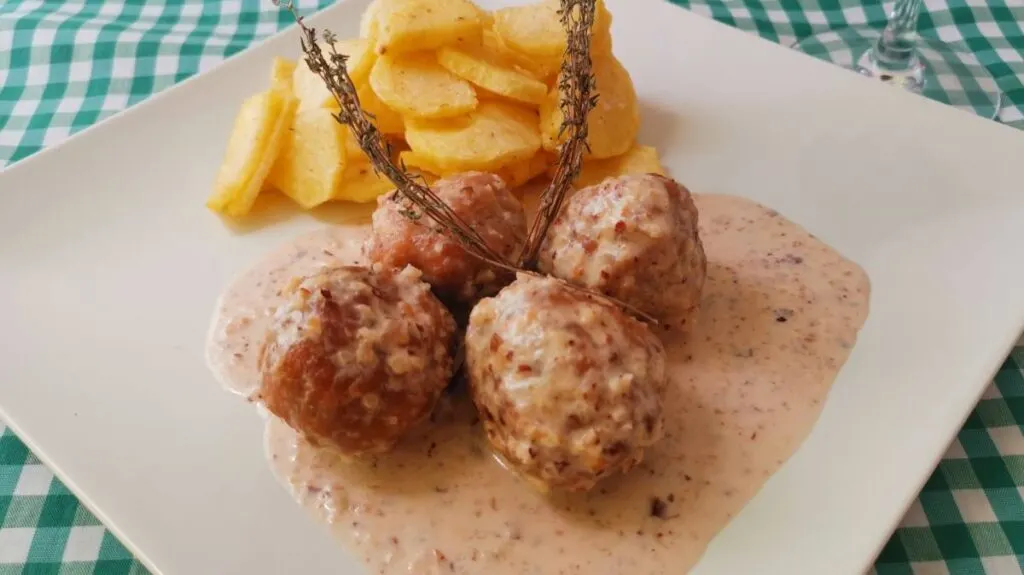 Albondigas is a traditional Spanish dish consisting of small meatballs cooked in almond sauce, and it is the perfect comfort food that's hearty and delicious! It is easy to see why the Albondigas are a classic Spanish Tapa!
The origin of this tasty appetizer is the south of Spain, specifically in the Andalusia region.
The best part about it is how easy it is to prepare! It can be made up of pork, beef, veal, or a combination of ground meat that you prefer. Use whatever you would use in your favorite meatball recipe!
But besides the meat, bread soaked in milk is also added to the seasoned mixture, giving the meatballs a soft and moist texture.
Easy, right? However, the real star of this Spanish Albondigas recipe is the almond sauce the meatballs are drenched in!
Olive oil, almonds, onions, nata, and other ingredients are well blended to produce a sauce that is thick enough yet not overpowering.
Then, the meatballs are served smothered in the sauce, alongside some patatas bravas or a cold salad of choice!
It's hard to beat these Spanish Albondigas in Almond Sauce!