A trip to Spain would not be complete without trying out one of the most traditional Spanish snacks: a Merienda! So sit back, pour yourself some tasty drink (maybe a fino or manzanilla sherry) and get ready to learn more about this beloved Spanish practice.
What is Merienda?
You may have heard about the famous Spanish afternoon snack known as the merienda. The merienda is a key and essential part of Spanish culture.
It translates to "afternoon snack," but it is more than just a midday meal; it is also a ritual shared by many Spanish families when children come home from school.
It is common to see friends gathered at parks or in traditionally Spanish "chiringuitos" (beach restaurants) every afternoon, sharing their favorite snacks and sipping on some of Spain's finest wines or cold beers.
Millions of Spanish people enjoy this afternoon meal, so you should try it out too!
The options available for merienda vary depending on personal preference and even by region within Spain, but some favorites frequently appear during the afternoon snacking period.
Sweet or savory, Spanish tables are filled with pastries, fruits, sandwiches, and even refreshing drinks that can be enjoyed under the last sunrays! A light meal to fuel everyone through the rest of their daily chores and to curb that afternoon hunger.
Looking for a Spanish snack to enjoy?
Here are the top picks for merienda treats that Spain has to offer!
Most Popular Merienda Spanish Snacks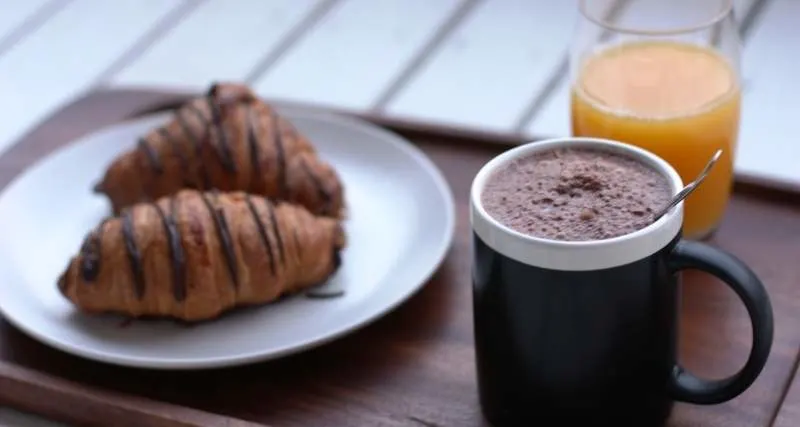 1. Bizcochos
The Merienda cookie or Bizcochos is a traditional sweet in Spain. Bite-sized, soft cakes made with olive oil. They are light and airy but with a hefty flavor, and they are always garnished with a dusting of powdered sugar for an extra touch of sweetness!
This Spanish favorite is baked in the oven and sliced into various flavors, including apple, lemon, or chocolate. My personal favorite? The Lemon Bizcochos!
One of the best things about these olive oil cakes is how simple they are to make!
Simply combine flour, ground almonds, salt, and baking powder. Next, to prepare my favorite, the lemon Bizcocho, massage lemon zest into a bowl of sugar. Your cake will be bursting with lemon flavor.
Start beating the eggs with the sugar mixture in another bowl until light and fluffy. Now mix in the yogurt and lemon juice. Then, add the olive oil, mix it thoroughly into the batter, and fold it in the flour mixture afterward.
Bake it for about 50 minutes at 375°F, let it cool, dust with sugar, and enjoy!
These baked treats are a traditional Spanish favorite, and make a delicious snack with your favorite hot beverage or coffee!
2. Ensaimadas
Ensaimada is a traditional sweet pastry from Mallorca that is often found on coffee tables during the afternoon to enjoy as a merienda.
You know it if you've been to the Balearic Islands – it is one tasty afternoon snack! Take just one bite of this sweet pasty, and you will be transported to Spain's sun-soaked coast.
Delicate layers of sweet dough, folded in a pattern reminiscent of waves, are crisp on the outside and filled with a delicate custard.
The delicate sweet-and-sour anise filling inside this pastry with a very generous sprinkle of powdered sugar on top makes it ideal for dipping in coffee or tea.
Ensaimadas can be served plain or filled with pastry cream, pumpkin jam, and even nougat. But I must say, the classic is still my favorite!
Easy to make and equally difficult to stop eating, the Spanish Ensaimada snacks are an excellent option for a Merienda, and they're sure to be a hit with guests.
Ensaimada de Mallorca is a Spanish classic worth enjoying!
3. Churros and Chocolate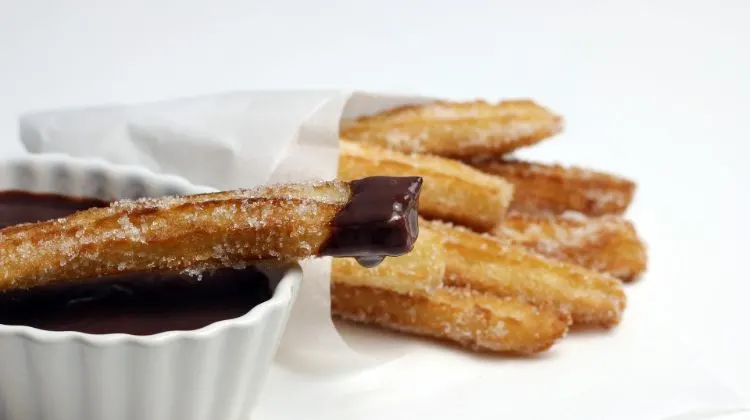 If you've ever had Spanish churros, you know what a total treat they can be!
Spain's most famous street food, churros are a sweet treat, made of dough fried into long sticks. The dough is made with flour, water, salt, and sometimes baking soda. It is that simple yet so tasty!
The delicious doughy snack comes in different flavors and textures, packed in boxes or sold by street vendors, making them a beloved and accessible snack just about everywhere in Spain.
They are best eaten fresh because the texture becomes very tough when left out for too long.
So why is it so popular? Because every bite that you take is full of chewy dough that is light and fluffy on the inside and crispy on the outside.
Churros can be eaten alone or with different types of toppings. For example, you can dip them in sugar, eat them with hot chocolate, or fill them with cream!
Don't mistake these for dessert—they are most often served for breakfast or merienda. My recommendation? Try a traditional Spanish chocolate dipping sauce with your churros to satisfy your sweet tooth!
4. Fresh Fruit
Feeling stuffed after lunch? Don't worry, because you can still enjoy Merienda by freshening up with some seasonal fruit!
Fresh seasonal fruit is a popular dessert and snack in Spain and an excellent choice for those looking for something healthier.
It is always served during the afternoon, aside from all the other treats enjoyed at Merienda. So if you are still not used to the Spanish way of eating, a light fruit snack will keep you energized until dinner time!
5. Bocadillo de Jamón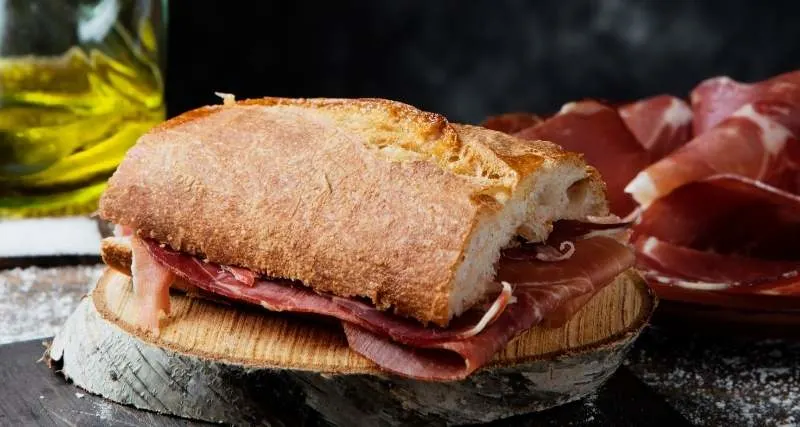 Pairing crusty bread, cured meat, and cheese is one of the foundation dishes in Spanish cuisine!
The bocadillo de jamón is one of the most famous Spanish sandwiches eaten as an afternoon snack.
There is a love of cured meat among all Spaniards, and this particular type of sandwich is truly a staple in most bar counters.
Usually eaten between meals or at the end of a meal, most Spaniards will tell you that they're perfect for a quick mid-afternoon snack!
6. Cured meats
It would be unthinkable to spend time in Spain without sampling Spanish cured meats, whether it is jamon Iberico de bellota or spicy chorizo!
Most of Spain's cured meats are made from pork, though beef takes up a bit of the spotlight in a few regions, especially in the north. While ham and chorizo tend to get all the attention (and for a good reason), there are dozens of other cured delights to tickle your taste buds.
Regardless of where you are in Spain, you will find a wide selection of Spanish-cured meats to try on every merienda plate!
7. Cheese
To complete the perfect traditional Spanish merienda, serve your cured meats alongside the best cheeses!
It's hard to beat a good cheese plate, especially if it's piled high with Spanish cheese. It is true that Spain may not have the same cheese fame as its northern neighbor, but that is definitely due to a lack of marketing and not to a lack of outstanding cheese!
From buttery raw cow's milk Arzua to robust aged sheep's milk blends of cured Manchego, Spanish cheese reveals a range of textures and tastes!
Frequently Asked Questions about Spanish Merienda
What is the name of the late afternoon snack that many people in the Spanish-speaking world enjoy?
The late afternoon snack in Spain is called Merienda.
When would a Spanish person have a Merienda?
Spanish people usually have the Merienda between 5 and 6:30 in the afternoon.