Learn how to prepare mouth-watering Spanish Garlic Shrimps (Gambas al Ajillo) with Butter & Sherry to impress your guests with delicious Spanish Tapas.
Gambas al Ajillo, also known as garlic shrimp, is a traditional Spanish dish that brings together succulent shrimp, aromatic garlic, and flavorful olive oil.
This mouthwatering dish is beloved for its simplicity, yet it tantalizes the taste buds with its rich and vibrant flavors.
In this article, we will explore the history, preparation, serving suggestions, and more, to help you become acquainted with this delicious Spanish delicacy.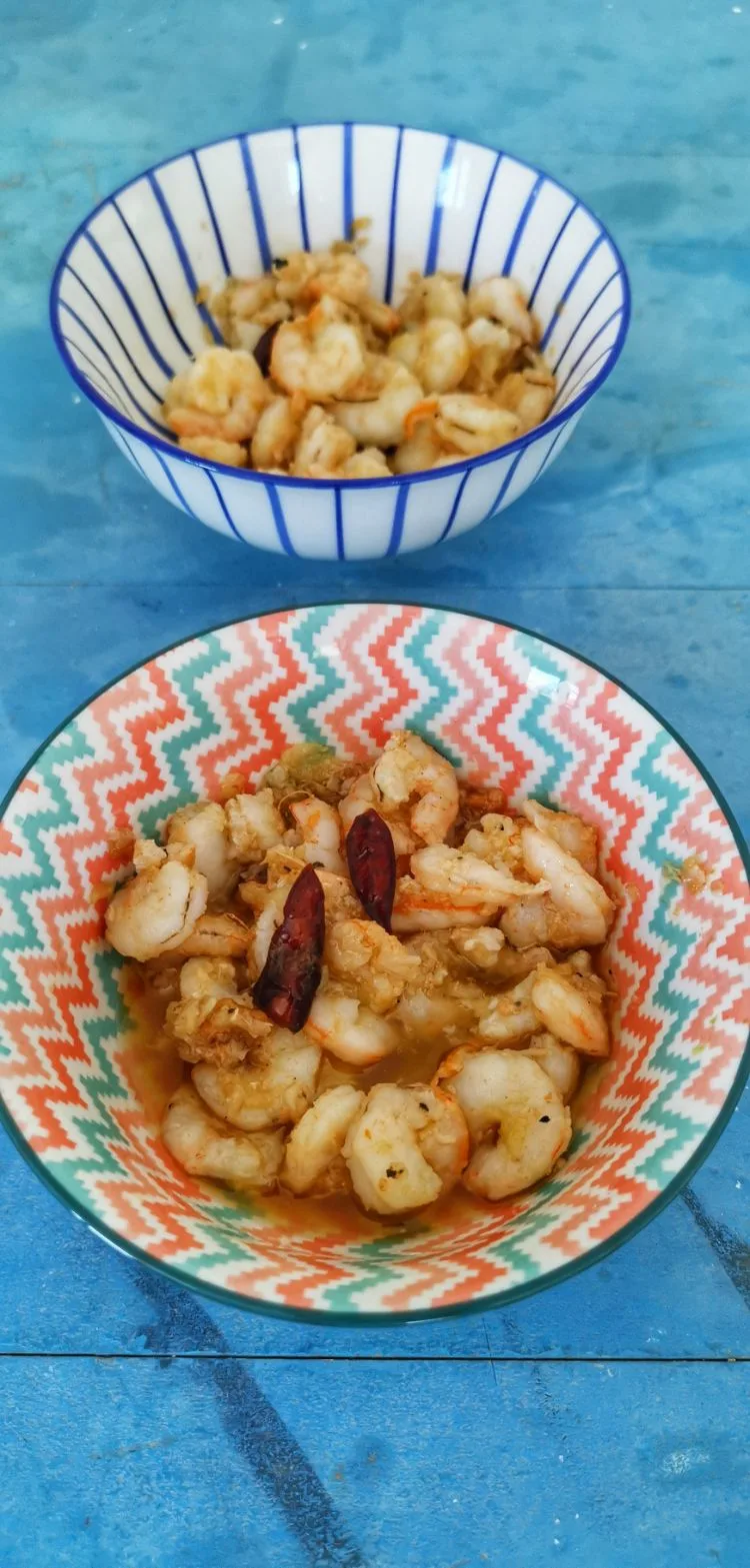 What is Gambas al Ajillo?
The Spanish word gambas mean shrimp in English, and ajillo translates to garlic. It is as straightforward as it can get – gambas al ajillo means shrimp with garlic. It is also called camarones al ajillo.
You have juicy, well-cooked shrimp smothered in a generous amount of garlic and extra virgin olive oil. It is easy yet tasteful. In fact, you can create this dish in a matter of ten minutes!
Mince and fry a lot of garlic with cayenne, add in your shrimps and let them cook through, and at this point, you have the basic foundation of a classic gambas al ajillo.
Personally, I like to level things up and add butter and dry sherry to the mix. These make this simple dish extra special.
History and Origin of Gambas al Ajillo
Gambas al Ajillo traces its roots back to the sun-soaked coastal regions of Spain, where seafood is abundant and flavors are bold.
It originated in the southern region of Andalusia, known for its vibrant culinary traditions.
The dish has since spread throughout Spain and gained popularity worldwide, thanks to its irresistible taste and simplicity.
Ingredients Used in Gambas al Ajillo
To create this delectable dish, you will need a handful of high-quality ingredients. Here's what you'll need:
Fresh shrimp: Opt for large, deveined shrimp for the best results.
Garlic: Fresh garlic cloves add a robust and aromatic flavor.
Olive oil: Choose extra-virgin olive oil for its fruity notes and depth of flavor.
Red pepper flakes: These add gentle heat and a touch of spice to the dish.
Paprika: Spanish smoked paprika adds a smoky and slightly sweet element.
Parsley: Fresh parsley leaves, chopped, lend a vibrant freshness to the final dish.
Salt: Enhances the flavors and balances the dish.
Tips in cooking gambas al ajillo
Choose large shrimp for a juicier and tastier tapas. While you can still use small shrimps, they tend to shrink once subjected to heat, thus becoming even smaller in your pan.
Should you leave the shell on or not while cooking? It is entirely up to you! As for me, I prefer to peel the shell off so I can eat my gambas al ajillo with ease. Also, if I leave the shell on, much of the sauce ends up in the shell, which will be discarded upon eating.
If you are using frozen shrimps, rinse them first in cold water and then pat dry with a paper towel. Allow to thaw completely.
Be very generous with the garlic! This is not the time to skimp. Same goes for the extra virgin olive oil, because you would want to have some dipping sauce later on.
Do not overfry your garlic. It will leave a bitter taste in the end.
Do not overcook your gambas. Know when to take it off the heat, and from experience it is when the shrimps turn completely pink.
Be creative with the sauce. This particular recipe calls for butter and dry sherry for extra flavor, but you can add your own flair, too!
For added depth and color, garnish your Spanish garlic shrimps with fresh chopped parsley and a lemon wedge.
Variations of Gambas al Ajillo
Gambas al Ajillo offers room for creativity and personalization.
Here are a few variations you can try:
Adding lemon zest or a squeeze of lemon juice for a citrusy twist.
Incorporating sliced mushrooms or bell peppers to introduce additional flavors and textures.
Experiment with different herbs, such as cilantro or basil, to infuse unique aromas.
Enhance the spiciness by increasing the amount of red pepper flakes or adding a dash of cayenne pepper.
What to serve with gambas al ajillo
When it comes to serving Gambas al Ajillo, there are a few delightful ways to present this mouthwatering dish.
Here are some suggestions to enhance your dining experience and enjoy the full flavors of Gambas al Ajillo:
Tapas-style: Gambas al Ajillo is often served as a tapas dish, which means it's meant to be shared and enjoyed in small portions alongside other dishes. Place the sizzling skillet of garlic-infused shrimp at the center of the table, surrounded by slices of crusty bread. Encourage your guests to scoop up the succulent shrimp and dip the bread into the flavorful garlic sauce. This communal style of dining adds a convivial atmosphere to your meal.
Main course: If you prefer to enjoy Gambas al Ajillo as a main course, it pairs beautifully with saffron rice or a light and fresh green salad. Arrange a generous portion of the garlicky shrimp on a plate, ensuring each serving is garnished with chopped parsley for a vibrant touch. Serve the dish with a mound of fragrant saffron-infused rice or a refreshing salad with a light vinaigrette. This presentation allows you to savor Gambas al Ajillo as the meal's star.
Spanish-inspired feast: Create a tapas spread featuring various dishes for a truly immersive Spanish culinary experience. Alongside Gambas al Ajillo, you can include classics like Patatas Bravas (spicy potatoes), Albondigas (meatballs), and Tortilla Española (Spanish omelet). Arrange the various tapas on platters, creating a vibrant and enticing display. This approach invites your guests to explore the flavors of Spain while enjoying the social aspect of sharing small bites.
Remember to serve Gambas al Ajillo immediately after cooking to preserve its warmth and ensure optimal flavor.
The aroma of the garlic-infused shrimp will entice your guests, and the sizzling sound from the skillet will create an appetizing ambiance.
Pair the dish with a chilled glass of crisp white wine, such as Albariño or Verdejo, or opt for a refreshing Spanish beer to complement the flavors.
Health Benefits of Gambas al Ajillo
Gambas al Ajillo not only pleases the palate but also offers some health benefits.
Shrimp is an excellent source of lean protein, essential omega-3 fatty acids, and various vitamins and minerals.
Garlic, known for its potential immune-boosting and antioxidant properties, adds extra nutritional value to the dish.
Step-by-step instructions on how to cook Gambas al Ajillo
1. Prepare your shrimp by removing the shell and deveining them. Drain well. Mince a generous amount of garlic.
2. Heat extra virgin olive oil in a pan or skillet. Stir the minced garlic together with the cayenne peppers on low heat. Continue until the garlic turns slightly brown. This will take about eight minutes.
3. Add in the shrimps when the garlic starts to sizzle. Stir the shrimp continuously for about three minutes.
4. Once the shrimps turn from transparent to pinkish, add one tablespoon of dry sherry. Sprinkle some sea salt.
5. Wait until the shrimps are almost cooked through, as the shrimps will continue to cook in the hot oil after being removed from the heat.
6. Remove the pan from the heat and divide the shrimps into small serving bowls. Distribute the garlic oil evenly.
7. Add a bit of butter to each bowl and stir slightly.
8. Enjoy your home-made Gambas al Ajillo. Serve it along with toasted bread (as a tapas) or steamed rice (as a main dish.) Pair with white wine.
Yield: 4
Gambas al Ajillo Recipe (Spanish Garlic Shrimps)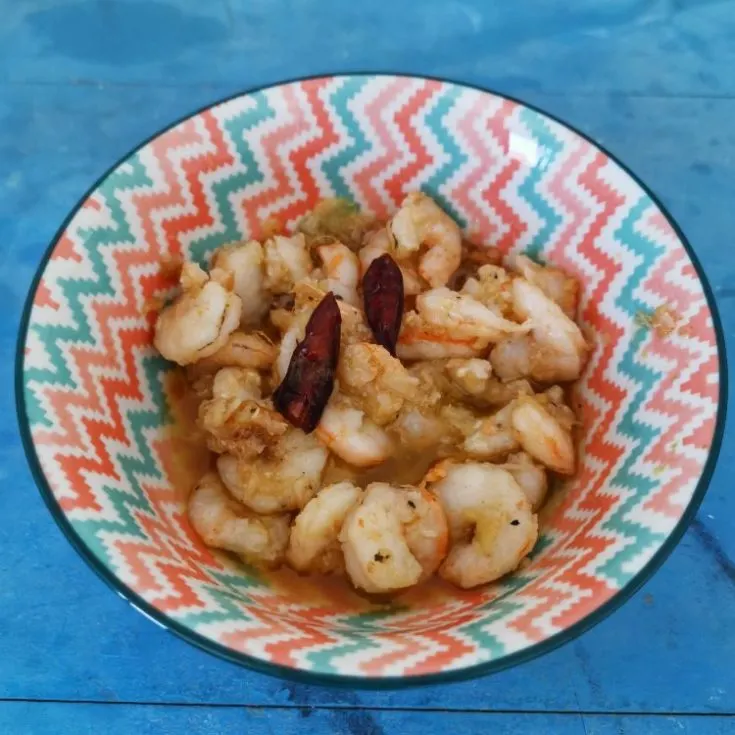 Learn how to prepare mouth-watering Spanish Garlic Shrimps (Gambas al Ajillo) to impress your guests with delicious Spanish Tapas.
Ingredients
1 pound or 1/2 kg small, raw shrimps
Minced garlic (around 6 cloves)
Sea salt
Extra virgin olive oil
6 - 8 Cayenne Peppers
Butter
1 tablespoon of dry Sherry (fino or manzanilla) or alternatively White Wine
Instructions
Remove the shell of the shrimps and mince the garlic (around 6 cloves).
Heat up the olive oil in a pan and add the minced garlic & the cayenne peppers.
Add the shrimps when the garlic starts to sizzle.
Add one tablespoon of dry sherry and sea salt when the shrimps are almost done.
Cook until the shrimps are cooked through.
Remove the pan from the heat and divide the shrimps in (4) small bowls.
Add a bit of butter to each bowl and stir slightly.
Enjoy your home-made Gambas al Ajillo (Tip: Serve with toasted bread and a glass of white wine)
Nutrition Information:
Yield:
4
Serving Size:
1
Amount Per Serving:
Calories:

80
Total Fat:

7g
Saturated Fat:

2g
Trans Fat:

0g
Unsaturated Fat:

4g
Cholesterol:

9mg
Sodium:

177mg
Carbohydrates:

4g
Fiber:

1g
Sugar:

1g
Protein:

1g
The nutritional information provided is approximate and can vary depending on several factors, so is not guaranteed to be accurate.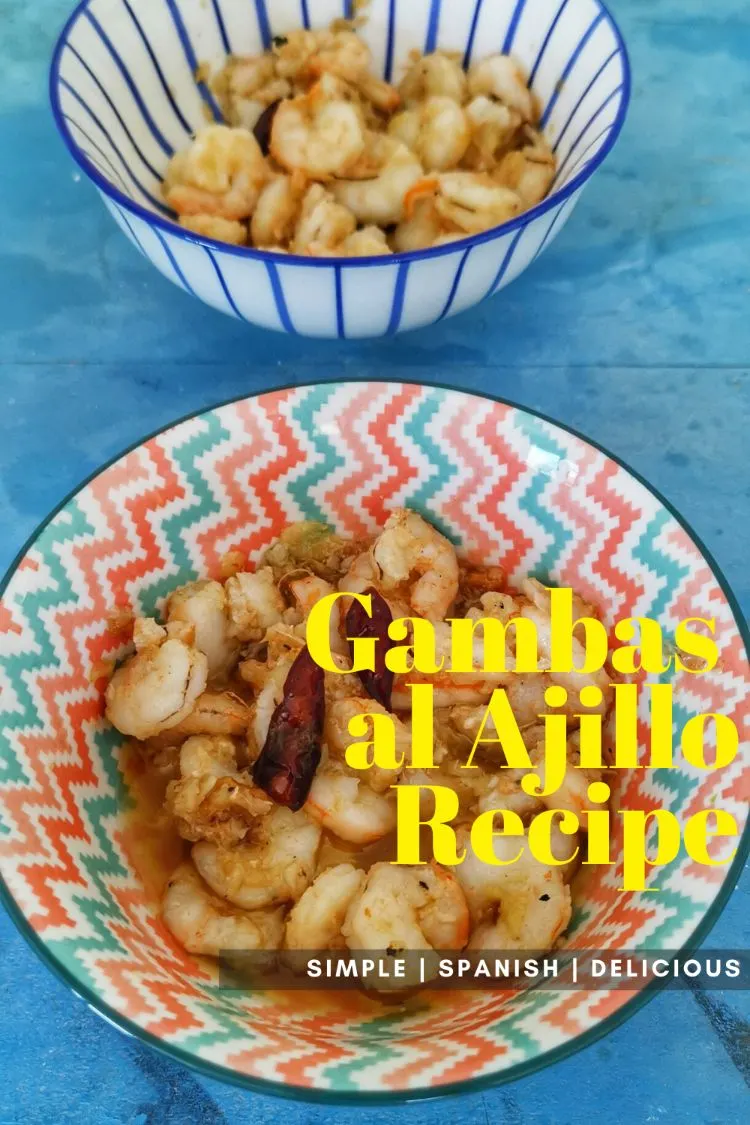 Frequently Asked Questions
What does "Gambas al Ajillo" mean?
"Gambas al Ajillo" translates to "shrimp with garlic" in English.
Can I use frozen shrimp for this recipe?
Fresh shrimp is recommended for the best flavor and texture, but you can use properly thawed frozen shrimp if fresh isn't available.
Can I adjust the spiciness level?
Yes, you can adjust the amount of red pepper flakes or omit them altogether if you prefer a milder version.
Can I substitute the shrimp with other seafood?
While Gambas al Ajillo traditionally uses shrimp, you can experiment with other seafood like scallops or calamari for a different twist.
How long can I store leftovers?
It's best to consume Gambas al Ajillo immediately for optimal taste and texture. Leftovers can be refrigerated and consumed within 1-2 days.