Looking for a good cocktail to cool you down? Try this twist on this well-loved beverage from Spain. Our Spanish Watermelon Sangria recipe is guaranteed to be easy to make and a delight to serve!
Are you tired of drinking the usual sangria in bars and parties? Take the drink up a notch and use a sweet watermelon to achieve a summer drink that is both refreshing and flavorful.
Blend some watermelon cubes with honey, let it pass onto a sieve, and save all the juice from the mixture. Afterward, mix in your vodka and wine. Follow through with your lime juice.
A sip or two of your concoction will let you know if you need to add more sweetener, more lime juice, or additional water. Once you get the balance that suits your taste, the drink is ready to be chilled and then served.
It is truly as easy as it sounds!
Spanish Watermelon Sangria Ingredients
Dry white wine
Vodka
Lime juice
Watermelon
Honey or sugar
What is sangria?
Sangria is a classic summer drink in Spain. You can see many varieties of sangria being enjoyed all around the globe. Because of its versatility, you can even play around with the basic sangria recipe in your own kitchen.
A traditional sangria has these ingredients, more or less: wine, brandy, fruits, fruit juice, and sweetener. Try creating our Traditional Spanish Sangria recipe if you haven't tasted one.
Read also: Most popular Spanish drinks recipes.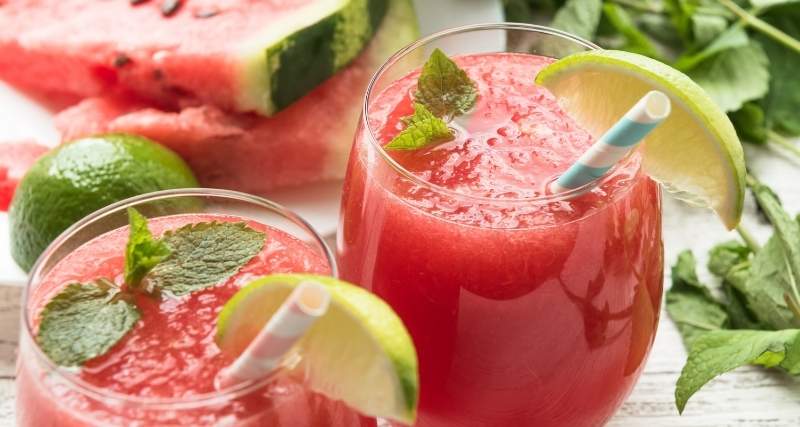 Can you put watermelon in wine?
Of course, the answer is yes! Watermelon makes your wine taste so sweet and refreshing. It is the perfect drink to try during summer. What is good with sangria, in particular, is that you can choose among the fruits in season and make a drink that celebrates harvest time.
What is the best white wine in sangria?
While it all depends on your preference, it is suggested that you choose dry white wine. Let the watermelon give the sweetness that you need for this recipe.
Classic Sangria vs. Spanish Watermelon Sangria
What is the main difference between a classic sangria and a Spanish watermelon sangria? The most obvious would have to be the fruits, but more importantly, the classic sangria uses brandy, while this specific watermelon sangria recipe calls for vodka.
Tips in making Spanish Watermelon Sangria
Do not make your Watermelon Sangria way ahead of time. The fruitiness of the drink fades away as the fruit becomes quite drenched in all the liquid.
You can add in some watermelon chunks to your Sangria for better presentation. It makes for a great small bite as you drink, too!
This Watermelon Sangria recipe calls for the rinds to be taken out. What is a watermelon rind? It is the green outer covering of the watermelon. Instead of throwing them out, you can actually eat the green part on its own, by pickling it or by juicing it.
Spanish Watermelon Sangria Recipe – Step-by-step instructions
1. Slice your watermelon into small cubes. Leave the rinds behind.
2. In a blender, blend your watermelon pieces with the honey. Continue until the mixture becomes smooth.
3. Use a sieve to get the juice from the blended mixture and let the liquid sift into a pitcher. Discard any solid fruits that remain in the sieve.
4. In the same pitcher, add dry white wine, vodka, and lime juice. Stir until well-combined. Taste the drink and adjust the recipe with more honey or sugar (if you like it sweeter), more lime juice (if you like it to be more vibrant), or additional cold water (if you find the alcohol too strong.)
5. Place your pitcher of Spanish Watermelon Sangria in the fridge to chill before serving.
Yield: 4
Spanish Watermelon Sangria Recipe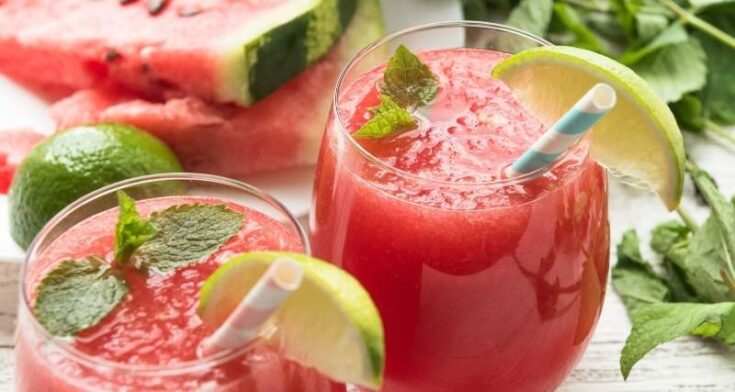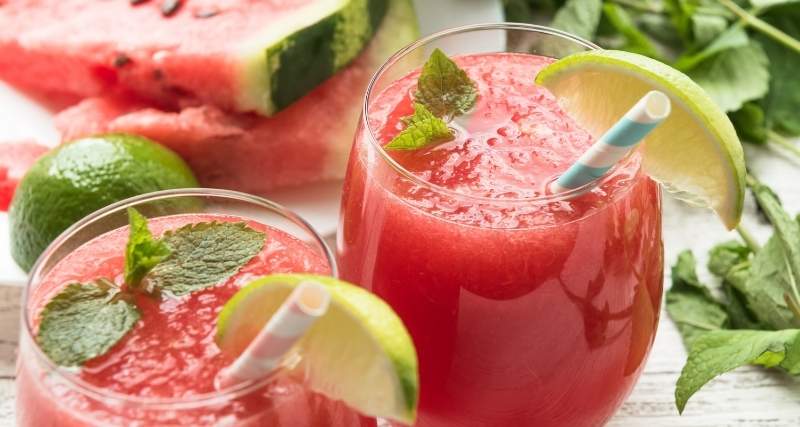 Ingredients
1.8kg/ 4 pounds of watermelon. Cut or slice the fruit into smaller cubes. Also, remove the rind.
1-1.5 cups of sugar or honey. It depends on how you would want your cocktail sweetened.
Dry, unoaked bottle (750ml) of white wine
One cup of vodka
½ a cup fresh lime juice
Instructions
1. Add the honey and the watermelon cubes into a blender and blend them until its smooth.
2. Take the blended mixture and pour it through a mesh sieve. You need a fine residue that you would use in the extensive cocktail pitcher.
3. Before you discard any remaining solids, use a spatula to press them while they are on the sieve. It has to release any remaining juices.
4. Now, add vodka, lime juice, and white wine. Stir everything well. Taste it to know its acidity and sweetness. If necessary, adjust using either more lime juice or honey. When the combination is too potent for you, dilute the mixture using one or two cups of cold water. Then, remix it before you taste it.
5. Take the cocktail and put it in the fridge for about an hour before you serve it.
Nutrition Information:
Yield:
4
Serving Size:
1
Amount Per Serving:
Calories:

868
Total Fat:

1g
Saturated Fat:

0g
Trans Fat:

0g
Unsaturated Fat:

0g
Cholesterol:

0mg
Sodium:

10mg
Carbohydrates:

176g
Fiber:

3g
Sugar:

165g
Protein:

3g
The nutritional information provided is approximate and can vary depending on several factors, so is not guaranteed to be accurate.