Learn how to prepare a traditional Spanish Sangria recipe. This Spanish summer drink is popular all over the world and is very easy to make at home.
One unique thing about Spanish cultures is that they've perfected their art on drinks that suit various seasons. The beverages range from Sangria, Tinto de Verano, Cava, Agua de Valencia, Rebujito, and other Spanish drinks.
Read also: The 10 Most Popular Spanish Drinks & Cocktails
What is Sangria?
Sangria is a drink of alcoholic mixture—the wine used in making sangria determines its color. White wine makes white sangria, while red wine makes red sangria. You can find the drink in various regional variations.
Creating an authentic sangria recipe doesn't have a single way to prepare it, but it is still essential to know how to use its ingredients. Therefore, the traditional sangria recipe can contain:
Sparkling water
Fruit Juice
Sweeteners
Fruits
Liquor (flavored)
Where is Sangria from?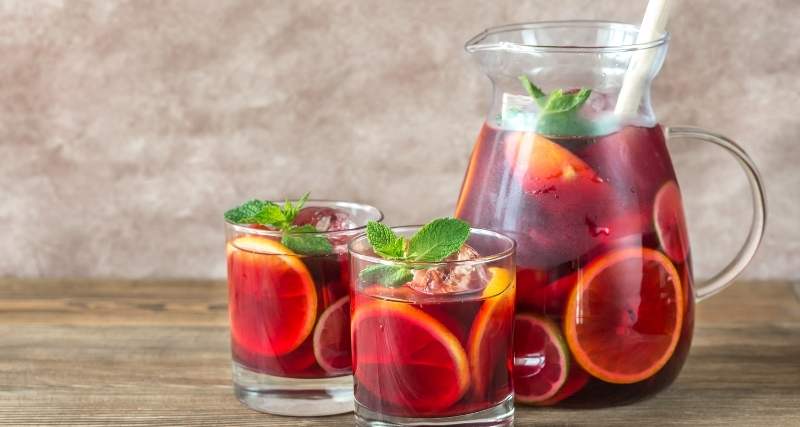 Sangria drink is from Spain. Every menu in Spain probably has an authentic sangria recipe. This classic drink is served to many people all over the Mediterranean. But, Spain is the only place that considers sangria as tradition.
Recently, the European Parliament approved the term "sangria" as an aromatized product of wine due to its origin.
Sangria is a name generated from "Sangre," a Spanish word. In Latin, it is known as "sanguis." It refers to blood or dark color.
There are various versions of sangria that come from Spaniards. Most of the food historians believe that it reached America during the early 1800s.
The Spanish use the term as a cliché because it has become an attractive product for millions of people visiting the country. When people seek the sand, sun, and a drink, sangria offers them solace during the parties.
The history of this classic drink began over two thousand years back. It started with the Romans who have crossed the Iberian Peninsula. They were farmers, and during their journey, the Romans planted vineyards.
People couldn't drink water during this period; hence they commonly came with another fortified way. Therefore, they began using alcohol to treat bacteria issues that affected the people.
The Romans made the first sangria drink which included a heavy mixture of spices, rich wine, herbs, and water.
They added various things to destroy any bacteria found in the water. It was also a way of disguising the terrible tastes of wine served to them while they feasted.
Sangria Ingredients
The Spanish sangria recipe offers a classic pitcher drink that can be mixed easily. It's a versatile drink that comes in many versions hence taste differently according to one's preference.
As earlier mentioned, you can customize sangria with either white or red wine. And add to your favorite drink some tasty fruits.
Best red wine for sangria
You can make the best sangria using fruity and young red wine. The perfect wine to use is any of the varieties of Spanish tempranillo.
Avoid using in the authentic Spanish recipe anything aged. Thus, ensure that you use quality wine to prevent anyone from getting a hangover.
Traditional Spanish Sangria Recipe – Step-by-step instructions
Check out our traditional sangria recipe to prepare this popular Spanish summer drink at home.
Yield: 4
Traditional Spanish Sangria Recipe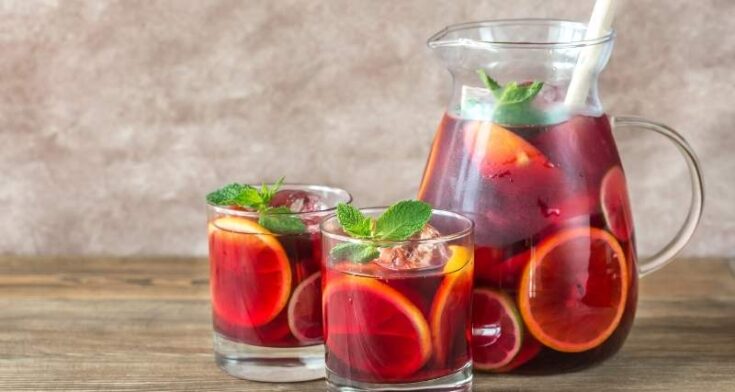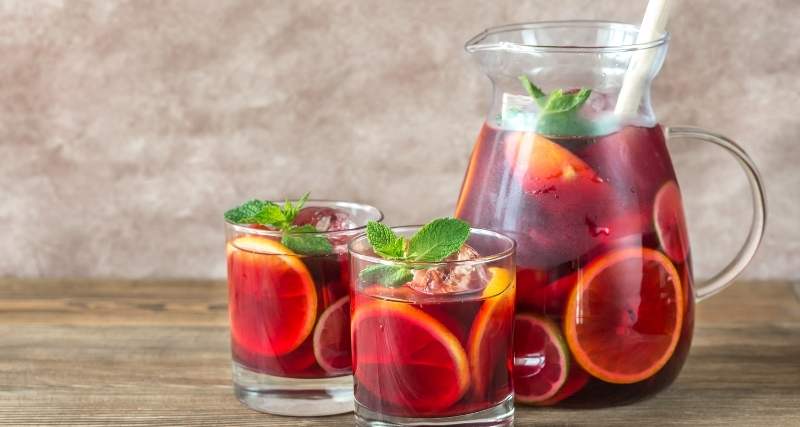 Ingredients
750 ml bottle dry Spanish red wine
1/2 apple
2 oranges
3/4 cup (fresh) orange juice
1/3 cup brandy or vermouth
Optional: 2 tablespoons brown sugar
Optional: Carbonated beverage like lemon soda or soda water
Ice cubes
Instructions
Optional: If you want to use sugar to make a sweeter sangria, dissolve two tablespoons of brown sugar in two tablespoons of water over low heat to create a syrup. Afterward, let it cool.
Juice 1.5 oranges so that you have around 3/4 cup of fresh orange juice.
Chop the remaining half orange and half an apple into small pieces.
Stir together one bottle of dry red wine, the fresh orange juice, optional syrup, brandy or vermouth (optional), and the orange and apple pieces.
Add ice cubes (and optional a carbonated beverage) just before serving.
Enjoy your homemade sangria!
Nutrition Information:
Yield:

4
Serving Size:

1
Amount Per Serving:
Calories:

339
Total Fat:

0g
Saturated Fat:

0g
Trans Fat:

0g
Unsaturated Fat:

0g
Cholesterol:

0mg
Sodium:

49mg
Carbohydrates:

41g
Fiber:

3g
Sugar:

31g
Protein:

1g
The nutritional information provided is approximate and can vary depending on several factors, so is not guaranteed to be accurate.