Barcelona is the capital city of Catalonia, located in northeastern Spain. However, it is so much more than just a city. Barcelona is filled with culture, art, architecture, and beautiful beaches.
The food scene in Barcelona is fantastic because there are so many different places to eat, with typical Spanish cuisine being available everywhere.
With its plethora of tapas bars, cafeterias, and traditional restaurants, or any combination thereof, Barcelona has a wide array of restaurants to cater to all of your culinary needs.
No matter what type of cuisine you're looking for, Barcelona has something for you! Here are some of our favorite Barcelona restaurants!
Best Barcelona Restaurants
1. Elsa y Fred
Recommended by Martha from May Cause Wanderlust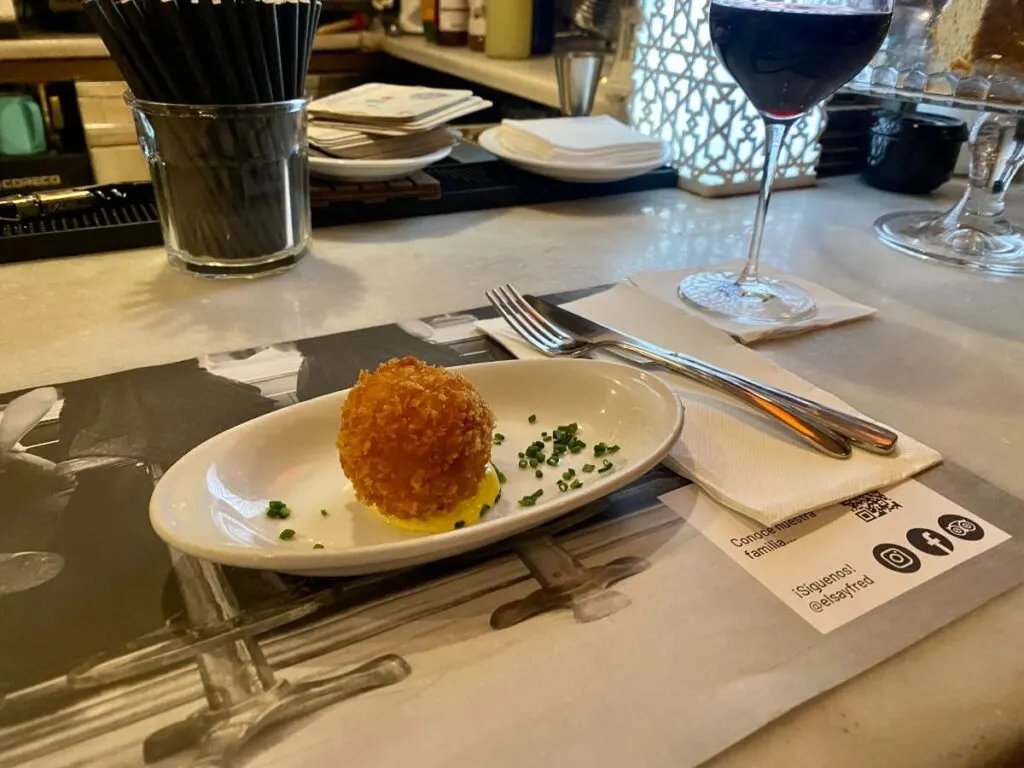 Area: Carrer del Rec Comtal, 11, El Born. Next Metro Station: Arc de Triomf
Elsa y Fred is not just any tapas restaurant. Two things set it apart and make it stand out from the many others you will find in Barcelona.
The first thing is the food. The menu at Elsa y Fred is inventive and playful. The tapas, in particular, will delight your senses.
They offer a seasonal menu, so the choices will change over time, but to give you a flavor of what you might find there, they have served such delights as kimchee croquettes with saffron mayonnaise; melon and cucumber gazpacho with coconut and pistachio; and zucchini carpaccio with smoked cheese and Iberian ham.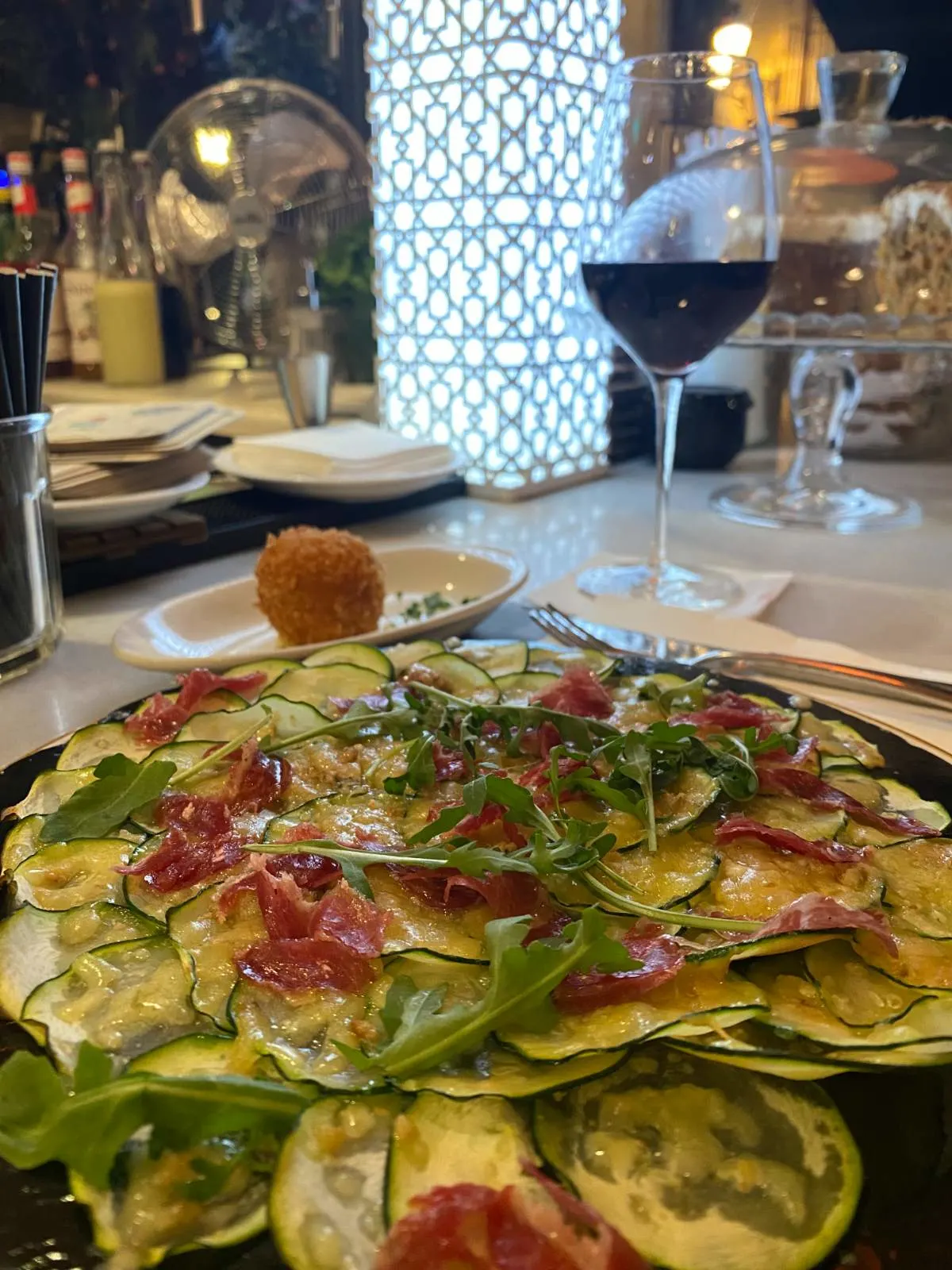 The second thing that sets Elsa y Fred apart is the people who work there. The staff is very service-oriented and happy to speak English to those whose Spanish isn't up to scratch.
But more than that, the stylish staff creates a relaxed, amenable atmosphere that is perfect for a chilled evening of great food, great wine, and great conversation.
And in addition to the wonderful food and service, Elsa y Fred is also located in one of the most enchanting areas of Barcelona: El Born, in Ciutat Vella (or Old City).
Wandering the narrow alleys of El Born is one of the best things to do in Barcelona, and grabbing tapas at Elsa y Fred will round off your day perfectly.
2. Guell Tapas Restaurant
Recommended by Krystianna from Volumes & Voyages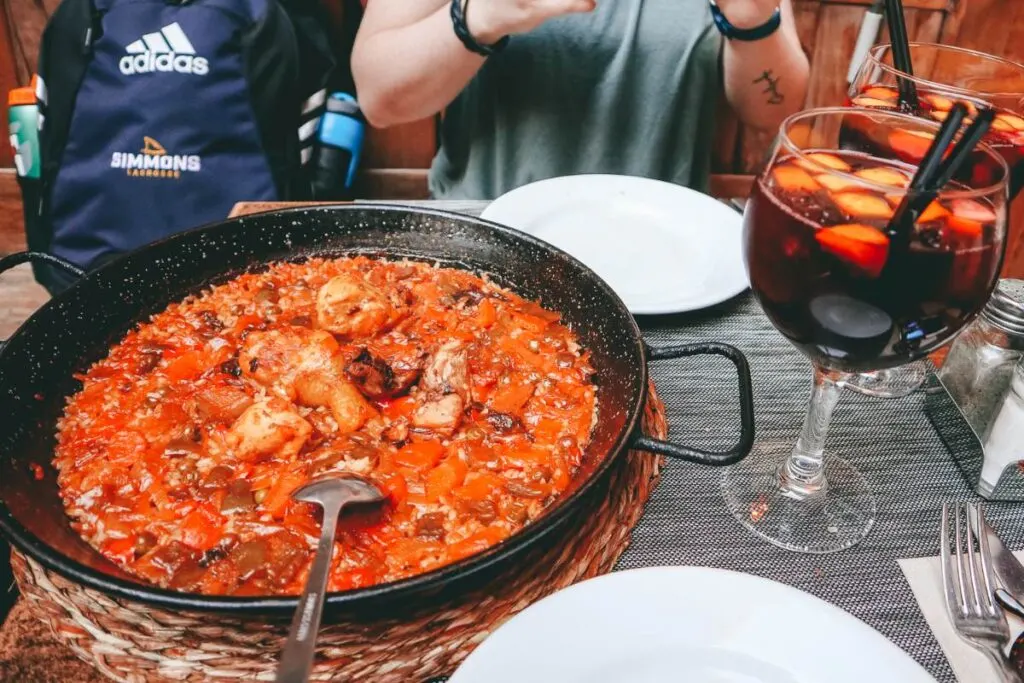 Area: Carrer Nou de la Rambla. Next Metro Station: Drassanes
One of the best restaurants in Barcelona is none other than Guell Tapas Restaurant. Let's be honest: tapas are the name of the game in Spain, so if the word "tapas" is in the restaurant name, then you know you're going to be in good hands.
This restaurant is right near Palau Guell and is somewhat of a hidden gem. Usually, it's locals dining at the restaurant, and most tourists don't know about it. However, with great pricing and both indoor and outdoor seating, that's sort of shocking.
At Guell Tapas Restaurant, you can get almost any type of Spanish food you could imagine. There are croquettes, paella, and of course, sangria to pair with it.
Insider tip: the waiter will most likely suggest that the paella is just enough for one person, but it's perfect to split between two unless you have an empty stomach!
If the weather is nice, be sure to ask for a seat outside. There's a beautiful patio section in the back of the restaurant that feels hidden from the rest of the city, providing an excellent oasis amidst the hustle and bustle.
Whether visiting Barcelona for 24 hours or longer, visitors really can't go wrong by eating at Guell Tapas Restaurant, especially for dinner.
3. Taverna del Bisbe in Barri Gòtic
Recommended by Cynthia & Alexander from Travel your Memories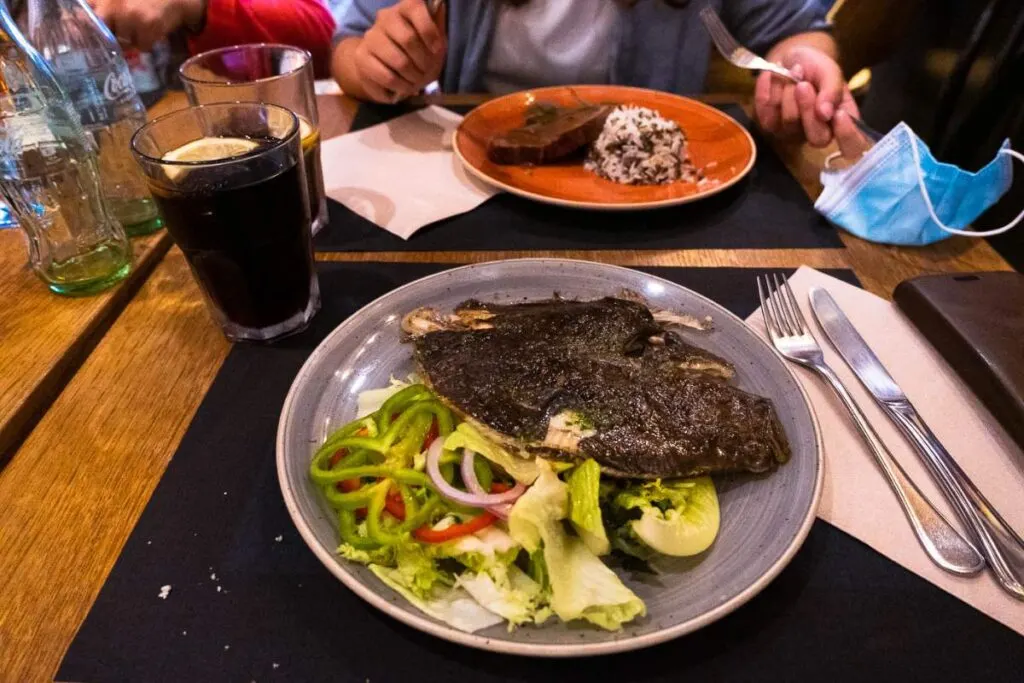 Area: Barri Gòtic / Av. de la Catedral, 6, 08002 Barcelona, Spain. Next Metro station: Jaume I
During your trip to Barcelona, you can see and do a lot. If you are looking for a Barcelona itinerary for 3 days, you can read more here. Eating at Restaurant Taverna del Bisbe is one of the best things to do when you are in Barcelona.
Visiting Restaurant Taverna del Bisbe is perfect when visiting Barri Gòtic (historic center). Most travelers visit the historic center in the morning, so you can have lunch here. You can order from the Menú del día or the usual card.
Menú del día means at Taverna del Bisbe that you can choose from a starter, main, and dessert for €14 per person. This includes one drink of your choice and bread. The menu is based on seasonal products, so the menu changes every time.
The starter is often a soup, salad, or other appetizer. For the main menu, you can usually choose from a fish, meat, or vegetarian dish. While we were there we enjoyed a Mediterranean fish with vegetables and steak with risotto as a main course.
We were in Barcelona in the summer so we ordered gazpacho which is a cold soup. For dessert we had crema de Catalana, which is comparable to Crème Brûlée.
The best thing about Restaurant Taverna del Bisbe is that although it is very close to the cathedral of Barcelona, it is not known to many travelers. You will notice this when you are inside because mainly locals are sitting here.
If you visit it before 1:30 pm it is not necessary to make a reservation. If you come later all the tables may be occupied due to the lunch breaks of the offices.
4. Els 4 Gats
Area: Carrer de Montsió, 3, 08002 Barcelona. Next Metro Station: Catalunya
Els 4 Gats is a phenomenal Spanish cabaret, hugely popular among Barcelona's bohemians including Gaudi and Picasso.
It is one of Barcelona's historical literary cafes that exists since the late nineteenth century in Paris. The expert, Pere Romeu, who worked on the excellence of cabaret cafe in Paris, wanted to bring it to Barcelona. As a result of the economic collaboration of Ramon Casas and Santiago Rusinol, Els 4 Gats was opened in 1897 in Barcelona's modernist building.
The place has been attracting everyone from intellectuals, artists to explorers with its beauty. They were seduced by its food and the iconic architecture. The place is also popular for its major clientele including Antoni Gaudi, Lluis Millet, and even Picasso, who hosted his first exhibition here.
It has always been one of the special places in Barcelona. It has gained popularity since history and will remain a treasure for the coming years.
This cafe, bar, and restaurant has an interior that has remained despite the changed ownership several times. If you have 2 days in Barcelona, invest one day visiting this historical bar. Enjoy its Bohemian vibe with black and white portraits by Picasso.
5. 7 Portes Restaurant
Recommended By Theresa from Fueled By Wanderlust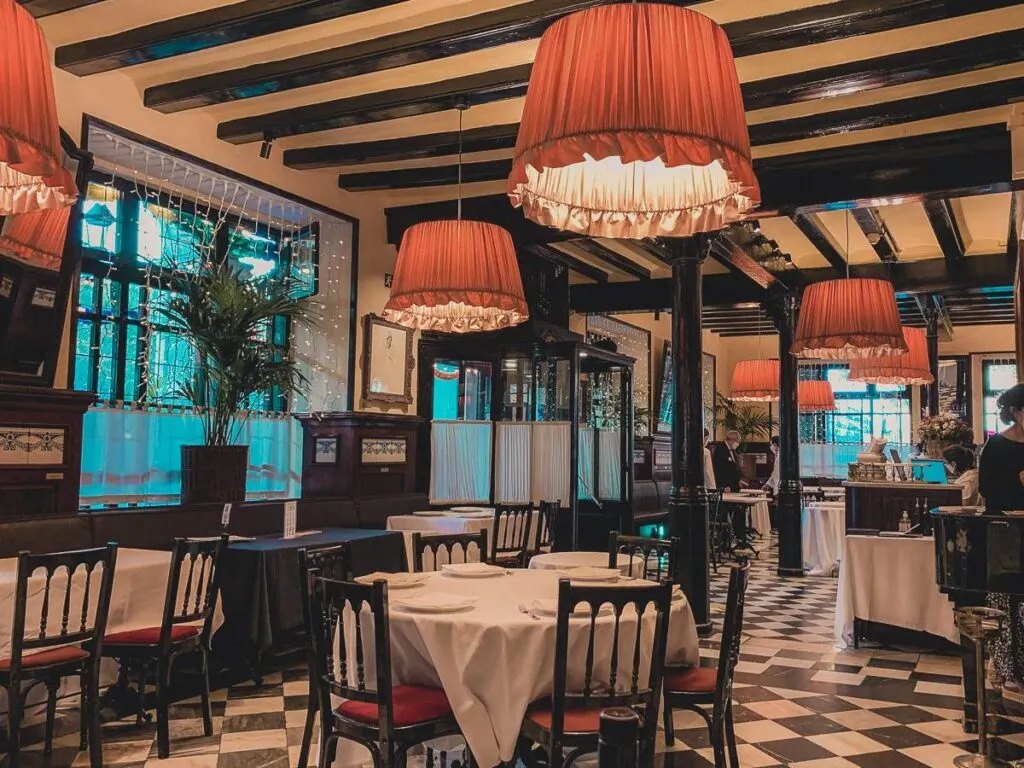 Area: Isabel II in La Barceloneta neighborhood. Next Metro Station: Barceloneta
7 Portes is a fine dining establishment in Barcelona that has served creative dishes featuring traditional Catalan ingredients for 185 years.
This time-honored establishment has seen the likes of Ernest Hemingway and Pablo Picasso pass through its doors. Fun fact: despite what the name suggests, this restaurant actually has eight doors.
The front of the restaurant features a beautiful terrace that provides lots of ambiance for a romantic dinner. The interior of the restaurant features classic, white-tablecloth dining with attentive waiters dressed in jackets and aprons.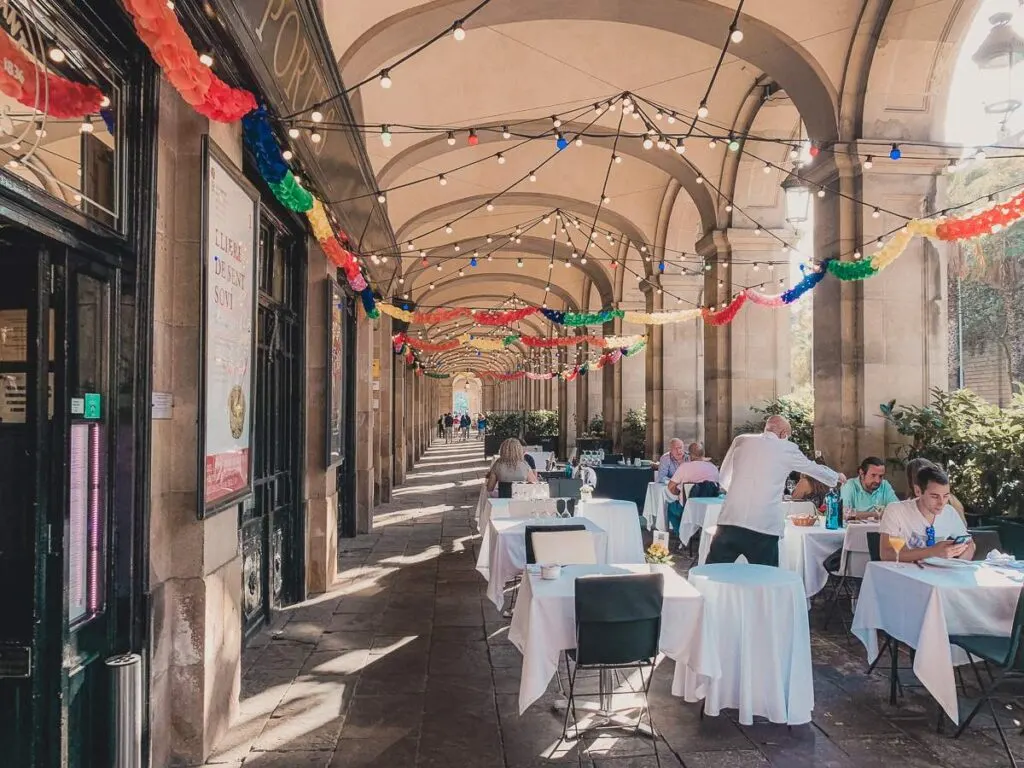 On the menu, you will find plenty of seafood and rice dishes; throughout the year the restaurant features up to 12 varieties of the latter. With star ingredients like these, it's no surprise that 7 Portes is known for making one of the best versions of paella in Barcelona.
In an average year, the restaurant churns out about 100,000 pans of paella, which features Catalan parellada rice. As per tradition, an order of paella is served in one pan and is meant to be shared among two or more people.
Besides its famous paella, 7 Portes prides itself on maintaining a menu of traditional Catalan dishes that might otherwise fall into extinction.
7 Portes has come to be one of the most famous restaurants in Barcelona and draws in crowds of tourists each year. Reservations are recommended; especially if you wish to dine on the terrace.