Are you craving something Spanish and easy? Try out this Spanish stuffed eggplant or Berenjenas Rellenas recipe.
Spanish stuffed eggplant will never get lost in the list of traditional recipes being cooked in every Spanish kitchen. There is something so comforting in the simplicity of what is called Berenjenas Rellenas.
It's the kind of home recipe that is passed on from one generation to another. This delectable dish makes use of a well-celebrated vegetable – the eggplant.
Did you know that eggplants are rich in fiber, carbohydrates, and minerals that include potassium? Aside from that, this ingredient also aids in the lowering of your cholesterol and helps with constipation.
The traditional Spanish eggplant recipe is packed with meat, cheese, and all other flavorful goodness. However, you can also make this stuffed eggplant vegetarian. Simply switch some ingredients of the Berenjenas Rellenas to items of your choice.
Preparation is super easy and the result is absolutely delicious. And let's not forget the way it makes your kitchen smell!
So let's make a start with this Spanish classic!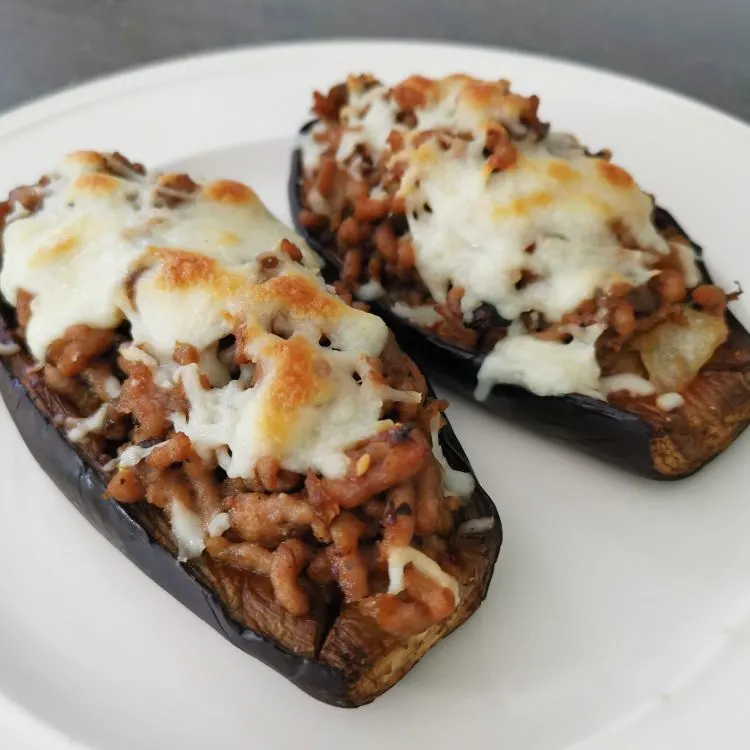 What is Berenjenas Rellenas?
Berenjenas Rellenas are stuffed eggplants!
While the Berenjena is often mistakenly referred to as a vegetable in most parts of the world, it is actually a fruit! You can cook it in so many ways yet maintain its nutritional value and natural flavor.
Berenjenas, or eggplants, are packed with texture and flavor, and they are used so often in Spanish dishes because they absorb the flavors of the spices! They have a very distinct taste that adds variety to meats, stews, and other casserole dishes.
These ingredients lend themselves particularly well to flavorful fillings like beef, pork, or a rich combination of vegetables!
As for the preparation and ingredients used in the filling for this dish, there are many varieties of the dish and how it's done.
Eggplants are also great for a vegetarian diet! They have a meaty texture which makes them a good substitute for meat in recipes that traditionally use chicken or seafood. So, this Berenjenas Rellenas recipe can also be a perfect dish for vegetarians!
The eggplants are usually cut along the middle and baked until tender before they have their pulp removed, although they're occasionally left raw and cooked with the stuffing.
But, typically, in most cookbooks you will find that the eggplant is hollowed out, stuffed, and baked with a creamy meaty filling flavored with garlic, oregano, and parsley, mixed with chopped vegetables such as tomatoes, zucchinis, onions, peppers, chili peppers, or even mashed potatoes.
This stuffed eggplant also includes the eggplant meat that is scooped out earlier to fill it again.
The ground meat used for stuffing is usually minced pork or beef (or a combination of both), and it contains garlic, which gives it a little extra kick.
Other common additions to this specialty include sweet corn, bacon slices, mushrooms, beans, béchamel sauce, grated cheese, or really anything you want to boost up the flavor with!
As mentioned above, this Spanish stuffed eggplant is typically prepared with ground meat, but I have to mention that you could easily substitute vegetarian ingredients for it.
The usual combination includes finely chopped carrots and mushrooms, lentils, chickpeas, ground walnuts, or even red beans! Mixing your favorite base with flavorful spices is definitely your call.
The stuffed eggplant can be cooked in a variety of ways. It can be baked in the oven, fried or grilled on an open flame, or even grilled and steamed at the same time.
It is served either hot or cold, as an appetizer or as a side dish. The delicate taste makes this eggplant palatable even to those who don't like its usual strong flavor.
Topped with mozzarella, this mouthwatering specialty can be a great way to add that extra little taste to any meal.
The dish is very simple to prepare and is loved by many all across Spain! Your family or friends will ask for seconds, thirds and fourths!
And don't forget- it is best had with a sprightly glass of Spanish wine.
Here are some tips when preparing your ingredients for Spanish stuffed eggplant or Berenjenas Rellenas:
Make sure to drain your eggplants well after soaking them in water.
Try your best not to break the skin of the eggplants when removing the pulp off. A skin that's intact will hold the filling better later on.
In addition to minced pork and beef, you can also use ground lamb as well.
Try using a green bell pepper if you have one on hand. If you're looking for more heat, mince some fresh jalapeno peppers too and add them to the mix!
If you do not have tomate frito, alternatively, you can use prepared tomato sauce or passata.
They are awesome freezer meals. They can be pulled out when ready and stored in the fridge to defrost. Alternatively, you can bake them in an oven at 300°F (150°C) until they are warm.
So let's start cooking stuffed eggplants, and follow this traditional recipe closely. You can add your own ingredients, but here are the basic things you need to stuff these baked eggplants with!
Ingredients
To make this recipe in the most traditional way, the basic ingredients you will need are ground or minced meat, eggplants, onions, garlic, tomato sauce, olive oil, salt, pepper, and cheese.
Everything else is up to you!
You can add your favorite spices, veggies, vine, bechamel sauce, or anything you like to experiment with this specialty's flavor.
The Meat: Some recipes call for a combination of pork and beef – either of which can be used, or you can use lamb instead.
Tomato Sauce: In this recipe, we use tomate frito sauce. However, you can also use cooked tomato sauce or passata.
Cheese: The dish tastes great with or without the cheese. However, it adds an extra punch of flavor. Also, use any cheese you prefer, it doesn't have to be mozzarella. Just choose your favorite!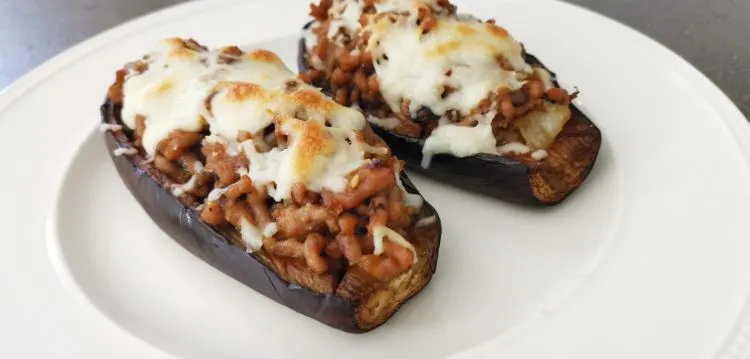 Step-by-step Recipe for Delicious Berenjenas Rellenas
Once you have gathered everything required for this specialty, put on your apron, and get ready to cook!
1. The oven should be preheated to 360 degrees F (150°C) before you start cutting the eggplants in half lengthwise. Grasp the flesh lightly with a knife but do not cut through the skin. You can scoop out the flesh by cutting curves on the outside.
2. Spread two tbsp of olive oil over the cut-side-up placed eggplant.
3. After baking for 30 minutes, remove from oven and let cool. Once cooled, remove the flesh, but leave enough to keep form and prevent the eggplants from collapsing.
4. Prepare the flesh by roughly chopping it. Then, cook onions and garlic in three tablespoons of oil until they soften for about five minutes, then add spices and herbs, or anything to your taste really!
5. Prepare your meat.
6. Stir in the ground meat and increase the heat.
7. After draining excess fat, add tomatoes, the eggplant pulp, and any other vegetables if you would like to spice it up.
8. Put the mixture on the stove and let it simmer for 15 minutes until it is done and reasonably dry.
9. And finally, stuff the empty eggplant skins with your cooked mixture and sprinkle some mozzarella cheese on top before setting them in the oven for about ten minutes!
Serving Suggestions
Berenjenas Rellenas are a tasty and filling treat, best eaten on their own as a main course of a light lunch, or as part of a tapas spread.
Serving them as a main course coupled with a salad or cold soup can make them a healthy meal.
Another option is to serve them with some chopped parsley or basil, hot sauce, and baked potatoes on the side for a complete meal, or simply enjoy your Spanish stuffed eggplant served with rice or boiled potatoes.
The flavor and textures compliment each other perfectly! No matter how you decide to eat them, this Spanish treat is never a miss!
Spanish Tapas Recipes
If you like Spanish Tapas, you should also have a look at these easy recipes:
1. Ensalada Russa (Spanish Potato Salad) – Ensalada Rusa is popular in many countries and is also well-known as Russian Potato Salad or Oliver Salad.
2. Delicious berenjenas fritas con Miel (Spanish crispy fried eggplant with honey) – The honey gives the dish a sweet taste and makes it a great starter or tapas.
3. Chorizo al vino Tinto (Chorizo in Red Wine Sauce) – Spain is famous for its chorizos, so it is no wonder that there are many different recipes on how to prepare chorizo.
4. Tinto de Verano (Spanish Summer Wine) – The translation (Spanish Summer Wine) best encapsulates this Spanish drink: a thirst-quenching alcoholic beverage perfect for drinking on a hot summer day.
Let me know in the comments how you liked the recipe and tag @spanishfoodguide when you share a photo on Instagram!
Spanish Stuffed Eggplant Recipe (Berenjenas Rellenas)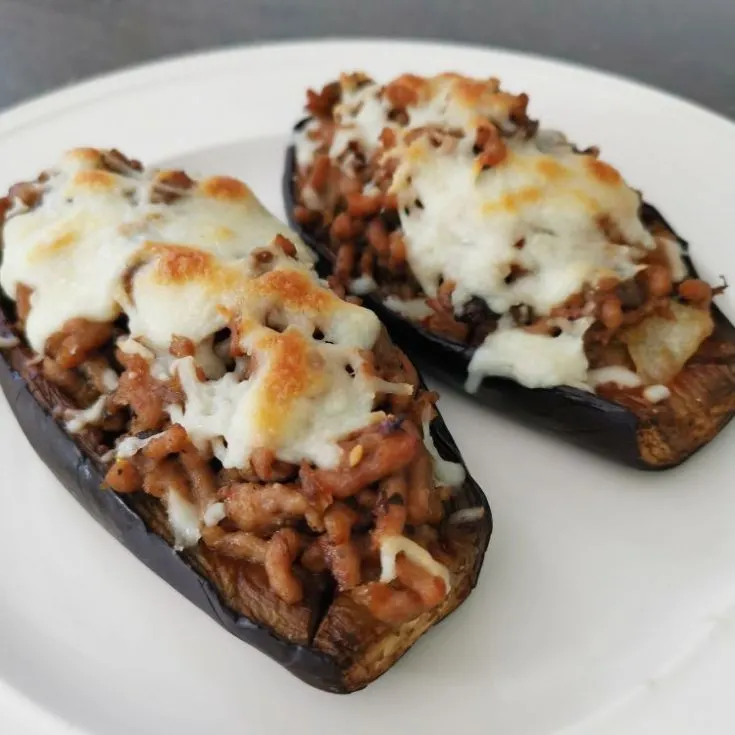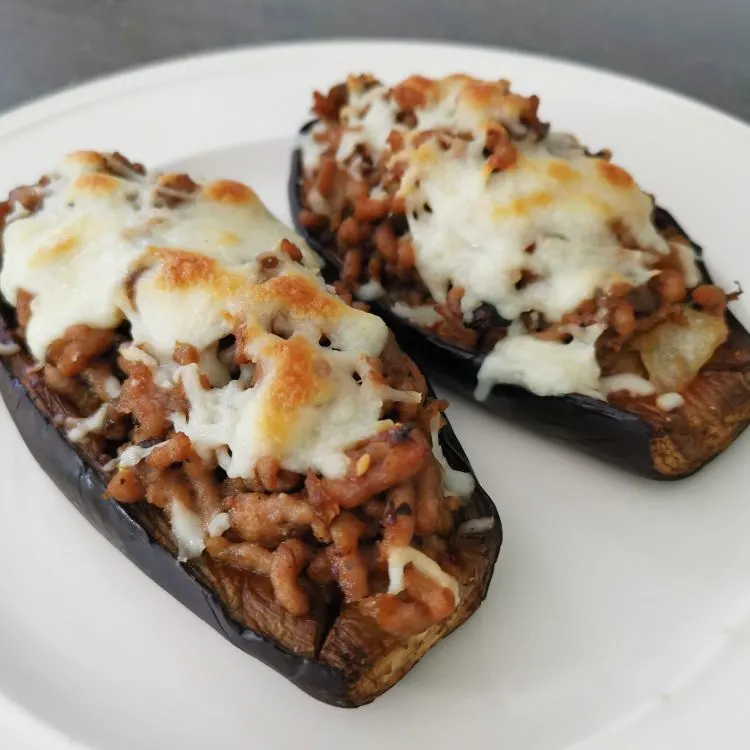 Cook Time
1 hour
30 minutes
Ingredients
2 eggplants
2 cloves of garlic
1 onion
Extra virgin olive oil
¾ pound or 350-gram ground beef and pork mixture
Tomato sauce (tomate frito)
Shredded mozzarella cheese
Sea salt
Black pepper
Instructions
Preheat the oven to 350°F or 180°C.
Wash the eggplants, dry them, and cut them lengthwise.
Put the eggplant, skin down, on a baking sheet and cut the flesh.
Add extra virgin olive oil and sea salt.
Bake the eggplants for around 45 to 60 minutes, until the flesh is tender.
Take the eggplants out of the oven and let them rest while you are preparing the filling.
Dice the onion and mince the garlic.
Heat up olive oil in a pan and add the onion and garlic.
Scrape out the flesh of the eggplants and add it to the pan once the onions starting to brown.
Add the ground meat, sea salt, and pepper to the vegetables and saute until cooked through.
Let the filling rest for a few minutes while you add a layer of tomato sauce to the empty eggplant skins.
Fill the eggplants skins with the filling and cover them with shredded mozzarella cheese
Put the eggplants for around 10 minutes under the broiler until the mozzarella cheese browned.
Enjoy your Spanish stuffed eggplant! (Tip: Serve with rice)
Nutrition Information:
Yield:
4
Serving Size:
1
Amount Per Serving:
Calories:

446
Total Fat:

23g
Saturated Fat:

8g
Trans Fat:

1g
Unsaturated Fat:

11g
Cholesterol:

91mg
Sodium:

516mg
Carbohydrates:

32g
Fiber:

8g
Sugar:

12g
Protein:

32g
The nutritional information provided is approximate and can vary depending on several factors, so is not guaranteed to be accurate.
Was this Berenjenas Rellenas Recipe helpful? If so, be sure to pin it to refer to later!