Ciara introduces her delicious and easy to prepare Spanish Gluten-Free Empanada Recipe.
Originating in the community of Galicia, found in northern Spain, is the delectable dish called empanadas.
A traditional Spanish dish found all over the country; this quintessential dish makes for a fun and easy Spanish food experience.
Whether you're dining at a local Spanish restaurant, grabbing drinks at a bar, or simply stopping by a bakery to grab an empanada for the road, this dish is a delicious treat.
The dish—a doughy and flaky pie generously stuffed with savory fixings. Traditionally these savory fixings are onions, bell peppers, and minced meat perfectly placed within the doughy pie.
However, other versions of empanadas are easily created by substituting the minced meat for other ingredients such as chicken, spinach, cheese, and more veggies.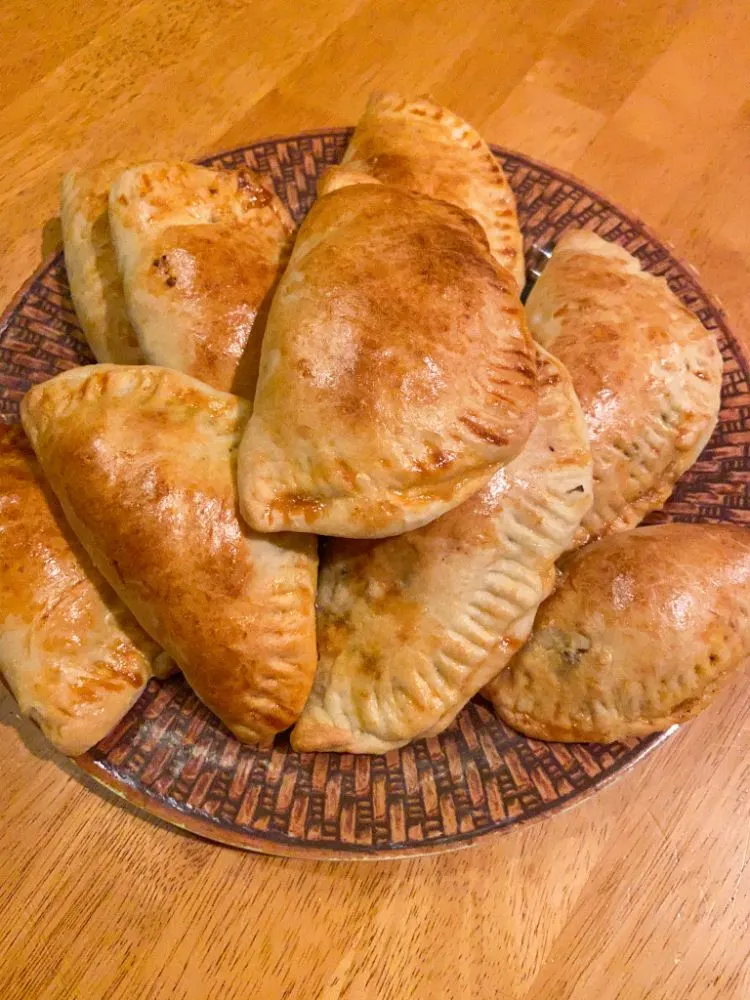 Ciara from the blog Wellness Travel Diaries was fortunate enough to experience this exquisite dish first hand while teaching ESL in the small city of Melide, Galicia. As a gluten-free and dairy-free traveler, the Galicia region was first on her food excursion radar. It slowly expanded to the neighboring regions, eventually leading her to the east coast of Spain in Valencia and Barcelona.
After spending over a year in Spain and traveling around Europe, the blog Wellness Travel Diaries shares insider tips about navigating travel with food allergies and maintaining your health and wellness while traveling.
So, with a love of empanadas, here's one of her go-to recipes. It's ideal when you're craving empanadas outside of Spain, and they're allergy-friendly too.
While traditionally, empanadas are filled with minced meat, the filling of empanadas can be the chef's choice when you're making them at home. The recipe below contains two types of gluten-free empanadas.
One batch is made with minced meat, while the other is completely vegan, substituting olives and quinoa for the meat. It's not traditional, but it adds immense flavor and more nutrients to the vegan empanadas.
Baking empanadas can take some time, but eating those scrumptious savory pies will be well worth it in the end!
It generally takes about two hours to make, so give yourself plenty of time.
Tips to Prepare Empanadas:
1. If you're making two batches, vegan and non-vegan, make sure to separate the fillings in different bowls.
2. For the gluten-free flour, you can use any prepackaged gluten-free flour for baking (i.e., almond flour, rice flour, coconut flour). Still, I highly recommend using the brand listed below as the dough ingredients may need to be adjusted with other types of flour.
3. Feel free to mix in whatever you want to include in your empanadas! Add more vegetables if you're vegan, or opt for chicken instead of beef.
4. To make vegan buttermilk, take your favorite vegan milk alternative and add one to two tablespoons of vinegar for your desired buttermilk taste.
5. Rest the Gluten-Free Empanada dough in the refrigerator for 30 minutes minimum before rolling it out.
6. Make the dough first, then make the filling while you let the dough rest
Gluten-Free Empanada Recipe
Yield: 4
Gluten-Free Empanada Recipe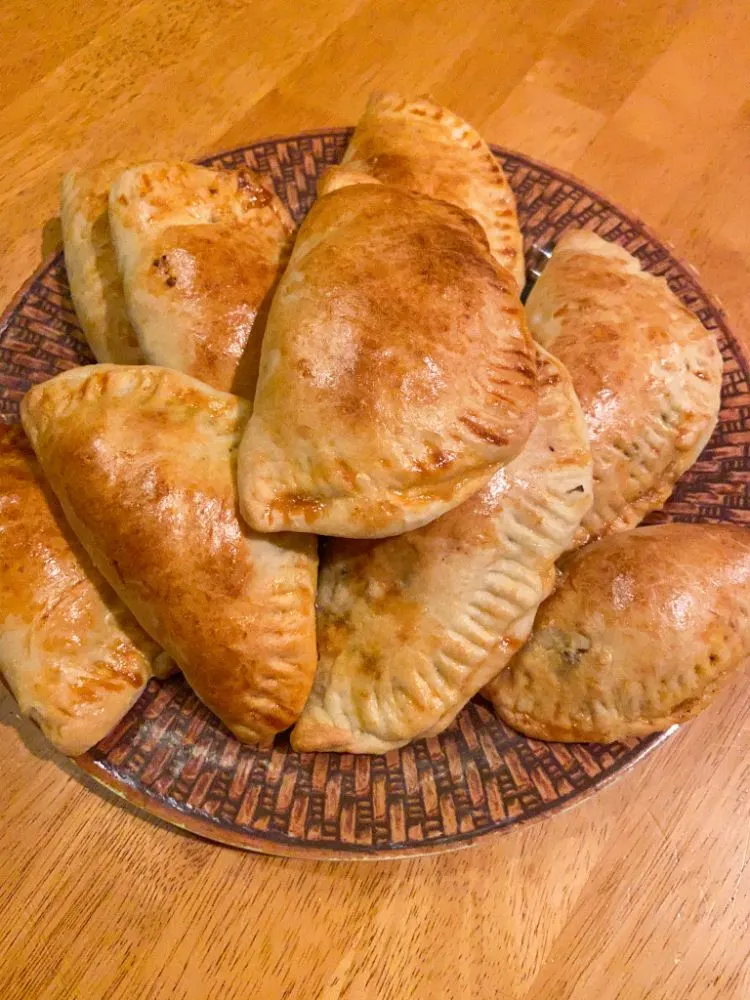 Total Time
1 hour
40 minutes
Ingredients
Gluten-Free Empanada Flour
3 cups of Cup4Cup flour
1 ½ tsp. salt
1 tbsp ice water
1 cup of unsalted butter or vegan butter
1 egg or vegan alternative
½ cup vegan buttermilk (see instructions on how to make this above)
Filling for Beef Empanadas
1 lb ground beef
1 large yellow onion, diced
1 red bell pepper, diced
Any additional veggies wanted (spinach, mushrooms, black beans, etc)
1½ tbsp tomato paste
1 tbsp olive oil
2 tsp oregano
2 tbsp Spanish paprika or chili powder
1 tsp cumin
1 tbsp fresh mince garlic
1 tsp cayenne pepper (add more or less if you want the dish spicier)
Add sea salt and pepper to taste
Filling for Vegan Empanadas
Substitute ground beef for 3 cups of cooked quinoa
¾ cup of olives, diced
Egg Wash
1 egg and 1 tbps of water to brush on top of empanadas before baking (for vegan substitute mix 1 tbps of olive oil with 1 tbps of water
Instructions
To make the Gluten-Free Empanada dough cut the butter into chunks and then place the flour and salt into a large bowl. Either whisk the ingredients or put them into a food processor. Pulse ingredients, but do not over mix.
Combine the egg, buttermilk, and ice water in a different bowl then slowly add the mixture to the flour bowl.
Once thoroughly combined place the dough in plastic wrap and put it in the fridge to rest for 30 minutes.
Prep, cut, and dice all your desired vegetables.
Put a large skillet over medium-low heat, and then add olive oil. Once the oil is hot add onions and ground beef. Cook until the meat is almost brown and the onions are translucent then add in the spices.
Add the other vegetables in, the minced garlic and tomato paste (If you are using quinoa instead of beef, add the quinoa in when you add in the other vegetables).
Remove the mixture from the stove and set it aside in a bowl.
Line your baking sheets with parchment paper and then preheat the oven to 350 F.
Once the dough is chilled, remove it from the refrigerator and separate it into 15-20 pieces. You can do more or less depending on if you want small or large empanadas.
Very lightly flour your counter and roll each piece out into a circle. Keep repeating until all the dough is used up.
Take about 1 tablespoon of the filling mixture and place it in the center of each dough circle. After, fold over one side, creating a semi-circle then press the edges together. If you want to get fancy, use a fork to crimp the edges!
Lastly, brush the egg wash on top of the empanadas then pop them into the oven. They take about 20-23 minutes to bake and will be golden brown once ready.
Then enjoy your home-made gluten-free empanadas!
Are you on Pinterest? Pin this!