Gustavo from the restaurant La Pepica Valencia shares his Lobster Paella Recipe.
The European lobster is rare seafood in our markets; the American or Canadian lobster is much more widespread. Its colors characterize it; the European is black and bluish, and the Canadian or American is reddish in color.
The American or Canadian lobster has a great flavor, and the price of this precious seafood in Spain is not very high, unlike in Europe, which is much scarcer and the price is much higher.
Lobster is well known throughout the peninsula because it is caught in the Mediterranean and the Atlantic and is not a characteristic dish of any specific region.
In the north of Spain (Galicia), it is a very popular shellfish because the fishing and capture of mariscos in that region is centered in the northwest Atlantic.
Lobster is a shellfish that greatly enhances the flavor of any dish, and that is why it is cooked a lot in Spain; for example, in a stew, rice, or a lobster "suquet".
The lobster paella cooking time is the same as for any other paella. After frying all the ingredients, including the lobster, cook the paella for 10 minutes over high heat and another 10 over medium-low heat to finish the paella.
Lobster Paella Recipe
Yield: 4
Lobster Paella Recipe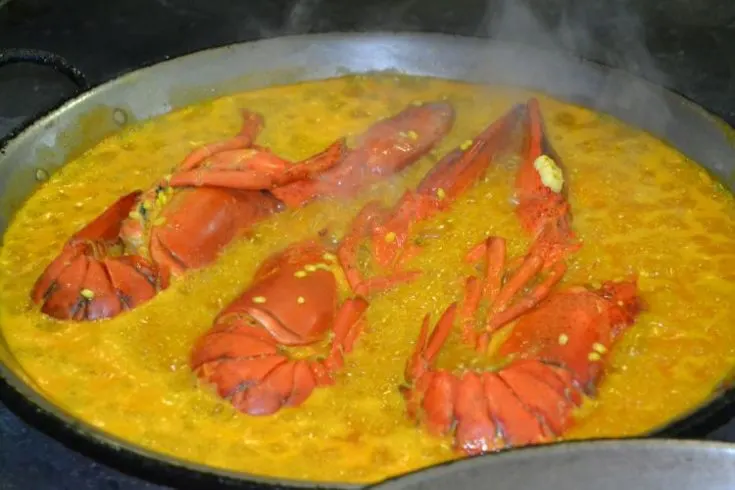 Ingredients
1/2 kg of whitebait (snorers, burrets, scorpions, etc)
400 gr. of rice
Saffron
Salt
Water
Olive oil
2 cloves of garlic
1 tablespoon of sweet paprika
1 grated tomato
1 carrot
1 onion
1 tomato
Instructions
Broth preparation:

Boil 3 liters of water for 45 minutes with 1/2 kg of whitebait, a carrot, an onion, and a tomato. Afterward, pass it through a strainer and place it in a container.

Prepare a "picada" with a clove of garlic, parsley, and oil in a mortar.

Rice preparation:

Cut the lobsters into 2 halves and place a paellera with a diameter of 40 cm on the fire. Pour olive oil at is base and add the lobsters and fry them with minced garlic, a teaspoon of paprika, and striped tomato.

Add the rice. Then pour the broth in the paellera with the proportion of 2 cups of broth for 1 cup of rice (approximately 1 liter).

Stir everything and add a few strands of saffron and salt to the point.

Boil for 10 minutes over high heat, add a tablespoon of the "picada" that you have prepared earlier, and boil for another 10 minutes over low heat.

Remove the paellera from the heat and let it rest for 5 minutes.

I hope you will enjoy a recipe as special as this one.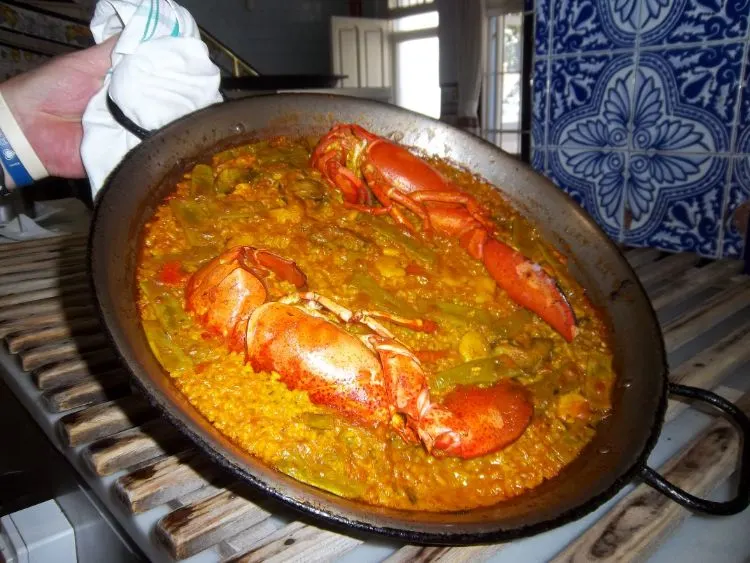 La Pepica Valencia
Since 1898, La Pepica Restaurant has been located on the Paseo Marítimo de Valencia, on the beachfront.
The restaurant is composed of a large main room with a capacity for more than 450 diners, where you can celebrate all kinds of events: weddings, communions, baptisms, business meals, family meals … with direct access to the beach of Valencia and the Mediterranean sea.
The restaurant also has a private room to hold events and all kinds of celebrations in privacy, but the area that their clients like the most is undoubtedly their large terrace on the Malvarrosa beachfront where you can enjoy their paella while watching the Mediterranean Sea.
The traditional Valencian decoration makes La Pepica a safe bet when choosing where to eat well in Valencia. Historical place, illustrious visits, and traditional recipes of rice, paellas, and Valencian cuisine.