Ensalada Rusa ou Salada de Batata Espanhola está em quase todos os menus de tapas espanhóis. Confira a minha receita fácil de Ensalada Rusa e prepare a sua própria salada em casa.
Ensalada Rusa é popular em muitos países e é também conhecida como Salada de Batata Russa ou Salada de Oliver.
Há muitas variações com diferentes vegetais como cenouras, cebolas, ou ervilhas.
Esta salada é na verdade uma das minhas tapas frias espanholas preferidas para o Verão, quando as temperaturas se tornam muito altas em Espanha.
Ensalada Rusa Ingredientes
Como já foi mencionado, existem muitas variações diferentes desta Salada de Batata Russa.
Para esta receita, são necessárias batatas, azeitonas pretas, ovos, maionese caseira, pimentos vermelhos assados, ervilhas e cenouras, e atum.
Como preparar a Ensalada Rusa?
A preparação desta salada espanhola é fácil e rápida. Primeiro, limpe bem as batatas para se livrar de toda a sujidade e areia.
Depois, cozer as batatas não descascadas até estarem cozinhadas. Dica: Não as cozinhe demasiado tempo, pois acabarão como puré de batata quando misturar a sua salada.
Pegue numa tigela grande para misturar todos os ingredientes, as batatas (descascadas e cortadas em cubos pequenos), duas chávenas de maionese caseira, uma pimenta assada (cortada em tiras), atum, cenouras, ervilhas, e um ovo cozido.
Agora, misture todos os ingredientes. Se necessário, acrescentar mais maionese.
Adicione azeitonas pretas, o segundo ovo cozido (cortado em pequenos pedaços), e pimenta vermelha por cima para decorar a sua salada.
Desfrute da sua Ensalada Rusa feita em casa!
Receita Ensalada Rusa
Yield: 4
Ensalada Rusa Recipe (Spanish Potato Salad)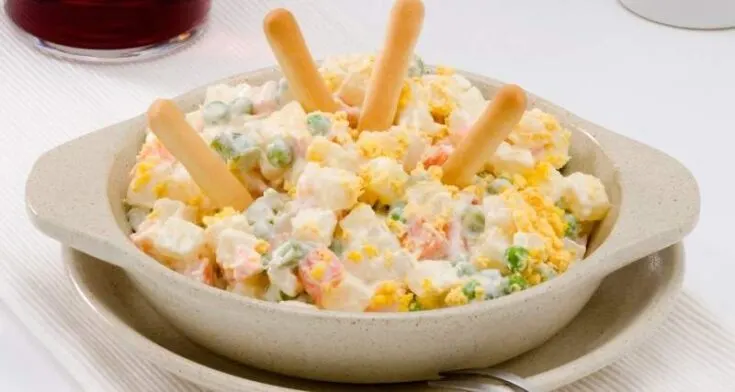 Ensalada Rusa or Spanish Potato Salad can be found on almost every Spanish Tapas menu. Check out my easy Ensalada Rusa recipe and prepare your own salad at home.
Ingredients
6 medium-sized potatoes
2 hard-boiled eggs
Roasted red peppers
1 16oz (around 450 grams) can of peas and carrots
2 cups of Mayonnaise, preferably home-made mayonnaise
Black olives
1 6oz (170 grams) can of tuna
Instructions
Clean the potatoes to get rid of dirt and sand.
Fill a large pot with water and bring it to boil. Put the potatoes unpeeled in the water and cook until they are cooked. Tip: Don't cook them too long as they will end up as mashed potatoes when you mix your salad.
Once the potatoes are done cool them with cold water until you can handle them with your hands. Remove the peel of the potatoes and cut them into small cubes.
Take a big bowl and add two cups of home-made mayonnaise and one roasted pepper, sliced into strips.
Use a fork to flake the tuna and add it to the bowl.
Drain the water of the carrots and peas can and add them also to the bowl.
Peel one of the hard-boiled eggs and add to the bowl as well.
Now, mix all ingredients. If necessary, add more mayonnaise.
To decorate your salad, add black olives, the second hard-boiled egg (cut in small pieces), and red pepper on top.
Enjoy your home-made Ensalada Rusa!
Nutrition Information:
Yield:
4
Serving Size:
1
Amount Per Serving:
Calories:

1105
Total Fat:

89g
Saturated Fat:

14g
Trans Fat:

0g
Unsaturated Fat:

72g
Cholesterol:

151mg
Sodium:

810mg
Carbohydrates:

60g
Fiber:

7g
Sugar:

6g
Protein:

18g
The nutritional information provided is approximate and can vary depending on several factors, so is not guaranteed to be accurate.