Ensalada Rusa of Spaanse Aardappelsalade staat op bijna elk Spaans Tapasmenu. Bekijk mijn gemakkelijke Ensalada Rusa recept en bereid thuis je eigen salade.
Ensalada Rusa is populair in veel landen en is ook bekend als Russische Aardappelsalade of Oliver Salade.
Er zijn veel variaties met verschillende groenten zoals wortels, uien of erwten.
Deze salade is eigenlijk een van mijn favoriete Spaanse koude tapas voor de zomer, wanneer de temperaturen in Spanje erg hoog worden.
Ensalada Rusa Ingrediënten
Zoals gezegd zijn er veel verschillende variaties van deze Russische Aardappelsalade.
Voor dit recept heb je aardappelen, zwarte olijven, eieren, zelfgemaakte mayonaise, geroosterde rode paprika's, erwten en wortels, en tonijn nodig.
Hoe bereid je Ensalada Rusa?
Het bereiden van deze Spaanse salade is gemakkelijk en snel. Maak eerst de aardappelen goed schoon om al het vuil en zand te verwijderen.
Kook vervolgens de ongeschilde aardappelen gaar. Tip: Kook ze niet te lang, want dan eindigen ze als aardappelpuree als je je salade mengt.
Neem een grote kom om alle ingrediënten te mengen, de aardappelen (geschild en in kleine blokjes gesneden), twee kopjes zelfgemaakte mayonaise, één geroosterde paprika (in reepjes gesneden), tonijn, wortels, erwten en één hardgekookt ei.
Meng nu alle ingrediënten. Voeg zo nodig meer mayonaise toe.
Doe er zwarte olijven, het tweede hardgekookte ei (in kleine stukjes gesneden) en rode peper bovenop om je salade te versieren.
Geniet van je zelfgemaakte Ensalada Rusa!
Ensalada Rusa Recept
Yield: 4
Ensalada Rusa Recipe (Spanish Potato Salad)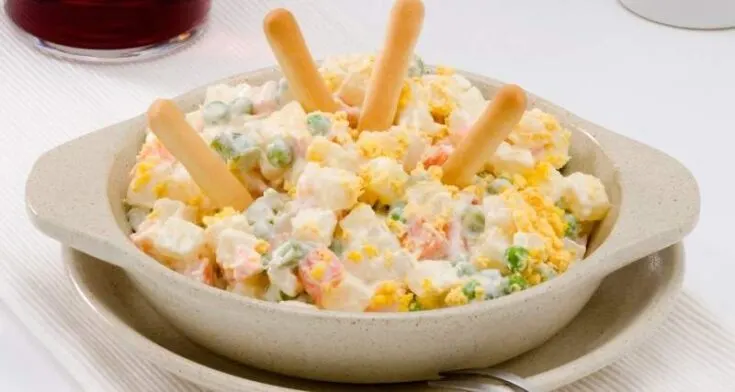 Ensalada Rusa or Spanish Potato Salad can be found on almost every Spanish Tapas menu. Check out my easy Ensalada Rusa recipe and prepare your own salad at home.
Ingredients
6 medium-sized potatoes
2 hard-boiled eggs
Roasted red peppers
1 16oz (around 450 grams) can of peas and carrots
2 cups of Mayonnaise, preferably home-made mayonnaise
Black olives
1 6oz (170 grams) can of tuna
Instructions
Clean the potatoes to get rid of dirt and sand.
Fill a large pot with water and bring it to boil. Put the potatoes unpeeled in the water and cook until they are cooked. Tip: Don't cook them too long as they will end up as mashed potatoes when you mix your salad.
Once the potatoes are done cool them with cold water until you can handle them with your hands. Remove the peel of the potatoes and cut them into small cubes.
Take a big bowl and add two cups of home-made mayonnaise and one roasted pepper, sliced into strips.
Use a fork to flake the tuna and add it to the bowl.
Drain the water of the carrots and peas can and add them also to the bowl.
Peel one of the hard-boiled eggs and add to the bowl as well.
Now, mix all ingredients. If necessary, add more mayonnaise.
To decorate your salad, add black olives, the second hard-boiled egg (cut in small pieces), and red pepper on top.
Enjoy your home-made Ensalada Rusa!
Nutrition Information:
Yield:
4
Serving Size:
1
Amount Per Serving:
Calories:

1105
Total Fat:

89g
Saturated Fat:

14g
Trans Fat:

0g
Unsaturated Fat:

72g
Cholesterol:

151mg
Sodium:

810mg
Carbohydrates:

60g
Fiber:

7g
Sugar:

6g
Protein:

18g
The nutritional information provided is approximate and can vary depending on several factors, so is not guaranteed to be accurate.