Une recette de Paella simple et délicieuse que tu peux préparer en moins d'une heure. Cette recette est composée de fruits de mer, de poulet et de légumes.
Aujourd'hui, je vais partager la recette de la paella de mon amie Ana.
C'est simple et délicieux.
Ana est originaire du Pays basque et elle aime beaucoup la gastronomie espagnole. Elle a appris à cuisiner dès son plus jeune âge en observant sa grand-mère et sa mère. Ana adore découvrir des saveurs différentes et essayer les plats qu'elle cuisine.
Conseils pour préparer une délicieuse Paella
Fais tout cuire à feu doux avec beaucoup de soin et d'amour.
Ajoute toujours l'oignon en premier et quand ils sont dorés, tu ajoutes le poivre, pas avant, car le poivre libère de l'eau.
Ajoute juste une pincée de sel car le bouillon est déjà assez salé.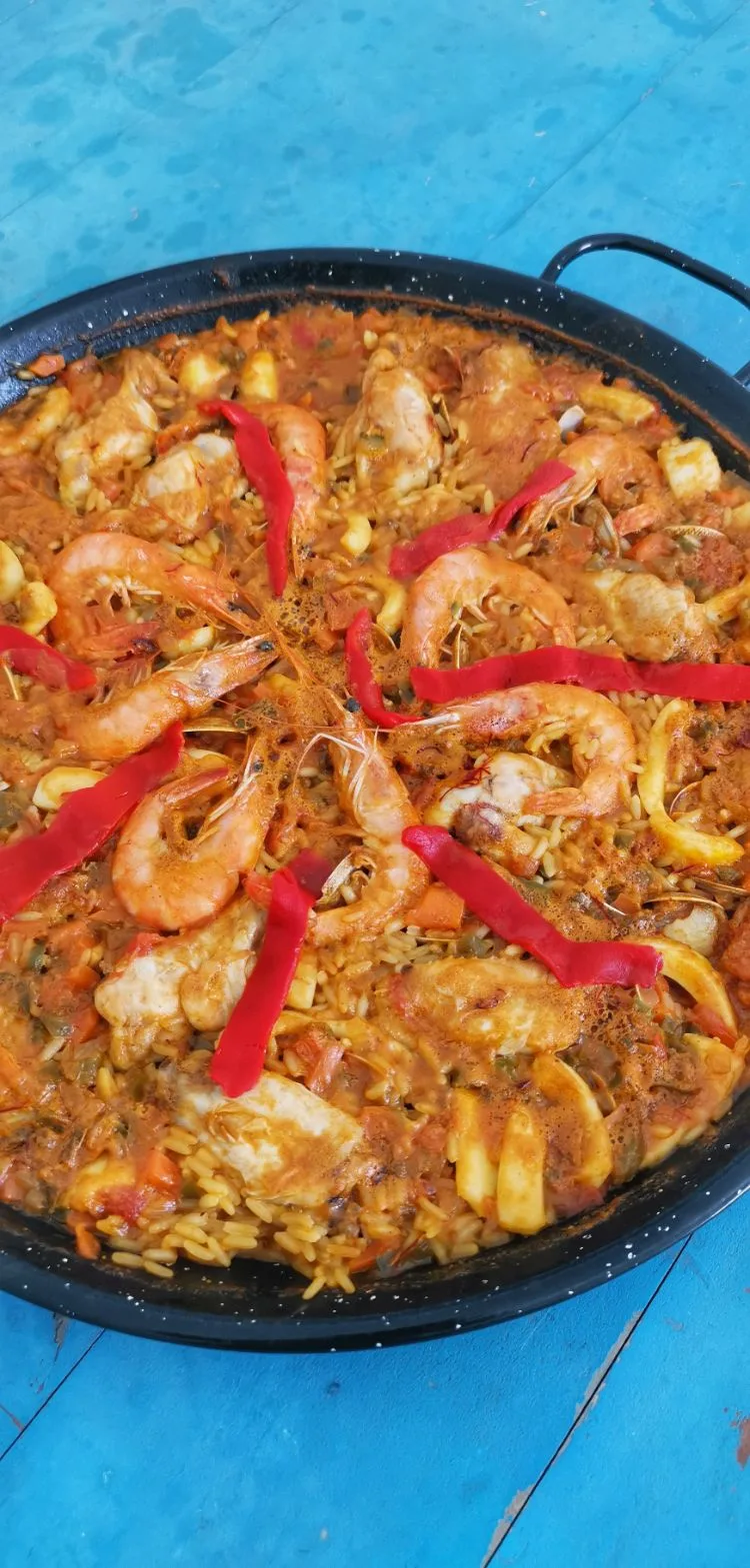 Recette de paella facile et délicieuse (moins d'une heure)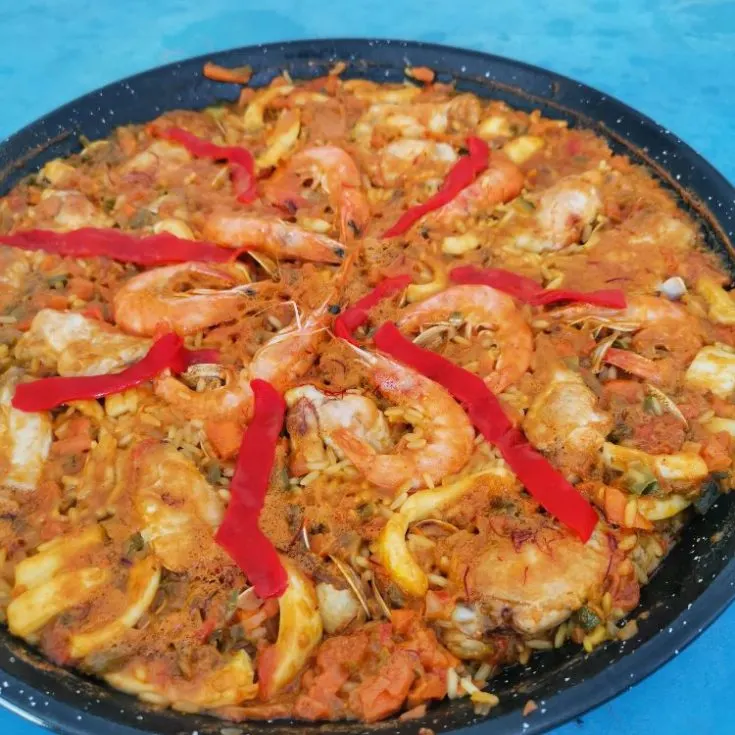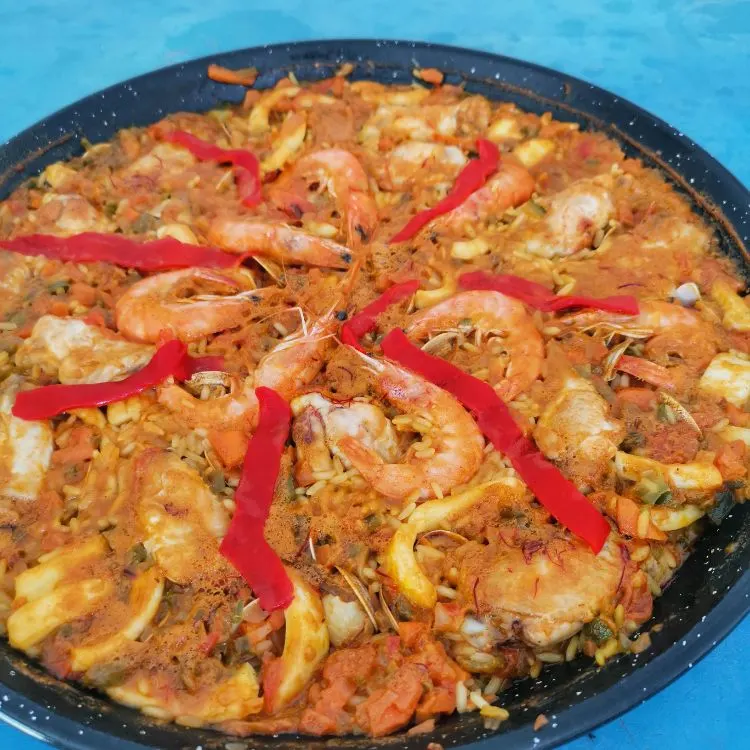 A very easy and delicious Paella recipe that you can prepare in less than an hour. This recipe is made with seafood, chicken, and vegetables.
Ingredients
1 medium onion
2 small garlic or 1 large garlic
4 ripe tomatoes (about 150 grams)
1 medium carrot
1 green pepper
200gr rice
1-liter of broth for paella
0.3 kg chicken (you can also use for example pork)
Saffron
150 gr of squid
100 gr of clams
50 gr of prawns
Extra virgin olive oil
50 gr of piquillo peppers in strips
Instructions
Cut an onion, a carrot, green pepper, and two small gloves of garlic in small pieces.
Sauté the garlic in the extra virgin olive oil until they are golden brown and the olive oil has the flavor of garlic.
Take out the garlic and set aside for later.
Add the chicken with salt to the pan.
After a few minutes turn them over.
When the chicken is a little brown on both sides add the onion.
When the onions are brown, add green pepper and a carrot (cut into small pieces).
Remove the skin from the tomatoes and cut them into very small pieces. Add the tomatoes together with the garlic from the beginning. Mix everything.
Mix the vegetables with the chicken and pinch a little salt (not much because the broth also has salt).
Cut the squid and add it to the pan.
Clean the clams and leave them ten minutes in cold water.
Add 200 grams of rice.
Add a liter of vegetable broth or paella broth.
Leave the rice for 20 minutes on medium heat. Do not move the paella pan so that it gets a nice crust on the bottom.
About ten minutes later, add the prawns and clams.
Add a little saffron.
Reduce heat and cook until rice is done (about 15 minutes).
Once ready, decorate with the piquillo peppers in strips.
Cover the pan with a tea towel/kitchen towel for about three minutes until it absorbs the broth.
Nutrition Information:
Yield:

4
Serving Size:

1
Amount Per Serving:
Calories:

451
Total Fat:

22g
Saturated Fat:

6g
Trans Fat:

0g
Unsaturated Fat:

14g
Cholesterol:

146mg
Sodium:

293mg
Carbohydrates:

23g
Fiber:

1g
Sugar:

1g
Protein:

38g
The nutritional information provided is approximate and can vary depending on several factors, so is not guaranteed to be accurate.
Tu es sur Pinterest ? Epingle ça !