Tem pouco tempo e procura tapas espanholas frias de Verão fáceis e rápidas?
Melon con Jamon Serrano (em inglês: Melon with Serrano Ham) pode ser exactamente o que se procura.
O sabor salgado do Presunto Serrano espanhol é um grande contraste com o doce e suculento melão de melada.
Este prato de tapas não requer qualquer cozedura, e pode ser preparado em menos de dez minutos.
A compra dos ingredientes levará, de facto, muito mais tempo do que a preparação efectiva da comida das tapas.
Como preparar o Melon con Jamon Serrano?
Primeiro é preciso cortar o melão de melada em pequenos cubos.
Depois, cortar as fatias de presunto serrano ao meio e enrolar um pedaço em cada cubo de melão. Utilizar palitos de dentes para segurar os pedaços de presunto no lugar.
Dica # 1: Recomendo que coloque o prato com os seus cubos de melão e presunto durante cerca de 20 minutos no frigorífico antes de servir.
Dica #2: Sirva os cubos de melão imediatamente (ou após 20 minutos no frigorífico) porque, caso contrário, o melão pode encharcar o presunto.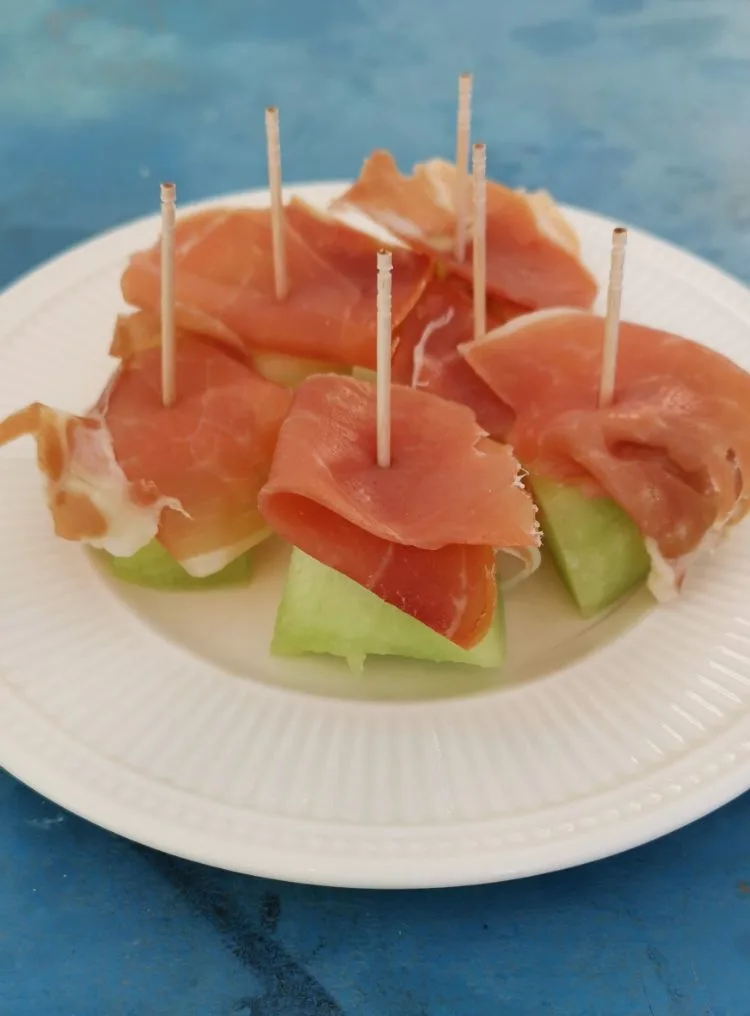 Yield: 2
Melon con Jamon Serrano Recipe (Melon with Serrano Ham)
Are you short on time and looking for an easy and fast Spanish summer tapas?
Melon con Jamon Serrano, in English Melon with Serrano Ham, might be just exactly what you are looking for.
Ingredients
1/4 ripe honeydew melon
Serrano Ham
Toothpicks
Instructions
Cut the honeydew melon in small 1 cm (1 1/2-inch) cubes.
Cut the serrano ham slices in half and wrap them around the ham cubes.
Use toothpicks to hold the serrano ham in place.
Serve either immediately or cool down the cubes for 20 minutes in the fridge before serving.
Nutrition Information:
Yield:

2
Serving Size:

1
Amount Per Serving:
Calories:

85
Total Fat:

1g
Saturated Fat:

0g
Trans Fat:

0g
Unsaturated Fat:

1g
Cholesterol:

10mg
Sodium:

411mg
Carbohydrates:

15g
Fiber:

1g
Sugar:

13g
Protein:

5g
The nutritional information provided is approximate and can vary depending on several factors, so is not guaranteed to be accurate.