Catalaanse Kerst Cannelloni is een gerecht uit Catalonië, zoals de naam al zegt. Het wordt traditioneel gekookt op 26 december. Maar omdat dit gerecht zo populair is, eten de Catalanen het het hele jaar door. Bekijk ons Cannelloni Recept met varkensgehakt.
Canelones Gratinados werd traditioneel bereid met de restjes van het kerstdiner. Voor dit recept; we zullen echter varkensgehakt gebruiken.
Wat is Cannelloni?
Cannelloni is een pastasoort in de vorm van een korte buis gevuld met verschillende vullingen.
Cannelloni vulling ideeën
Er zijn veel opties voor hoe je cannelloni moet vullen. Hier zijn enkele van onze favorieten:
Broccoli en bloemkool
Krab en sint-jakobsschelp
Kaas
Bolognese
Spinazie, kaas en tomaat
Prosciutto, pompoen en salie
Kip, spinazie en ricotta
Pesto kip
Hoe maak je Canelones Gratinados
Ragout:
1. Verhit extra vierge olijfolie in een pan op matig vuur en voeg één dungesneden middelgrote ui toe – Bak ongeveer vijf tot tien minuten.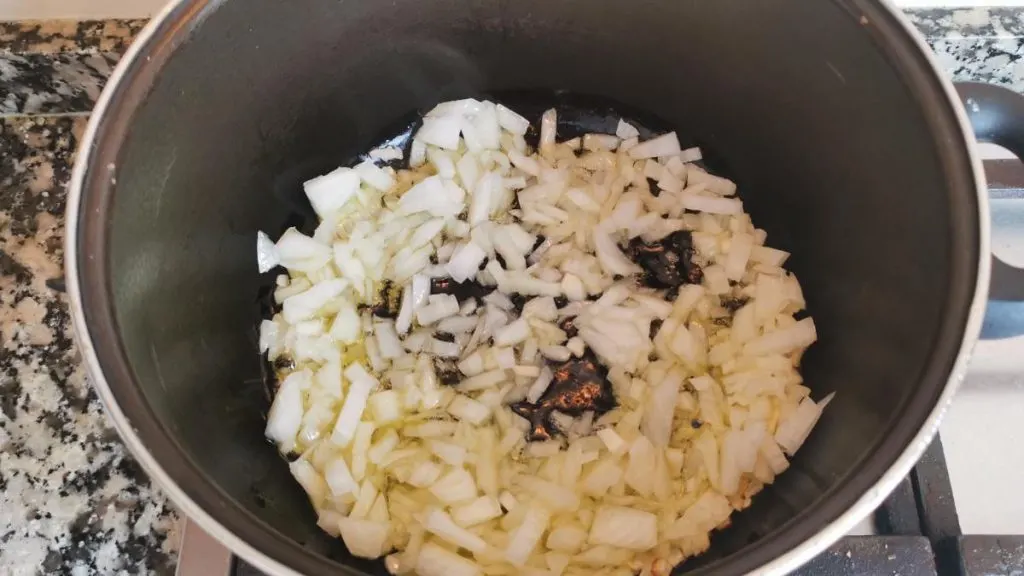 2. Voeg zes fijngehakte teentjes knoflook toe en bak nog vijf minuten.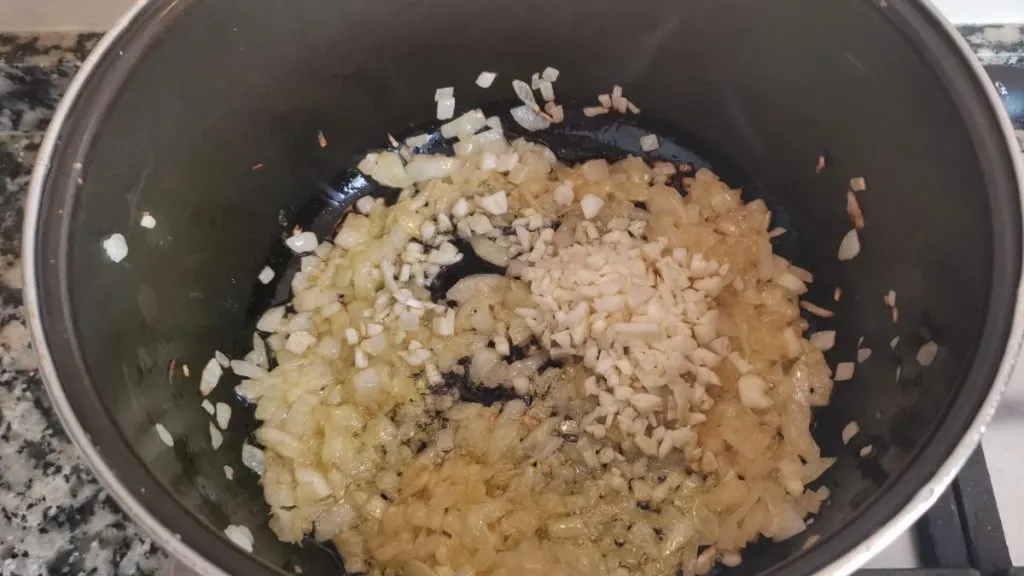 3. Voeg een theelepel witte peper en oregano toe, een snufje zout, en een pond (halve kilo) varkensgehakt. Kook alles ongeveer 20 minuten en roer regelmatig.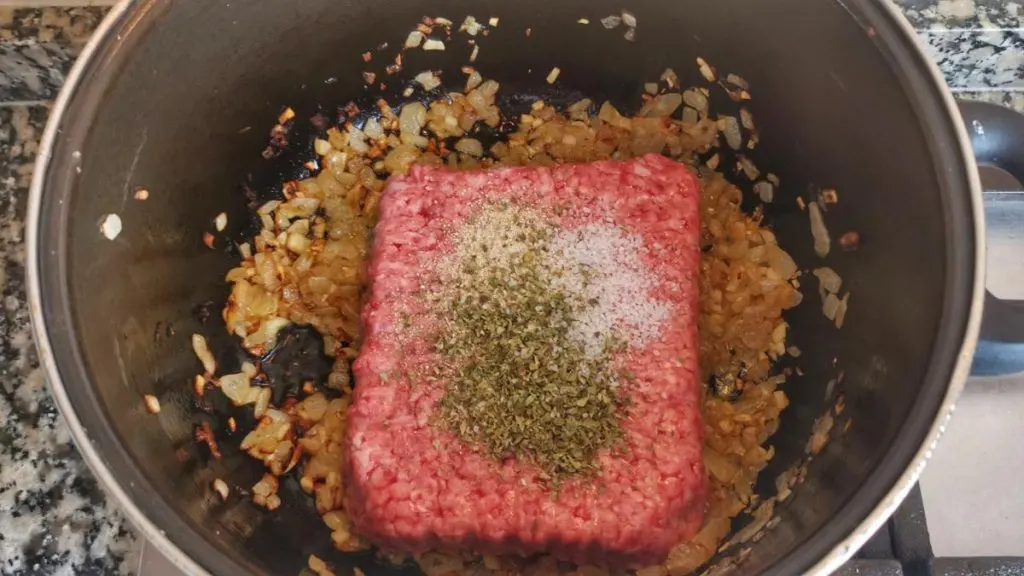 4. Schenk er een glas witte wijn bij en roer. Voeg nu zeven ons (200 ml) tomato Frito toe en kook nog 45 minuten op laag vuur. Roer af en toe om.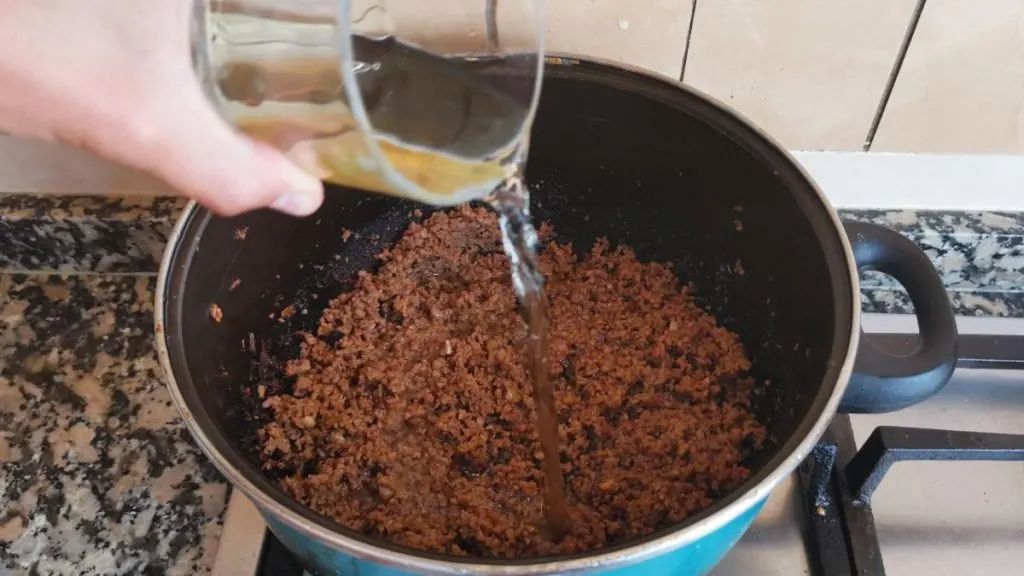 5. Zet het vuur uit en voeg de grof gesneden Paté Ibérico toe.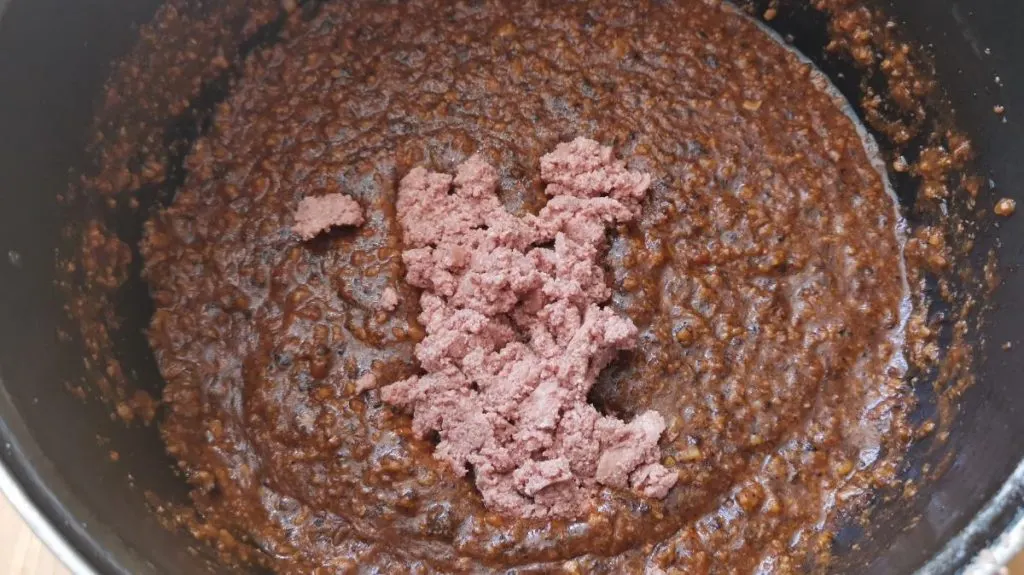 6. Laat de ragout afkoelen terwijl je de bechamel en de pasta bereidt.
Bechamel:
1. Voeg extra vierge olijfolie, 2,1 ons (60 gram) gezouten boter, nootmuskaat, peper en zout toe aan een grote koekenpan, en verwarm tot de boter gesmolten is.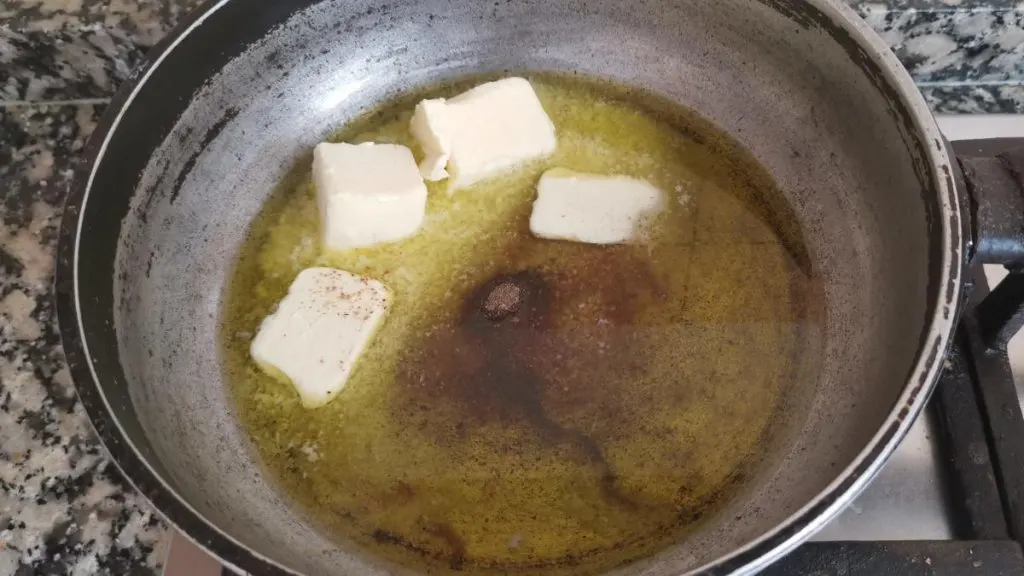 2. Voeg vijf eetlepels bloem toe en roer regelmatig tot het mengsel een gouden kleur heeft.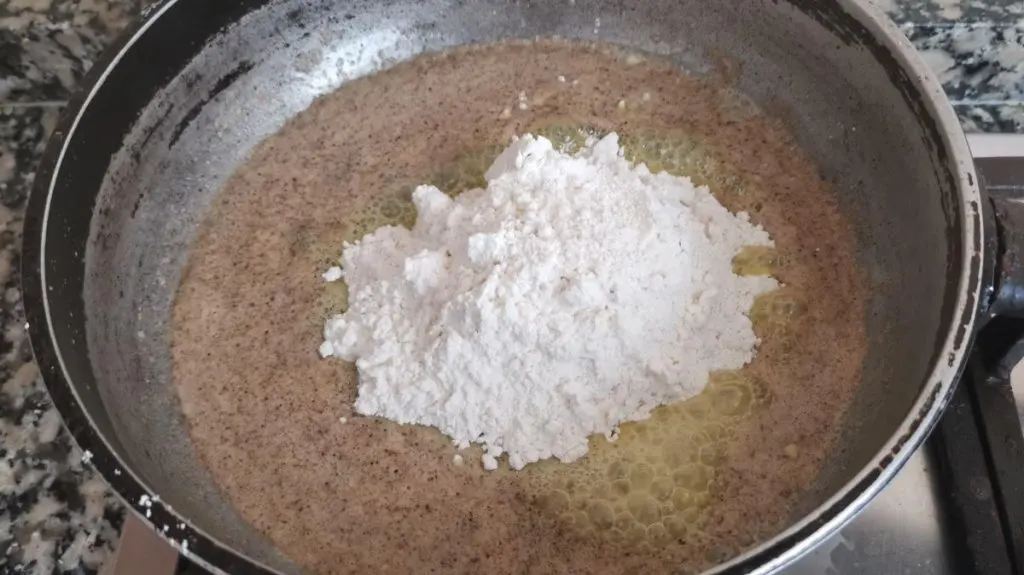 3. Begin langzaam beetje bij beetje twee kopjes volle melk toe te voegen, zodat alles volledig integreert. Blijf al roerend melk toevoegen tot er geen klontjes meer zijn. Laat vijf minuten sudderen.
4. Voeg 3,5 ons (100 gram) geraspte kaas toe en laat nog vijf minuten sudderen.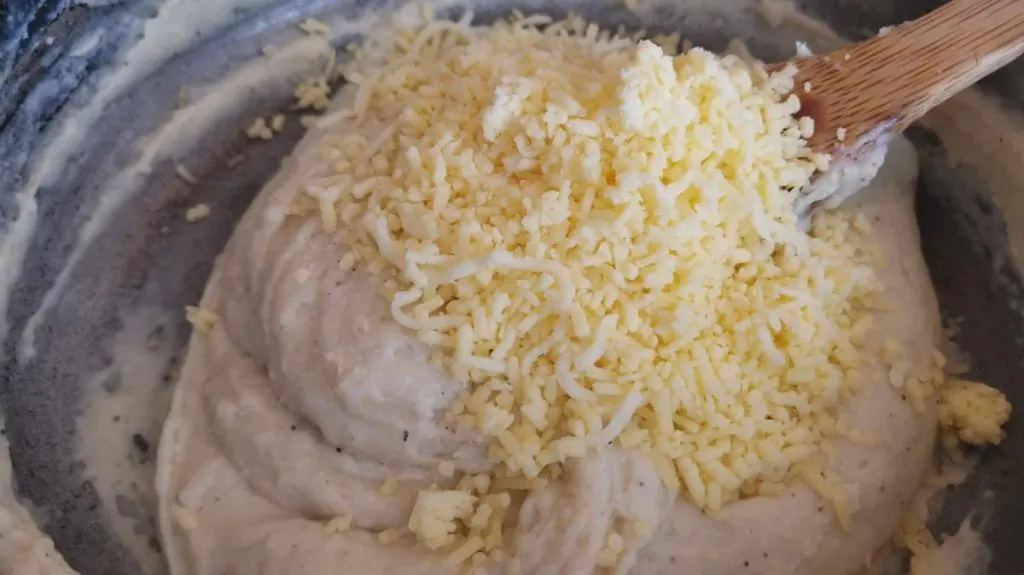 Pasta
1. Breng water aan de kook en zet het vuur uit.
2. Dompel de vellen pasta onder en laat ze tien minuten in heet water liggen. Schud de pan zo nu en dan om te voorkomen dat de pastavellen aan elkaar plakken.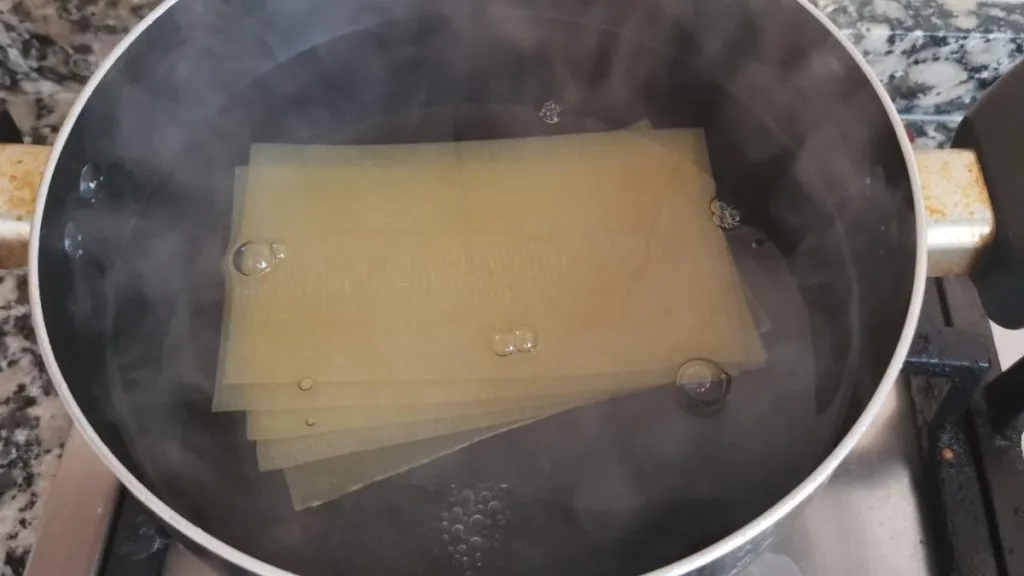 3. Droog de pastavellen op een papieren handdoek.
Montage
1. Optioneel: Verdeel de helft van de Bechamel over een bakje.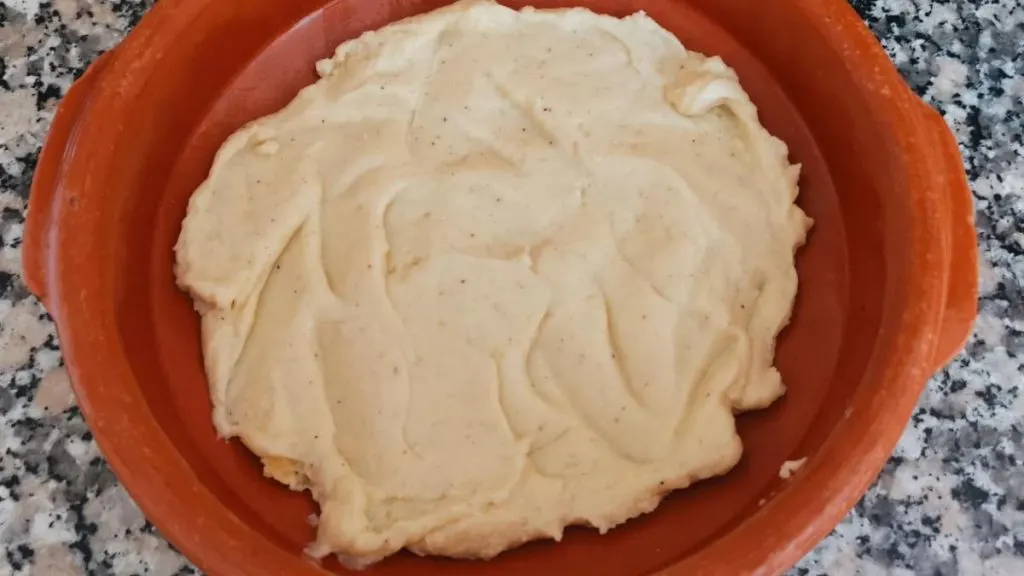 2. Vul de pastavellen met de ragout en rol ze op.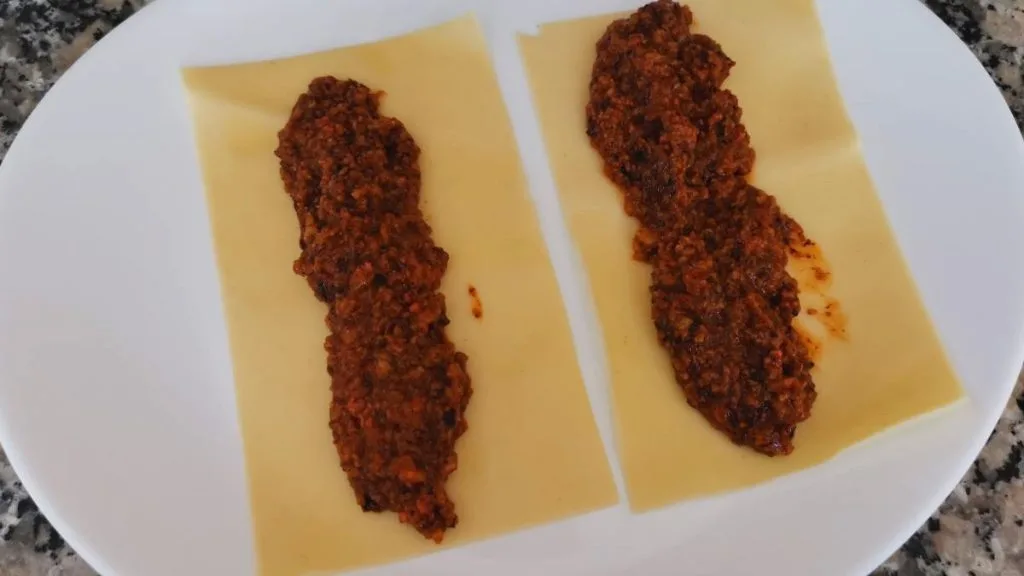 3. Leg de Canelones bovenop de bechamel in het bakje(Tip: Laat, anders dan op onze foto, een beetje ruimte tussen de pastarollen voor makkelijker serveren).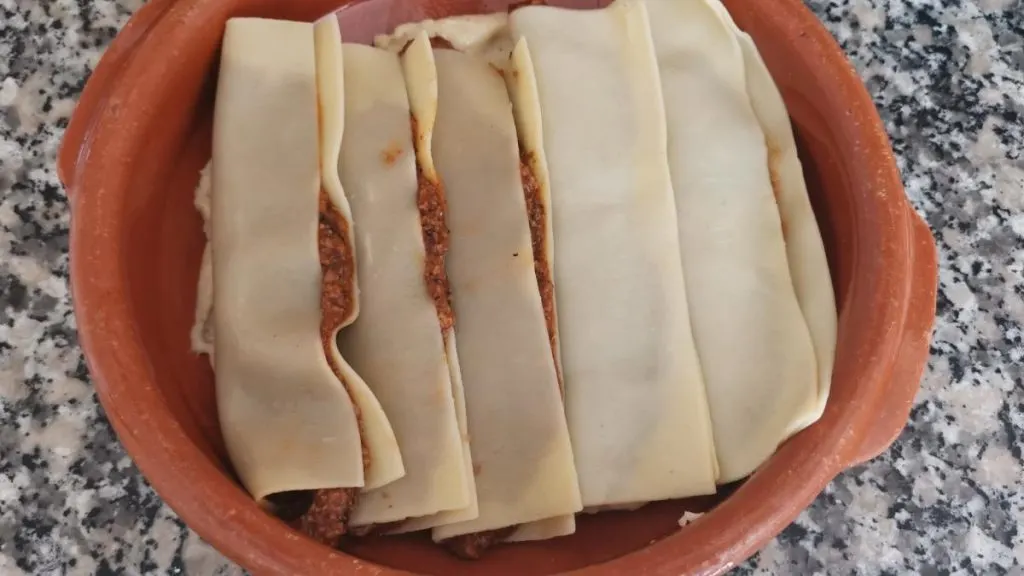 4. Verdeel de resterende Bechamel over de pastarollen en strooi de kaas erover.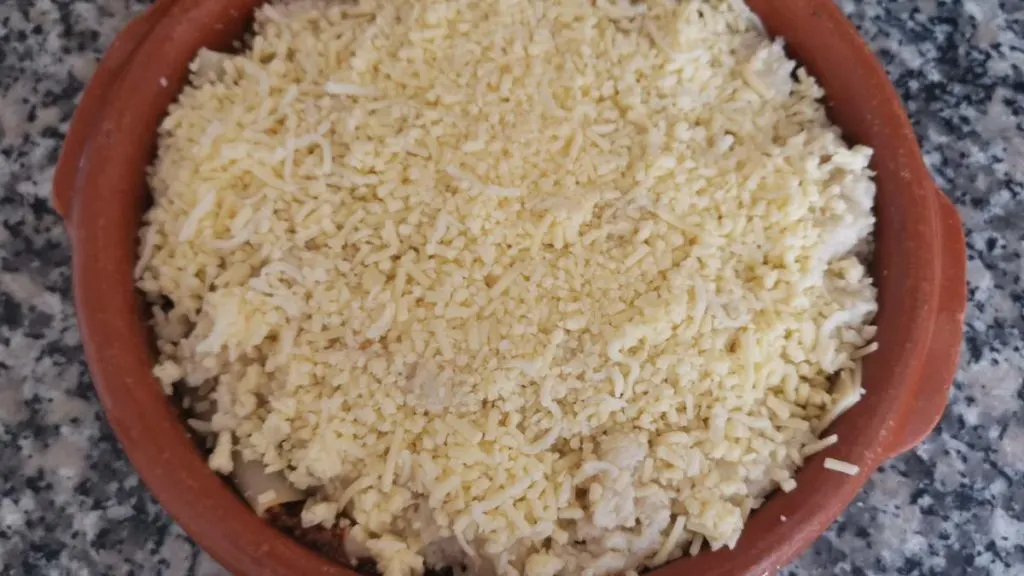 5. Bak ongeveer 15 tot 20 minuten (of tot de kaas goudkleurig begint te worden).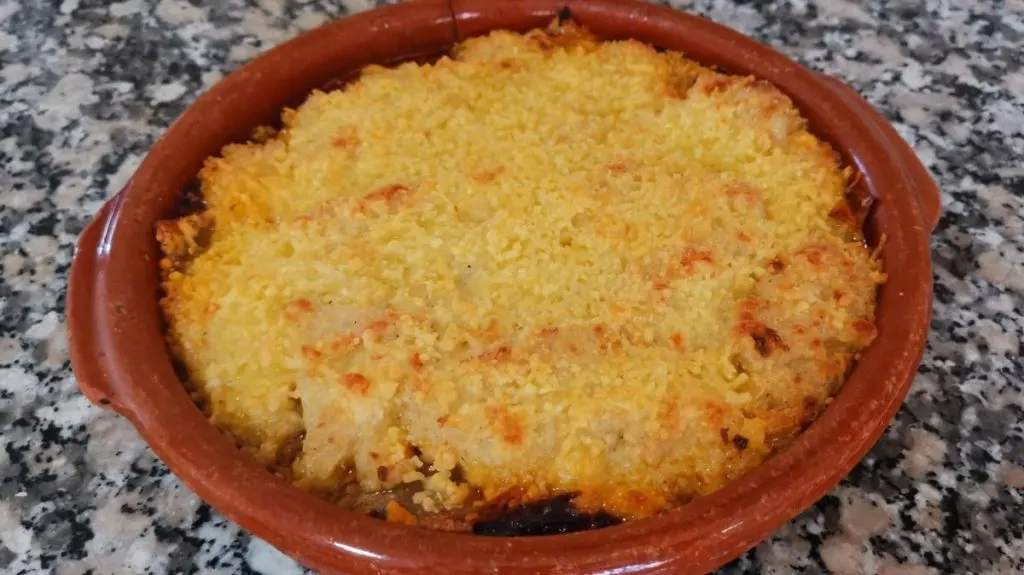 Yield: 4
Catalonian Christmas Cannelloni Recipe (Canelones Gratinados)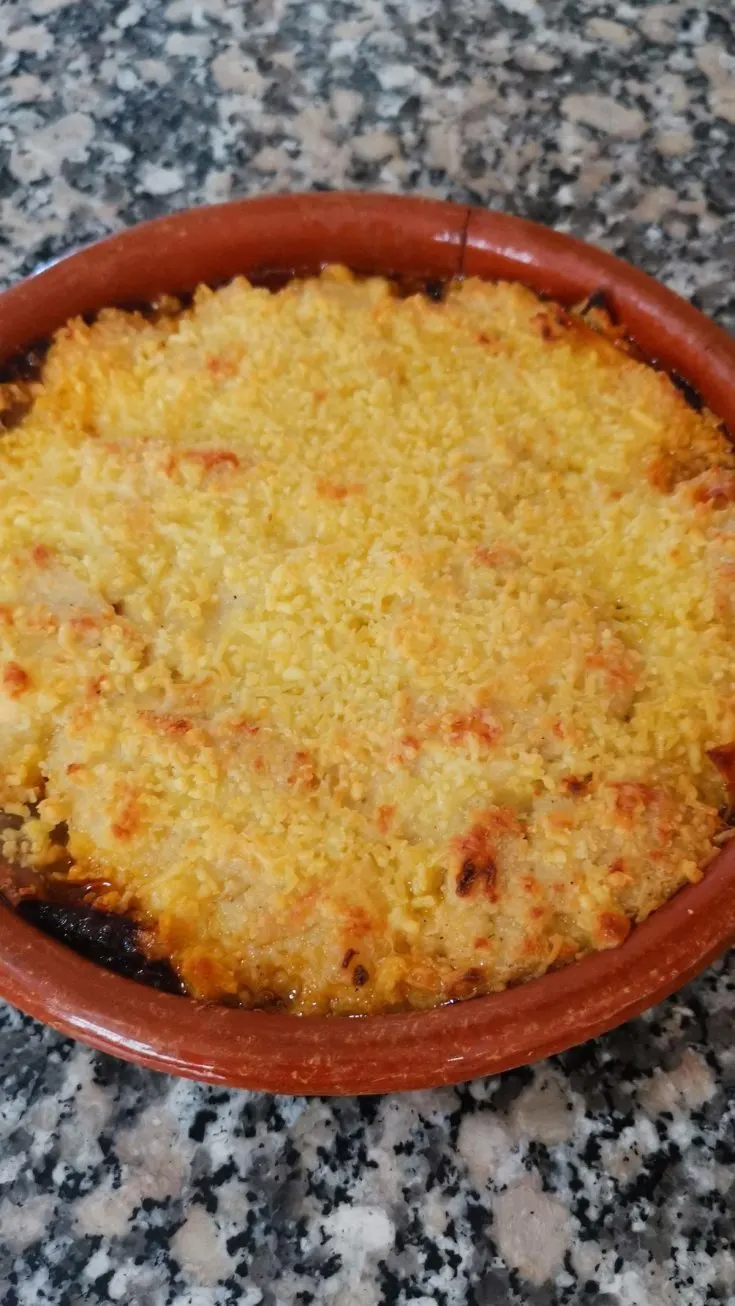 COOK TIME
1 hour
30 minutes
Total Time
2 hours
15 minutes
Ingredients
For the ragout
Extra virgin olive oil
1 onion
6 cloves of garlic
1/2 tablespoon of white pepper
1 tablespoon of oregano
Pinch of sea salt
1 pound (500 grams) of minced pork
1 glass of white wine
1 glass of tomate frito
2.5 ounces (70 grams) paté inbérico
For the bechamel
2.1 ounces or 60 grams salted butter
Extra virgin olive oil
5 tablespoons of flour
2 cups of whole milk
Pinch of nutmeg
Pinch of pepper
Pinch of sea salt
3.5 ounces (100 grams) of grated cheese
Other
Instructions
How to prepare the ragout:
Heat up extra virgin olive oil in a pot over medium heat and add one thinly chopped medium-sized onion. Fry for around five to ten minutes.
Add six finely chopped cloves of garlic and fry for another five minutes.
Add one teaspoon of white pepper and oregano, a pinch of salt, and one pound (half a kilo) of minced pork. Cook everything for around 20 minutes and stir frequently.
Pour one glass of white wine and stir. Now, add seven ounces (200 ml) of tomato Frito and cook on low heat for another 45 minutes. Stir occasionally.
Turn off the heat and add the coarsely diced Paté Ibérico.
Let the ragout cool down while you are preparing the bechamel and the pasta.
How to prepare the Bechamel:
Add extra virgin olive oil, 2.1 ounces (60 grams) salted butter, nutmeg, pepper, and salt to a large skillet, and heat up until the butter is melted.
Add five tablespoons of flour and stir frequently until the mixture has a golden color.
Slowly start adding two cups of whole milk a little at a time so that it all fully integrates. Keep adding milk while stirring until there are no lumps left. Simmer for five minutes.
Add 3.5 ounces (100 grams) of grated cheese and let it simmer for another five minutes.
Pasta
Bring water to a boil and turn off the heat.
Submerge the sheets of pasta and leave them for ten minutes in the hot water. Shake the pot every so often to avoid that the pasta sheets stick to each other.
Dry the pasta sheets on a paper towel.
Assembly
Optional: Spread half of the Bechamel over a tray.
Fill the pasta sheets with the ragout and roll.
Place the Canelones on top of the bechamel in the tray (Tip: Unlike in our photo, leave a bit of space between the pasta rolls for easier serving).
Spread the remaining Bechamel over the pasta rolls and sprinkle the cheese on top.
Bake for around 15 to 20 minutes (or until the cheese starts to golden).
Nutrition Information:
Yield:
4
Serving Size:
1
Amount Per Serving:
Calories:

584
Total Fat:

39g
Saturated Fat:

17g
Trans Fat:

1g
Unsaturated Fat:

18g
Cholesterol:

88mg
Sodium:

672mg
Carbohydrates:

35g
Fiber:

4g
Sugar:

8g
Protein:

20g
The nutritional information provided is approximate and can vary depending on several factors, so is not guaranteed to be accurate.