Garbanzos con Espinacas (en anglais : épinards et pois chiches) est un plat de tapas typiquement andalou. Avec cette recette facile, tu peux préparer ce délicieux plat espagnol en 40 minutes environ.
Les Garbanzos con Espinacas sont un plat de tapas typiquement andalou.
Cependant, les ingrédients principaux, les épinards et les pois chiches, sont originaires du Moyen-Orient et ont été introduits dans la cuisine méditerranéenne.
Les garbanzos ou pois chiches sont désormais les ingrédients principaux de nombreux repas traditionnels espagnols.
Tu peux servir ce plat d'épinards et de pois chiches soit comme des tapas, soit comme un repas léger ou un accompagnement.
Si tu veux, tu peux aussi très bien la combiner, juste avec une baguette et de l'huile d'olive.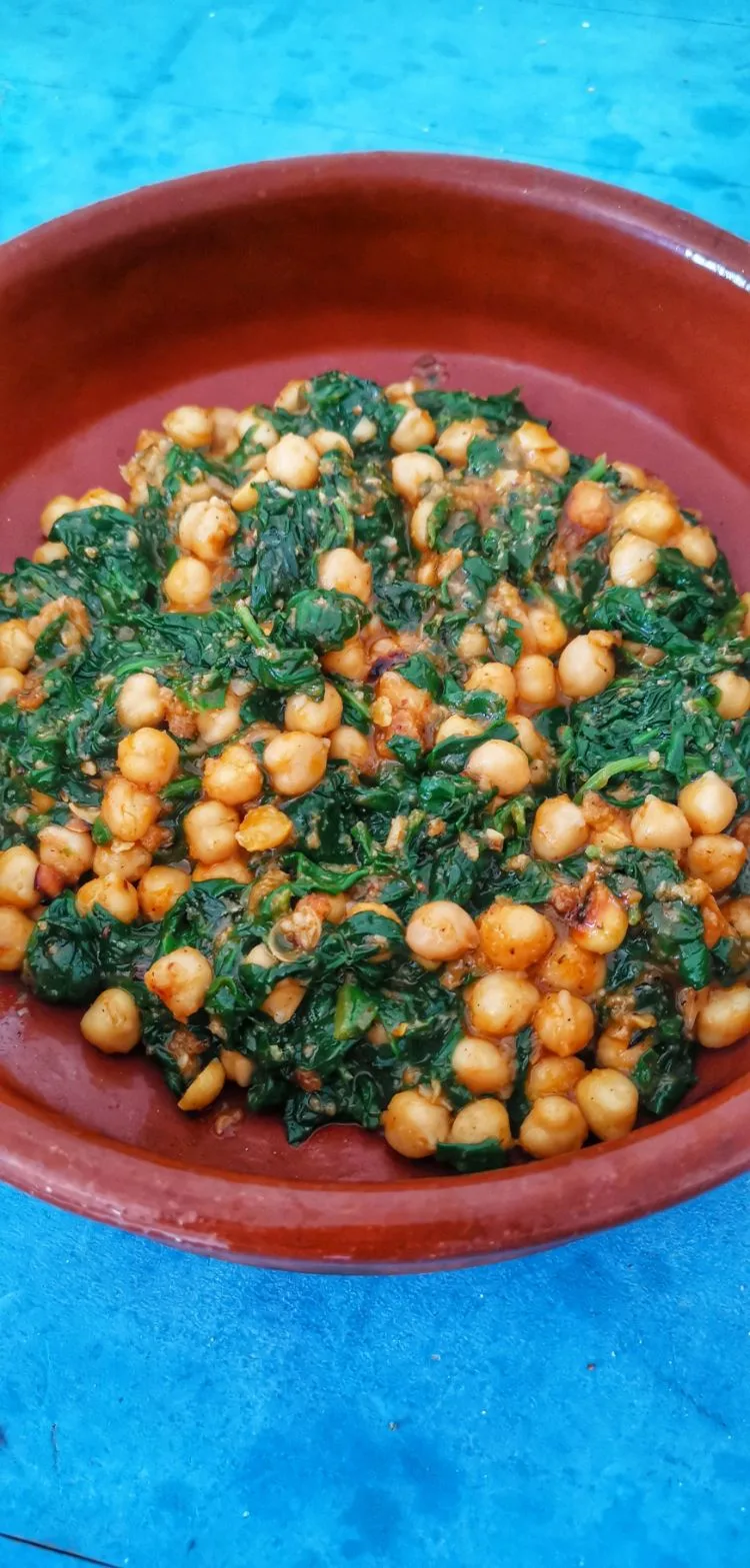 Recette de Garbanzos con Espinacas (épinards et pois chiches)
Regarde ma recette facile et délicieuse de Garbanzos con Espinacas et prépare ton plat de tapas andalou fait maison.
Yield: 4
Garbanzos con Espinacas Recipe (Spinach and Chickpeas)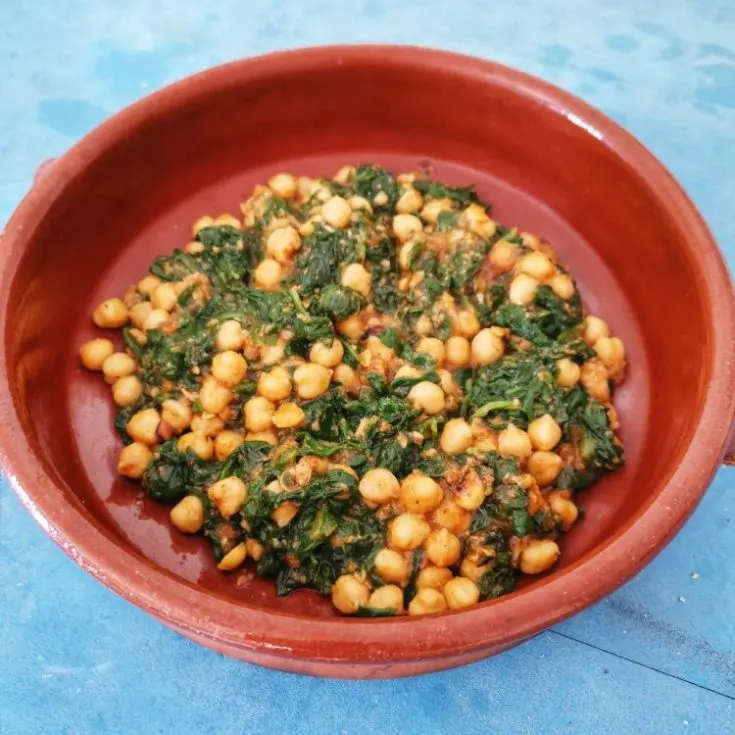 Garbanzos con Espinacas (English: Spinach and Chickpeas) is a typical Andalusian Tapas dish. With this easy recipe, you can prepare this delicious Spanish dish in around 40 minutes.
Ingredients
1 jar (500gram or 18 ounces) of garbanzos (chickpeas)
Around 300 grams or 10 ounces of fresh, washed spinach
3 slices of day-old bread
¼ cup of tomato sauce
2 tablespoons of Sherry vinegar
3 garlic cloves
15 unsalted almonds
Extra virgin olive oil
1 teaspoon ground cumin
Cayenne pepper
Seasalt
Black pepper
Instructions
Heat up around 3 tablespoons of extra virgin olive oil and add the washed spinach.
Sauté the spinach until it is just wilted and remove it from the heat.
Heat up another 3 tablespoons of extra olive oil. Remove the crust from the bread and add it to the pan, together with the raw almonds. Fry until the bread and the almonds are crispy.
Cut the garlic and add it to the pan as well as one teaspoon of ground cumin, cayenne, and black pepper. Sauté until the garlic turns brown.
Transfer the ingredients to a blender and add two tablespoons of Sherry vinegar.
Blend everything until you have a thick paste.
Add the paste together with one jar of garbanzos and 1/4 cup of tomato sauce to the pan.
Stir carefully until the garbanzos are covered with the paste and tomato sauce.
Add the spinach to the pan, season with sea salt and pepper, and stir until everything is well mixed.
Enjoy your home-made Garbanzos con Espinacas (Spinach and Chickpeas)
Nutrition Information:
Yield:

2
Serving Size:

1
Amount Per Serving:
Calories:

6349
Total Fat:

552g
Saturated Fat:

44g
Trans Fat:

0g
Unsaturated Fat:

483g
Cholesterol:

0mg
Sodium:

356mg
Carbohydrates:

235g
Fiber:

118g
Sugar:

53g
Protein:

224g
The nutritional information provided is approximate and can vary depending on several factors, so is not guaranteed to be accurate.