What are croquettes, and are they easy to make? Let us look at the history of this popular dish and go through all the best croquette variations that you can try to recreate at home.
Croquettes are one of those simple dishes which can easily make it to your list of favorite comfort foods. It is fried and crunchy, it is filling, and it can literally be any flavor you like!
You can find Croquettes basically anywhere in Spain. Among the most popular croquette varieties, that you must try when you are there, are Croquetas de Jamón (Spanish Ham Croquettes) and Croquetas de Atun (Spanish Tuna Croquettes).
Definition Croquette
A croquette is a deep-fried roll containing a thick binder filled with fillings ranging from meats to vegetables and then covered in breadcrumbs for a crunchy finish.
Spanish Croquettes History
What is in the name? The word croquette comes from the French word "croquer", which means "to crunch" in English.
During the 18th century, croquette was usually spelled as croquet.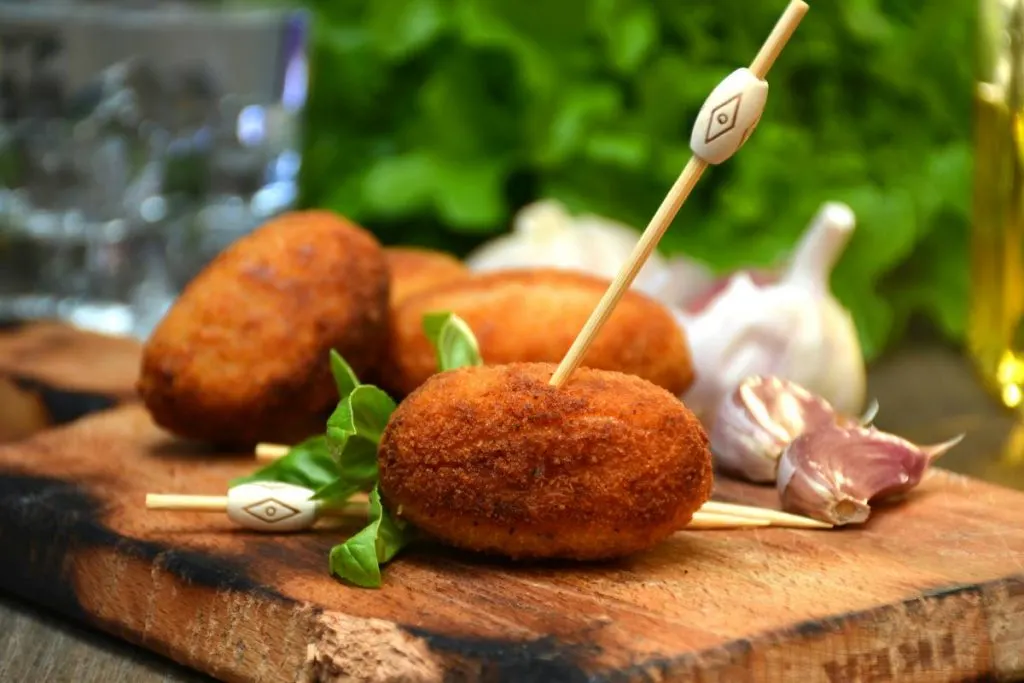 Where are croquettes originally from?
The croquette's origin can be traced back to France. However, the creation story cannot be verified. Some say we have the cook of Louis XIV to thank for. He is said to have written a recipe for Croquettes in 1691.
One account says that in 1817, French chef Antonin Carême was the first one to serve the dish at a royal banquet.
Here is another story: In 1898, Monsieur Escoffier and Monsieur Philias Gilbert created a recipe that would be the first classic croquette recipe. The history of croquettes will then become very diverse, as chefs who worked with Monsieur Escoffier and Monsieur Philias Gilbert traveled to different parts of the globe and fusioned the croquette with local flavors.
Historically, croquettes were said to have been originated during a time of famine. Flour was abundant during that time, and people were seeking to make use of leftover meats.
Today, croquettes are mainly served as appetizers. They also act as main meal accompaniments. In some places, croquettes are breakfast items. You can eat them as they are, or you can enjoy them even more by matching them with different dipping sauces.
What is wonderful about croquettes is that they can easily be all vegetables if you prefer so, or they can be loaded with special types of meat if that's your type. As the world of gastronomy progresses, we even see fine dining-worthy types of croquettes out there – truly far from its humble leftover creation story.
What are Croquettes made of?
The basic foundation of croquettes is a binder (which can be mashed potatoes or bechamel sauce), a meat of your choice, egg, salt, and breadcrumbs for coating.
If you are sticking with bechamel sauce, the binder is composed of the right proportion of butter, flour, and milk.
Here are some of the most popular croquettes versions:
Spanish Croquettes – utilizing Spain's well-loved ingredients such as Serrano ham
Japanese Croquettes or Korokke – with variations such as curry korokke and nikujaga korokke
Brazilian Chicken Croquettes or Coxinhas – reminiscent of a chicken salad but coated in dough and comes in a teardrop shape
Dutch Croquettes or Kroket – using meat ragout or salpicon
Our favorite Croquettes Recipes
Check out some of our favorite croquettes recipes, including tuna croquettes and croquettes with ham.
Croquetas de Jamón, also known as Spanish ham croquettes, are a staple on every Spanish tapas menu, and you can find these creamy-crunchy bites all over the country. Check out our Croquetas de Jamón Recipe.